COVID-19 Vaccine Arrives for Healthcare Workers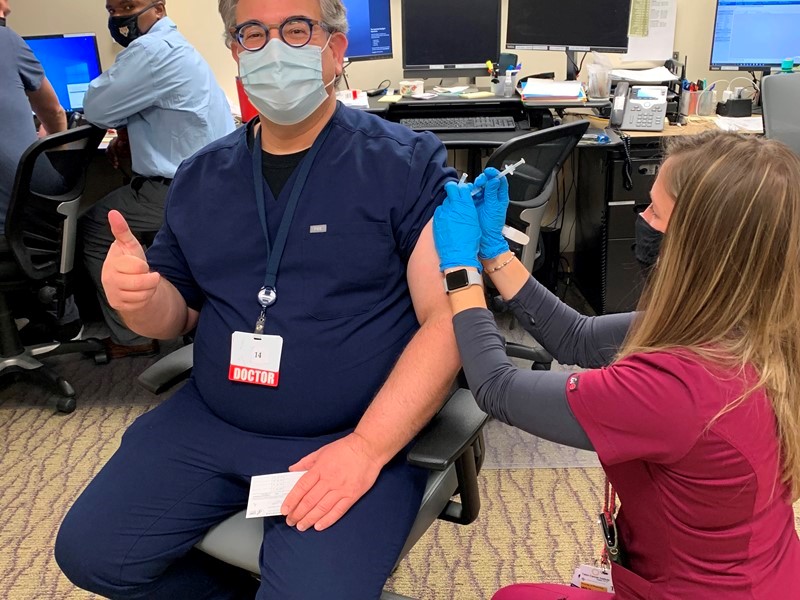 A limited number of Pfizer's COVID-19 vaccines arrived at the pharmacy for Mountain View Hospital and Idaho Falls Community Hospital on Monday, December 14 for frontline healthcare workers. The current doses, which will not be enough to cover healthcare workers at both hospitals, will be given to employees in Idaho Falls Community Hospital's emergency department and intensive care unit. More vaccines are on the way for the healthcare workers and the pharmacy anticipates they will arrive sometime next week.
"This is a huge advancement for our community's fight against COVID-19," said Whitney Cooley, director or pharmacy for Idaho Falls Community Hospital and Mountain View Hospital. "The clinical trials have shown the vaccine is safe and substantially reduces the risk of getting the virus. The vaccine will go to healthcare workers first, so they can continue to care for sick patients, but we cannot wait to share this vaccine with the community and help end the pandemic and allow people return to their more normal routines."
The first 25 doses of the vaccine were given to nurses and doctors on Monday afternoon. Those who received the vaccine said it felt similar to getting a flu shot.
"This is a historical moment," said Dr. Martha Buitrago, an infectious disease specialist with Idaho Falls Community Hospital and one of the first providers to take the vaccine. "We received our first shipment of the COVID-19 vaccine in Idaho Falls and I am privileged to be part of it. We are so lucky."
Cooley hopes the pharmacy will be able to distribute the vaccine to interested community members within the next month, although an official timeline has yet to be released by Eastern Idaho Public Health. The pharmacy is committed to keeping the community informed about the availability and process of obtaining a COVID-19 vaccine. When more information becomes available, it will be posted to our blog. Please check back for regular updates.
At this point, there are no COVID-19 vaccines available for the community.
Community members who want to learn more about how the vaccine works and the process it underwent for approval are encouraged to visit the CDC's COVID-19 vaccine website. It provides a lot of resources, answers to frequently asked questions and debunks some of the main myths around the vaccine.