River Discovery
Strengthening Cancer Survivors through Salmon River Adventures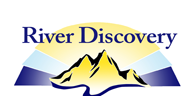 Mountain View Hospital is a proud sponsor of River Discovery. The Organization is a 501(c)(3) nonprofit founded in October 2006 by Joe and Fran Tonsmeire, longtime whitewater rafting outfitters and ranchers from Lemhi, Idaho. They envisioned river-based programming where young participants addressed the emotional and physical challenges cancer survivors face after treatment. Both Tonsmeires had experienced those challenges firsthand; Fran is a breast cancer survivor, and Joe lost his battle to cancer in March 2007.
Two adventure programs per year have been offered since 2007: one for children and one for adults. All three adult programs have focused on cancer survivors. River Discovery partnered with the Hemophilia Foundation of Idaho for the first two youth programs and focused on the hemophilia population.
River Discovery is comprised of a volunteer Board, a part-time Executive Director and a community of dedicated volunteers. In November 2009, the Board participated in a two-day strategic planning retreat that focused efforts, identified strengths and weaknesses, and outlined goals and objectives. A two-year strategic plan was adopted, and a work plan developed to achieve goals.