Mountain View Hospital now has a mobile health clinic open to help serve the Idaho Falls and Southeastern Idaho communities. Mobile health clinics provide an opportunity for healthcare providers to travel between communities where people live, work, and play to allow easier access to healthcare.
Our mobile clinic is available for individual and occupational health needs, allowing each patient to receive quick and effective care.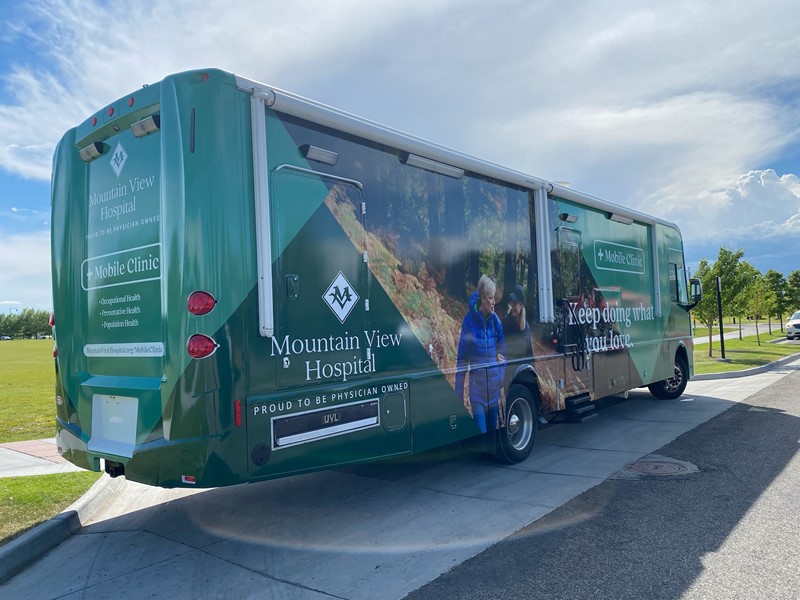 Mobile Clinic Services
The mobile clinic provides most healthcare services that you could receive with a primary care provider, including preventative care and wellness checks. Our services include, but are not limited to:
Individual care
Occupational health services (including on-site visits)
Health screenings
Wellness checks
Drug screening
Immunizations
Community and Employee Education
Serving the Community
Mobile health clinics are on the rise across the United States to help eliminate barriers to healthcare, such as cost, time, and distrust. It is our goal to provide this community service to allow more individuals affordable access to healthcare, as well as to provide employers the opportunity to more affordable group healthcare. Learn more about our group healthcare plans at mvnforhealth.com.
Mountain View Hospital's mobile clinic is available by appointment only. To schedule an appointment or request on-site visits, please call:
Employee Services
208-557-2890
Community and Event Services
208-542-7032

If you need more immediate assistance, patients are always welcome to walk into any of our urgent cares for the same services. If it is an emergency, please call 911.
Community Care Idaho Falls East
2725 Channing Way
Idaho Falls, ID 83404
Phone: 208-525-8448
Community Care Idaho Falls West
765 S Utah Ave
Idaho Falls, ID 83402
Phone: 208-525-2600
Community Care Rexburg
404 N 2nd E
Rexburg, ID 83440
Phone: 208-359-1770
Community Care Rigby
167 E 1st S
Rigby, ID 83442
Phone: 208-745-8747
Community Care Pocatello
1595 Yellowstone Ave
Pocatello, ID 83201
Phone: 208-233-0032​
Redicare
2730 Channing Way
Idaho Falls, ID 83404
Phone: 208-542-7100
Blackfoot Medical Center
1441 Parkway Dr
Blackfoot, ID 83221
Phone: 208-785-2600
Shelley Family Medical Center
210 S Emerson Ave
Shelley, ID 83274
Phone: 208-357-7404
Physicians Care Centers
495 Yellowstone Ave
Pocatello, ID 83201
Phone: 208-478-7422
Physicians Care Centers
134 W Chubbuck Rd
Chubbuck, ID 83202
Phone: 208-237-7911