The Beat - Week 51


Quote of the Day
"As we express our gratitude, we must never forget that the highest appreciation is not to utter words, but to live by them." - - John F. Kennedy
---
Fun Facts
The tallest Christmas tree ever displayed was in Seattle, Washington. It measured 221 ft. tall.
Find More Fun Christmas Facts Here
---
Photo of The Week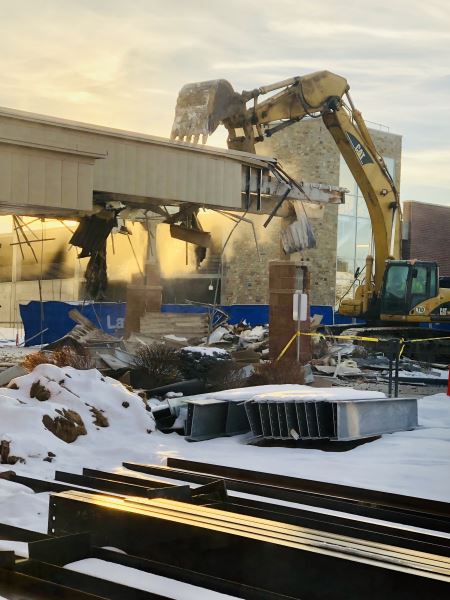 Demolition of the front entrance at Mountain View Hospital.
(Have a fun photo you would like to share in The Beat? Submit it here or email bziel@mvhospital.net)
---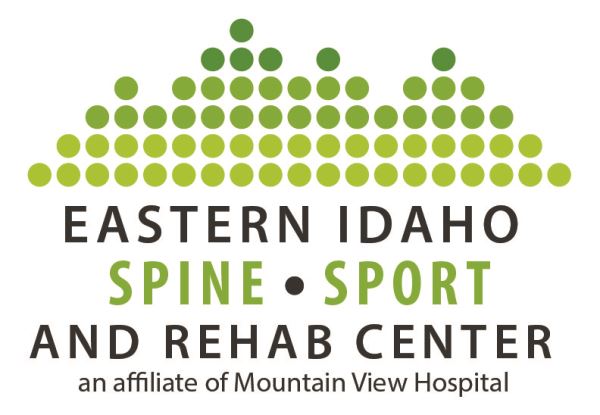 Eastern Idaho Spine, Sport, and Rehab Center
Our Approach
What is unique about a physiatric perspective? Physiatry, otherwise known as physical medicine and rehabilitation, is a board-certified medical specialty focused on helping patients recover from musculoskeletal and neurologic injuries. We combine specialty training in non-operative orthopedics and neurology and have a wide variety of tools at our disposal (see below), but use exercise as the main building block for restoring patients to health.
Our Services
Patient Evaluations: Spine and Musculoskeletal Injuries, Adult and Pediatric Sports Injuries, Runner Evaluations,
Concussion Management, Healthy Lifestyle Consultations, and Weight Loss
Interventional Procedures: Ultrasound-guided Injections, Trigger Point Injections, Peripheral Joint Injections, Sphenocath,
Epidural Steroid Injections, Medial Branch Blocks, Radiofrequency Ablation, Spinal Cord Stimulator Implantation and
Nerve Hydrodissections
Idaho Regenexx Provider for Regenerative Injections: Platelet-rich Plasma Injections(PRP), Stem Cell Injections
Prolotherapy
Electromyography and Nerve Conduction Studies
Medical Acupuncture and Auricular Acupuncture
Adult and Pediatric Spasticity Management: Botox Injections, Phenol Injections, and Medical Management
---
Message From Administration
Construction Update
The main entrance of the hospital has been permanently closed until the completion of the new hospital. The new entrance will provide a larger roundabout and covered walkway from the parking garage. We have included some architectural renderings below to show exactly what it will look like when completed. We know this will cause some hurdles for our patients and appreciate your continued commitment to patient care. We are honored with such an amazing team that puts us at the forefront of healthcare in Southeast Idaho.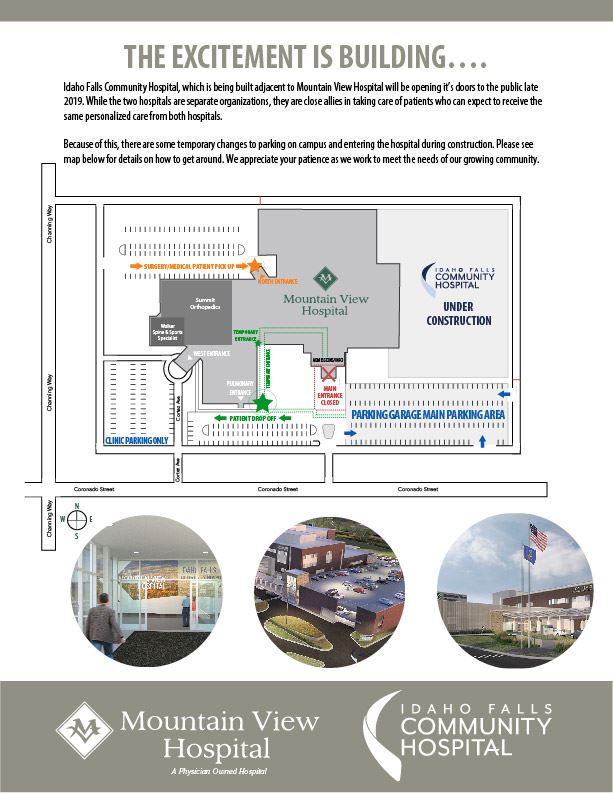 Architectural Rendering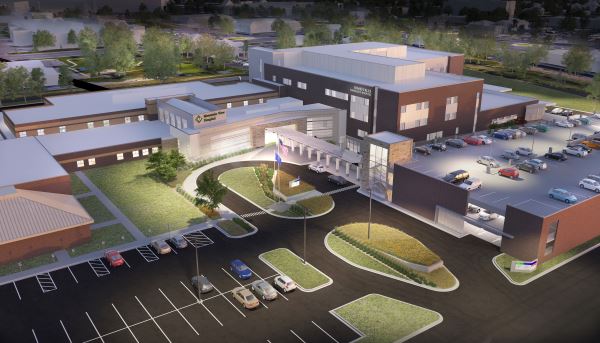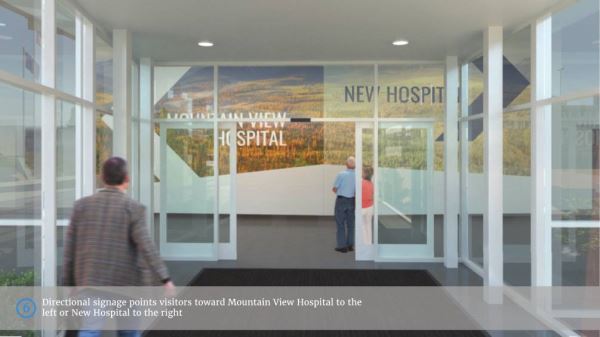 ---
Mountain View Hospital in The News

Idaho Suicide Rate Raises in 2017
---
Recent Office Moves
Please see the interactive Google map below for a complete listing of Idaho Falls locations.
Click on the

icon to view a list of locations.
Click on the

icon to view the map in full screen.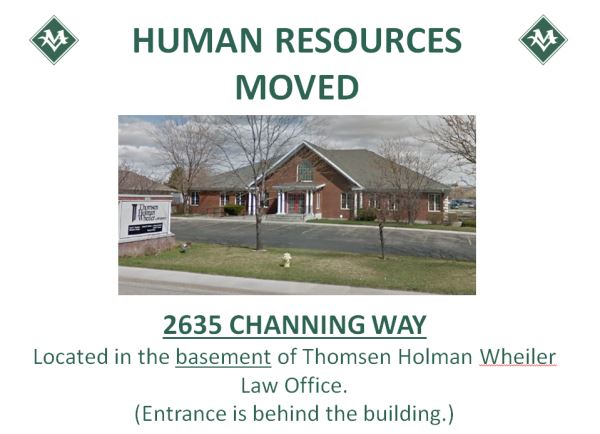 ---
News From HR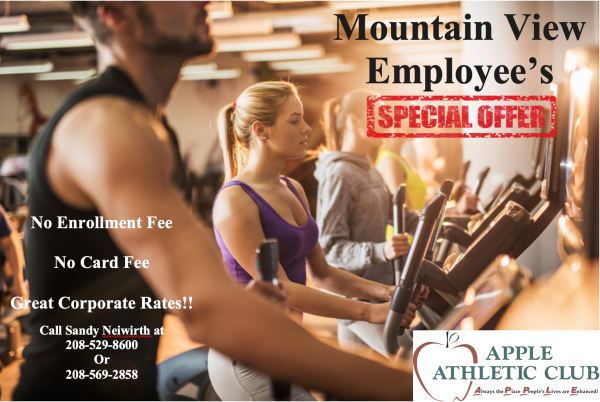 ---

---
News From Community Care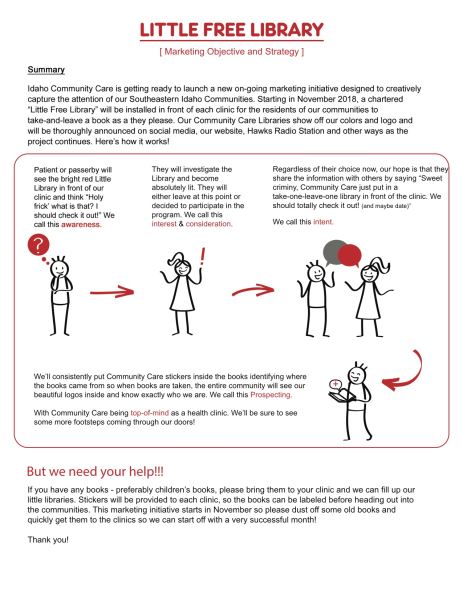 ---
News From The Warehouse
Just a friendly reminder that the hours of operation for the Warehouse are 6:30am – 3:00pm.
The warehouse will be closed on Thanksgiving day, Friday, November 23rd, Christmas day and New Year's day. In case of an emergency, please call Julie McMurtrey on 208-569-8964.
Contact information:
Tay Misseldine (purchasing): 208-529-4195
Receiving dock: 208-529-4419
Julie McMurtrey (supervisor): 208-529-4165
Chad Nield (assisting outside clinics): 208-681-2030.
Address:
Mountain View Hospital
5370 Herend Drive
Idaho Falls, ID 83402
---
News From Payroll
Employees, if you miss a punch DO NOT clock in and out (double punch) at the end of your shift, please leave the missed punch as a missed punch.
• Use the Add Punch Change Request from your timecard
• Enter the correct date, Punch Details – In Day, Out Lunch, etc., Add the time, and reason.
• Click Add Request
Worked hours and On Call hours cannot be greater than 24 hours. On call hours would need to be adjusted for a total to equal 24 hours.
Timecard approval and requests can be done from any device that is supports the internet.
Managers, please DO NOT Mass Approve timecards - missed punches, double punches, and worked / on-call hours more than 24 hours for a day need to be addressed. The only exception to more than 24 hours a day would be Cash Outs for PTO.
The pay period ending December 22, 2018, needs to be approved before noon on Sunday, December 23, 2018. Since Christmas is an observed holiday by the banks and Paycom, we have to process payroll a day earlier on Monday. *Disclosure – what is on your timecard Monday morning, December 24, 2018, is what will be processed.*
---
News From Pharmacy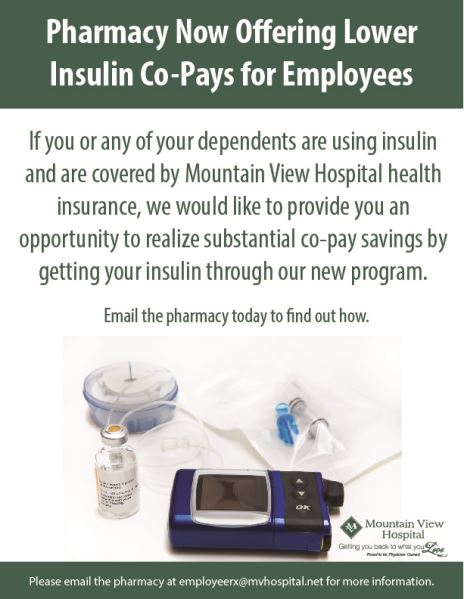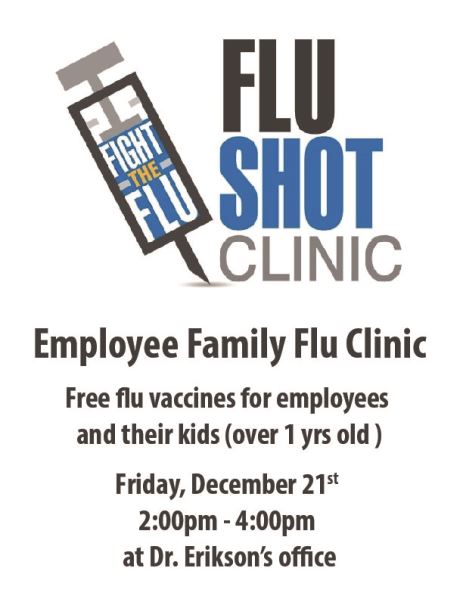 ---
News from the Teton Grill and Mountain View Hospital Café
The cafe will be open on Christmas Eve and New Year's Eve from 7:00am to 2pm (closing 1 hour early). We will be closed on Christmas Day and New Year's Day.
…but good news… The Mountain View Hospital Administration and Dietary Department will be providing meat & cheese platters, dinner rolls, vegetable trays, fruit trays and desserts to all employees working on campus Christmas Day. We will have these items set up in the Med Surg and L&D employee break rooms by 11:00am and will replenish them in the evening before we close up shop. The food is for ALL EMPLOYEES working on campus from ALL DEPARTMENTS. So no matter where you work in the hospital, please stop by either Med Surg or L&D to fill up on holiday goodies.
Merry Christmas to all from the Dietary Department!
---
News From IT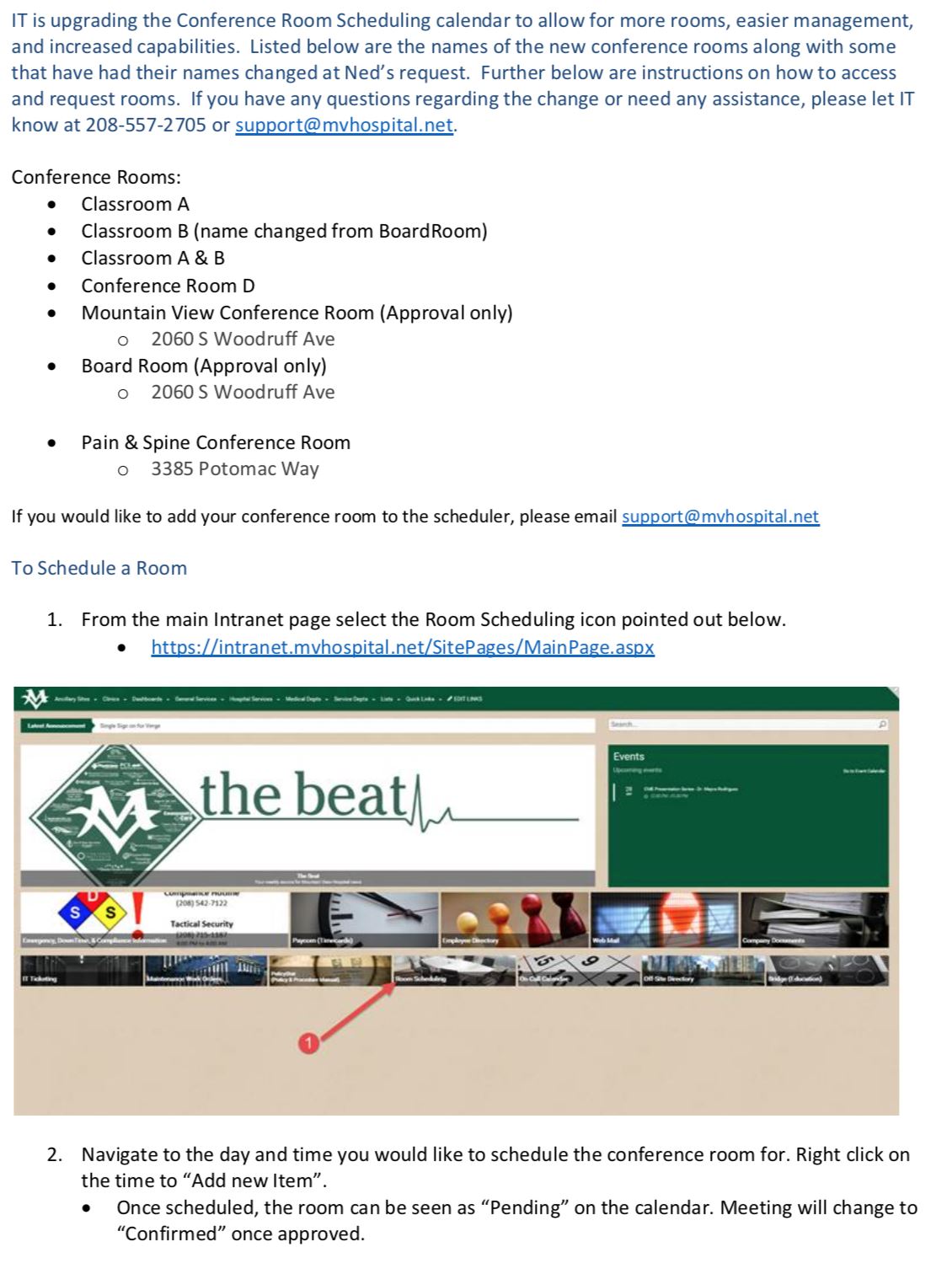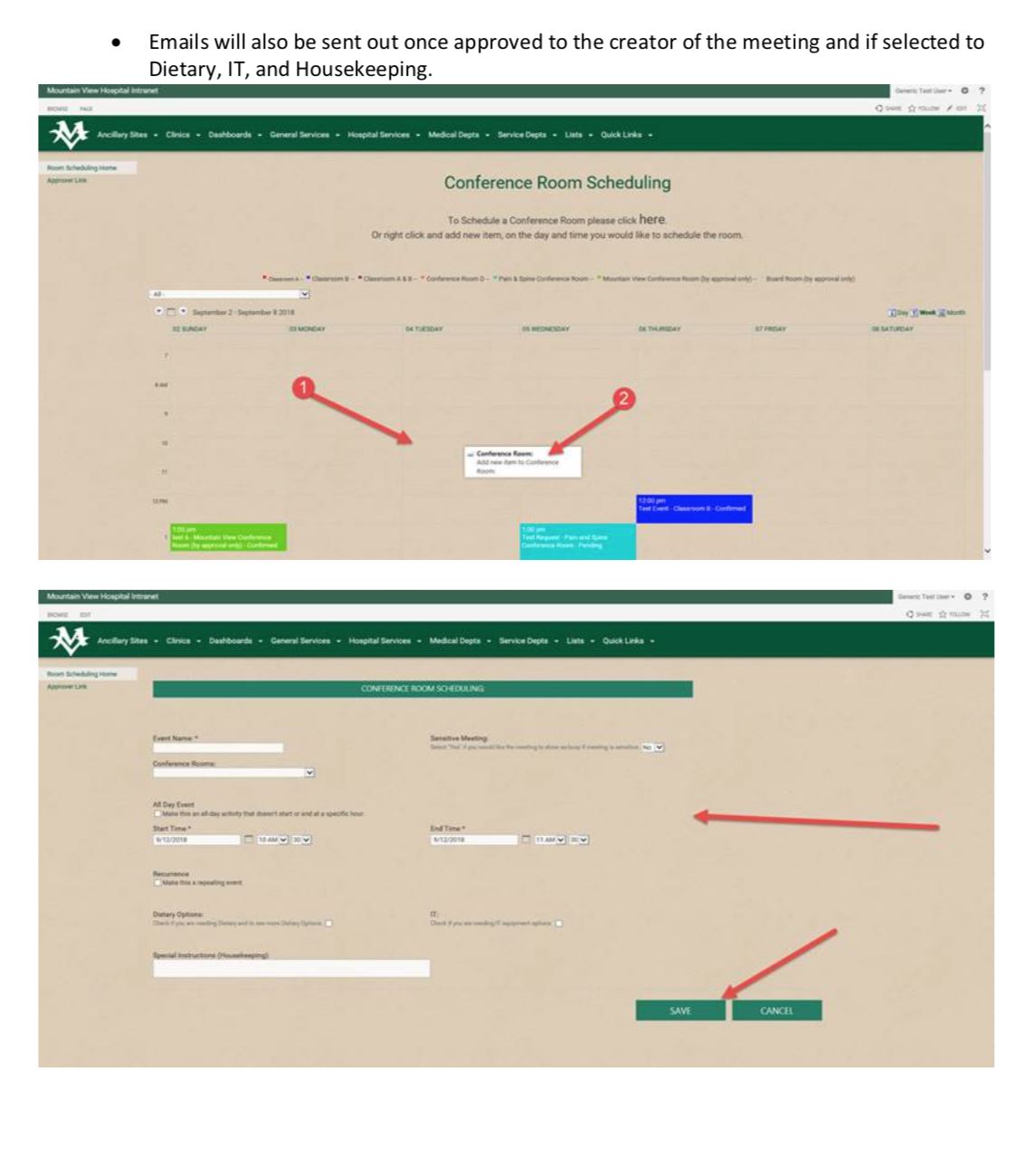 ---
News From Infection Control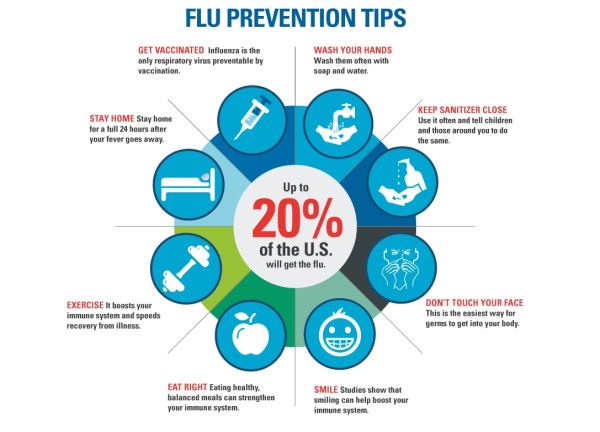 ---
News About PolicyStat
The Mountain View Hospital Policy Manual is available electronically through the intranet home page. Each policy has been developed to ensure that MVH performs to the highest standards of service and healthcare, therefore it is essential that these guidelines are communicated throughout the organization. MVH employees will be assigned policies through the PolicyStat program where they will be required to read and acknowledge understanding of each allocated policy and its progressive updates.
To locate what policies are assigned to you:
1. Log into the "PolicyStat (Policy & Procedures Manual)" on the MVH intranet home page.
(An email notification will be sent from the program once the assignment has been made, you can follow that link.)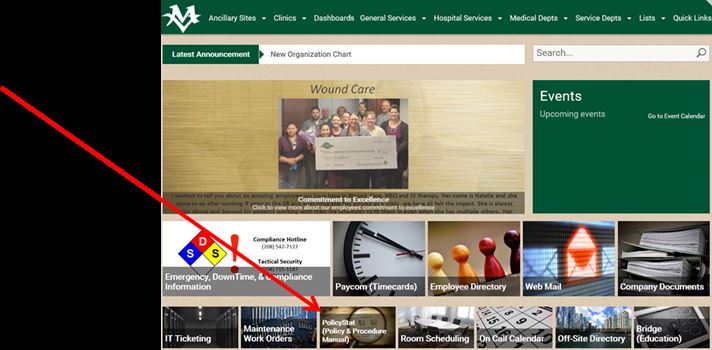 2. Refer to the "Home" tab and scroll down to the "Policies Awaiting Acknowledgment" section.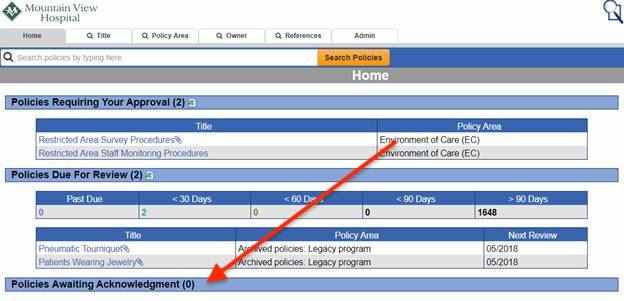 3. Click on the header to access your assigned policy documents. Open each policy*, read through it and click the blue button on the bottom I have read and understood this policy.
*If there are questions regarding information contained in any policy, please direct them first to your manager, then to the policy's owner.