Welcome to The Beat 
In this newsletter, we'll share company-wide news, including upcoming events, birthdays, spotlights, department news, and more. This newsletter is designed to be informative and collaborative. Do you have a fun story, positive patient feedback, or a funny work picture? Use the form on this page to submit!
Unity is strength...when there is teamwork and collaboration, wonderful things can be achieved.

Mattie Stepanek
We recently received this awesome feedback from one of our patients. Way to go team!
"On Wednesday the 14th I had surgery at your hospital. I have a long history of post op nausea and vomiting and was not looking forward to surgery, and in fact I had avoided it for years. This has turned out to be my best experience with anesthesia/surgery yet. From the time I was first contacted by the pre-op nurse to the time I left the building, everyone that I and my wife encountered was very pleasant and professional, friendly and helpful. As a retired firefighter/paramedic and my wife is a retired nurse we have seen a lot of hospitals and yours is top notch. I especially want to thank the anesthesia crew. They listened to me and did everything they could to alleviate my concerns. I was absolutely amazed by the robot in surgery. And my recovery nurse was great. I would not hesitate to recommend your hospital to anyone."
Mountain View Hospital 2020
Poinsettias Volunteer Fundraiser
These poinsettias are grown locally at Town & Country Gardens and are of exceptional quality. There are over 20 exciting colors including salmon, pink, purple, speckled, and white and of course, all shades red!
Vouchers are purchased and then buyers redeem their vouchers between November 9th 2020 and December 7th, 2020.
Customers can select their poinsettias from a greenhouse full of hundreds of beautiful plants-customer satisfaction guaranteed!
Each voucher is $14.99. All money is due by November 9th 2020.
Checks can be written to Mountain View Volunteer Auxiliary. These are also tax deductible, we are non-profit.
Your purchase enables us to award scholarships, through College of Eastern Idaho, to worthy individuals seeking education in the medical fields.
Contact: Information Desk at Mountain View Hospital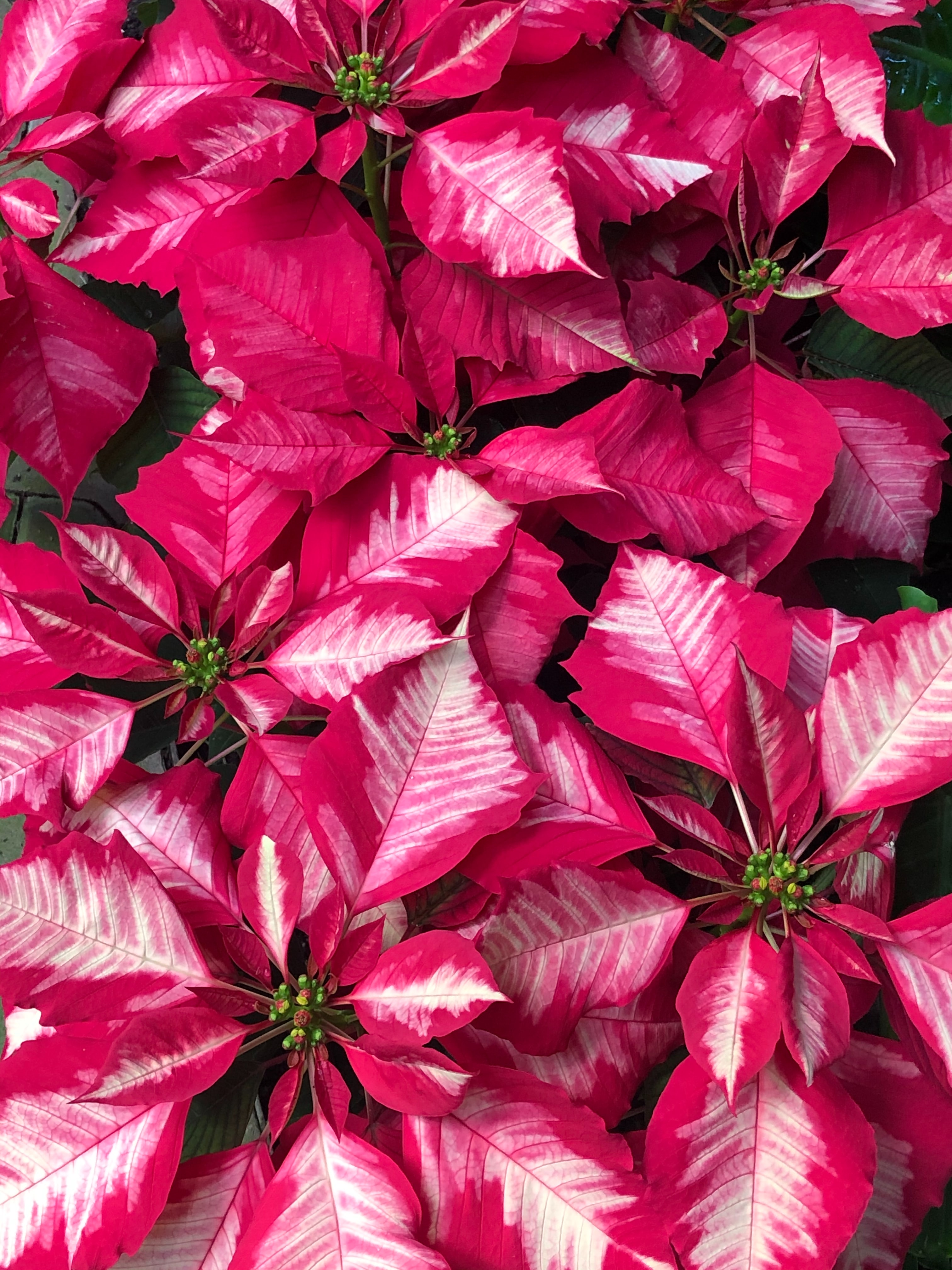 In these trying times it's nice for employees, patients, and visitors to see the smiling eyes of the Mountain View and IFCH front door screeners.
Since the Covid-19 precautions started in March, employees from various departments and clinics have shared the thankless task of screening every person who walks through our doors by taking temperatures, asking ever-evolving questions, directing patients and visitors to various destinations, and dealing with frequent changes in policy. Most of these people have dedicated many hours beyond their regular shifts to do this task.
Through it all, these employees have demonstrated the customer service that Mountain View is known for, standing to greet each person with a smile (you can see it in the eyes and cheeks even when a mask is worn), a warm welcome, and a gracious manner even when some patients, visitors, and even employees have grown frustrated with the precautionary measures Covid-19 has brought into our current lifestyle.
Don't hesitate to give these hardworking people a smile and a kind word to brighten their day because we couldn't do what we do without their service.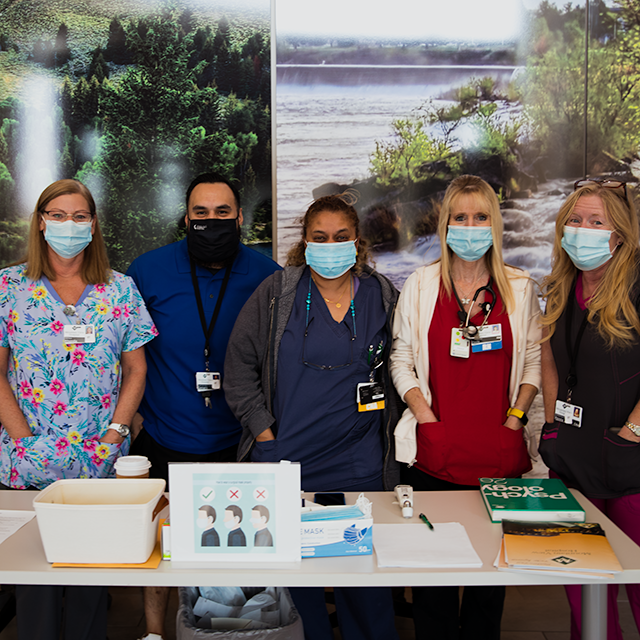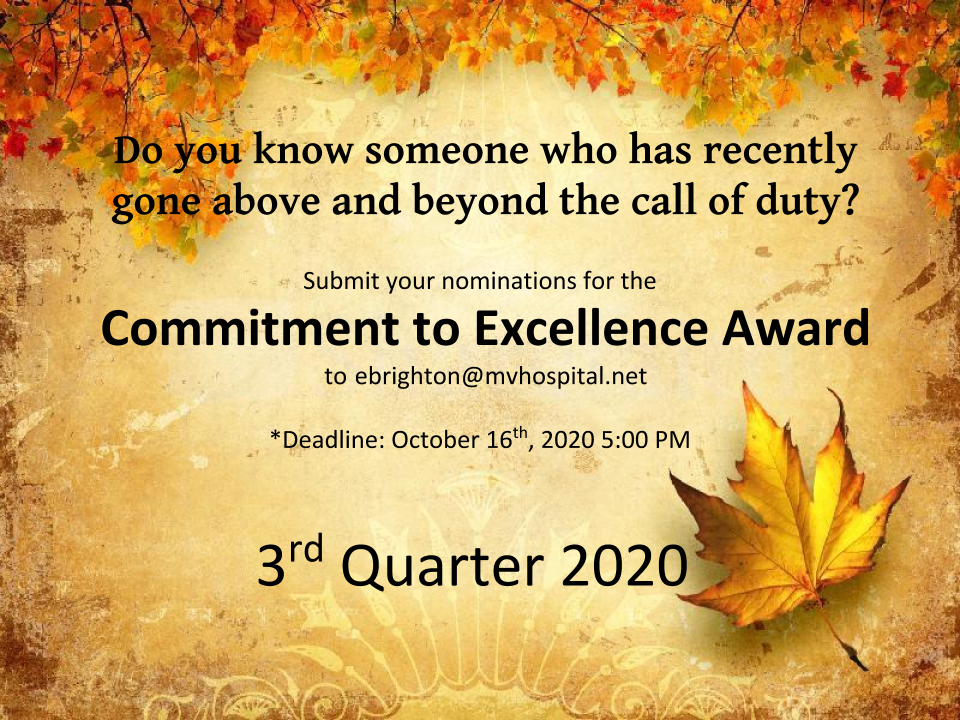 Recent Office Moves
Dr. Hinckley's office moved October 1st. They are now located at 2305 Coronado St. 
Dr. Hinckley and the staff are excited to be close to Mountain View and they appreciate all the help the staff has provided to assist in the move.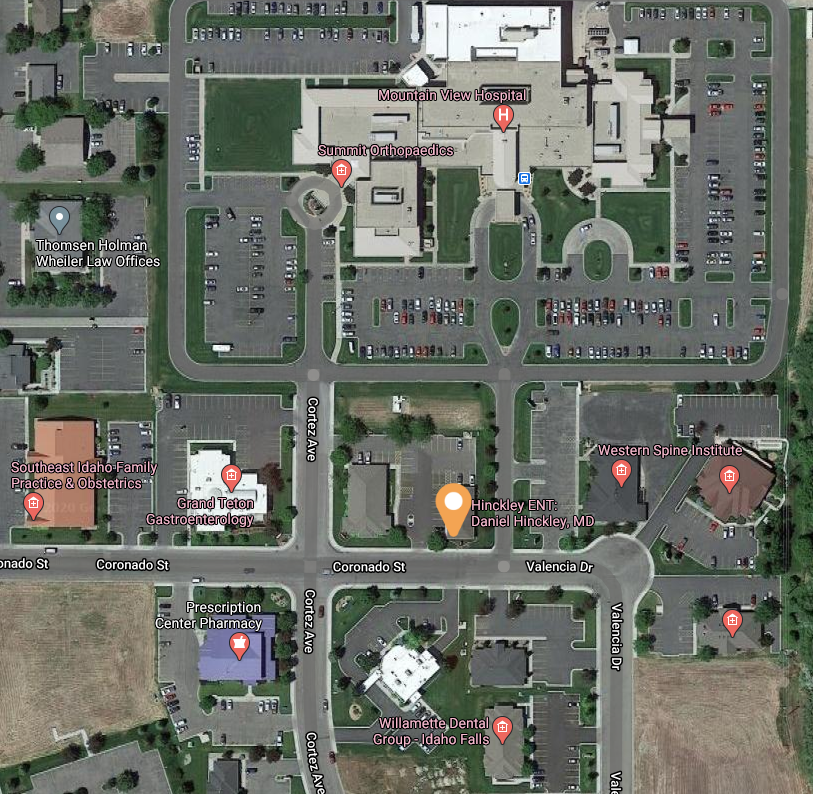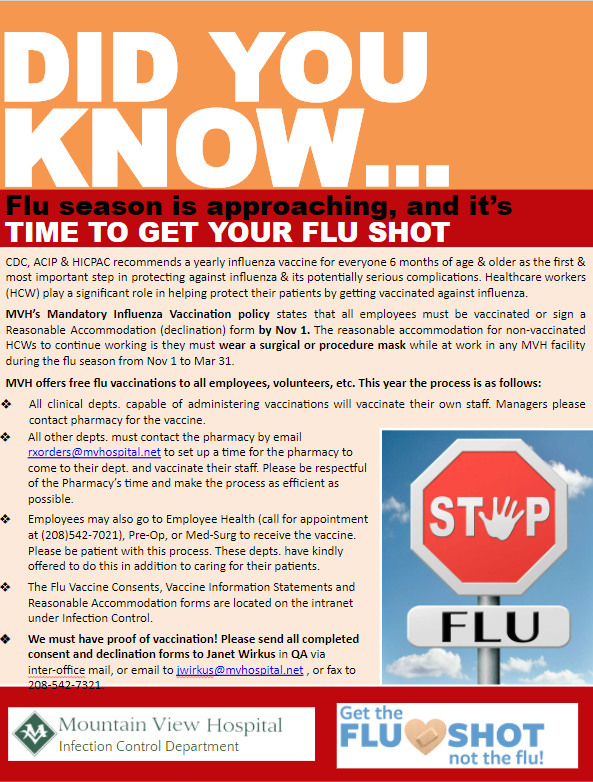 Are you ready for Drive Thru to Fight the Flu?
Tell your friends and family about this great opportunity for them to get their flu vaccines from the comfort of their own vehicles! 
Please note: This event is only for patients only, not employees. 
| | | | |
| --- | --- | --- | --- |
| 10/01 | KARIANNE | JOHNSON | Physician Management Services |
| 10/01 | RYAN | PEOPLES | Pharmacy |
| 10/01 | JADEN | POULTER | Pain Specialists of ID |
| 10/01 | JORDAN | WARD | Pain Specialists of ID-Pocatel |
| 10/02 | MARIE | GARCIA | Business Office |
| 10/02 | JAYCEE | LANDON | Wound Care |
| 10/02 | ALEX | SVOBODA | Lab |
| 10/02 | ORLAN | WHITE | Information Systems |
| 10/03 | SELENA | RIPPLINGER | Business Office |
| 10/03 | DAWN | KELLY | Workmens Compensation |
| 10/03 | KATHRYN | STRONKS | Nursery |
| 10/04 | FRANCISCA | ACOSTA JIMENEZ | MedSurg |
| 10/04 | SOFIA | AGUAYO QUEZADA | Prescription Center Retail |
| 10/04 | KERRI | HANSEN | Radiology |
| 10/04 | AMANDA | HOBBS | Pain Specialists of ID-Proc Ct |
| 10/04 | MADISON | PATTESON | Labor & Delivery |
| 10/04 | BRITTANY | RANGEL | Blackfoot Pain Clinic |
| 10/04 | CLAIRE | ROWE | Business Office |
| 10/05 | DEBORAH | CHRISWELL | Teton Cancer Institute |
| 10/05 | TIFFANY | HENDERSON | Lab |
| 10/05 | ANNA | STOCKWELL | Eastern ID Spine Center (Vlach |
| 10/06 | SHAUNA | HARTOG | Pain Specialists of ID |
| 10/06 | ROBERT | HIATT | Pulmonary Function Test |
| 10/06 | ADORA | MAGAOAY | Business Office |
| 10/06 | SYMPHONY | WIRTALA | Eastern ID Spine Center (Vlach |
| 10/07 | DANIEL | RICK | Primary Care Specialists |
| 10/07 | AMANDA | ROUNDY | Surgery |
| 10/08 | PORSCHE | BAUER | Labor & Delivery |
| 10/08 | JUSTIN | GREGORY | Administration |
| 10/08 | LAURIE | JENSEN | Labor & Delivery |
| 10/08 | JENNIFER | JOLLEY | Grand Teton |
| 10/08 | DUANE | OSWALD | Machen Family Medicine |
| 10/08 | TANYA | PRZYBYLA | Community Care-Channing |
| 10/08 | HEATHER | RUSHTON | Surgery |
| 10/08 | DILLON | SCHENKEL | Pharmacy |
| 10/09 | MAKAYLA | PARK | Teton Cancer Institute |
| 10/10 | JUDY | CARRANZA | Housekeeping |
| 10/10 | LESLIE | CARRANZA-ESTRADA | Eastern ID Spine Center (Vlach |
| 10/10 | KRISTEN | DOWNS | IF Clinic |
| 10/10 | SOFIA | YBARRA | Business Office |
| 10/11 | DIANE | FISHER | Surgery |
| 10/11 | LORA | KEARSLEY | Grand Teton |
| 10/11 | BAYLEY | ORR | PIC Pocatello |
| 10/11 | LISA | SUTER | Pain Specialists of ID |
| 10/12 | TRISTA | CLARK | Business Office |
| 10/12 | SHERI | SCHAAT | Urology Associates of Idaho Fa |
| 10/12 | SHANNON | SORENSON | MedSurg |
| 10/12 | SHANE | WITHERS | Pharmacy |
| 10/13 | KATIE | ADAMSON | BMC/Johanson Surgery |
| 10/13 | RICHAEL | BELNAP | Administration |
| 10/13 | HEIDI | BUCK | Community Care-Rexburg |
| 10/13 | DYLAN | DUVAL | Point of Care |
| 10/13 | SHAWN | MOHLER | Radiology |
| 10/13 | CORTNEY | MURDOCH | Community Care-West Side |
| 10/13 | ALEX | PAYNTER | Information Systems |
| 10/13 | MANDI | PAYNTER | Business Office |
| 10/13 | ANA | PONCE | Business Office |
| 10/13 | ERNA | RUSSO | Endoscopy |
| 10/14 | MARA | CLARK | Pain Specialists of ID |
| 10/14 | LYNETTE | HANSEN | Surgery |
| 10/14 | MIRIAM | JIMENEZ | Business Office |
| 10/15 | KAYLYNN | CAMPBELL | Primary Care Specialists |
| 10/15 | TERA | MCCARTY | Creekside Surgery Center |
| 10/15 | BEVERLY | PARKS | Labor & Delivery |
| 10/15 | CINDY | POPEJOY | BMC Admin |
| 10/15 | KAMILLA | WEAVER | Business Office |
| 10/16 | ALEXIS | BRAZIL | Blackfoot Medical Laboratory |
| 10/16 | JARED | CAMPBELL | Pharmacy |
| 10/16 | JULIE | COOK | Speech Therapy |
| 10/16 | HEATHER | GREEN | Business Office |
| 10/16 | PHIL | JORDE | Purchasing |
| 10/16 | DANETTE | WALTERS | MedSurg |
| 10/17 | EMILY | AUSTIN | Human Resources |
| 10/17 | SHANDRA | BLACKER | Wellness and Recovery |
| 10/17 | AMI | DRAPER | Purchasing |
| 10/17 | SHEREE | HENDERSON | PIC Pocatello |
| 10/17 | JUDY | HOLDER | Housekeeping |
| 10/17 | BRENDA | LOPEZ | Channing Redicare Clinic |
| 10/17 | TORI | LOUK | Labor & Delivery |
| 10/17 | RILEE | WILDE | Pain Specialists of ID-Pocatel |
| 10/18 | TODD | CRANOR | Community Care-Pocatello |
| 10/18 | ANGELICA | DORANTES | Business Office |
| 10/18 | CAMILLEA | LINDSTROM | Business Office |
| 10/18 | TAMARA | MARTINEZ | Sleep Specialists |
| 10/18 | KATHERYN | NELSON | Housekeeping |
| 10/19 | CARISSA | BINGHAM | Pain Specialists of ID-Proc Ct |
| 10/19 | YVETTE | BLAKE | Creekside Surgery Center |
| 10/19 | KATAYANA | DOWALO | Business Office |
| 10/19 | CORY | ESCOBEDO | Lab |
| 10/19 | JENNIFER | PACKER | Surgery |
| 10/20 | JOSH | ATKINSON | Pain Specialists of ID |
| 10/20 | KEETON | DOGGETT | Coffee Shop |
| 10/20 | LISA | EZELL | Quality Resources |
| 10/20 | BRANDI | LISH | Teton Cancer Institute |
| 10/20 | CHRISTINA | RASMUSSEN | Teton Cancer Institute |
| 10/20 | MARIE | ROLFE | Peri-Op |
| 10/20 | ANA | SWANSON | Lab |
| 10/21 | NATASHA | DEITZ | Business Office |
| 10/21 | NICKI | MAGGART | Labor & Delivery |
| 10/21 | HEATHER | MCVEY | Primary Care Specialists |
| 10/21 | KYLIE | PARKER | Population Health |
| 10/21 | MARY | WHITNEY | Administration |
| 10/22 | HEATHER | DRANEY | Pulmonary Services |
| 10/22 | CORTNEY | FYFE | Primary Care Specialists |
| 10/22 | JESSICA | GREAVES | Primary Care Specialists |
| 10/22 | TAWNY | HYMAS | Sleep Specialists |
| 10/22 | MARY | STUCKI | Speech Therapy |
| 10/23 | KATHRYN | ANDREASEN | BMC Admin |
| 10/23 | XAN | MILEY | Sleep Specialists |
| 10/23 | BETHANY | PEIRSOL | Peri-Op |
| 10/23 | BARBRA | SANCHEZ | Quality Resources |
| 10/23 | SYDNEY | SCHWIEDER | Grand Teton |
| 10/23 | CRYSTAL | VAUGHN | Eastern ID Spine Center (Vlach |
| 10/24 | CANDICE | BECK | Teton Cancer Institute |
| 10/26 | CHRISTINE | MICKELSEN | Community Care-West Side |
| 10/27 | ENRI | DAFA | Purchasing |
| 10/27 | HOWARD | MADSEN | Pharmacy |
| 10/27 | DUANE | MORTENSON | Channing Redicare Clinic |
| 10/27 | BRIANNA | TEEL | Channing Redicare Clinic |
| 10/28 | ROBERT | ADAMSON | Purchasing |
| 10/28 | LEXIE | BELL | PIC Pocatello |
| 10/28 | AARON | CRAYTHORN | Respiratory Therapy |
| 10/28 | MARY | HANSEN | Peri-Op |
| 10/28 | KELLY | ORF | Prescription Center Infusions |
| 10/28 | LAURIE | SOLIDAY | Business Office |
| 10/28 | EMILY | SPEAKMAN | Community Care-Channing |
| 10/29 | MATTHEW | IVIE | Community Care-Channing |
| 10/29 | TAMERA | NAKASHIMA | Blackfoot Pain Clinic |
| 10/29 | TAYLOR | SISTRUNK | Business Office |
| 10/29 | AMY | WALL | Machen Family Medicine |
| 10/30 | TIVISAY | ESTRADA | Workmens Compensation |
| 10/30 | CALLIE | OLAVESON | Labor & Delivery |
| 10/30 | BRENDA | RANDALL | Peri-Op |
| 10/30 | RUSSELL | TAYLOR | Finance |
| 10/31 | EMILY | HULSE | Business Office |
| 10/31 | KAYLA | JOHANSEN | Pain Specialists of ID |
| 10/31 | GAYLEEN | PARKER | Hinckley ENT |
| 10/31 | LISA | VALENZUELA | Labor & Delivery |
| 10/31 | ANGELENE | WILLIE | Lab |