Welcome to The Beat 
In this newsletter, we'll share company-wide news, including upcoming events, birthdays, spotlights, department news, and more. This newsletter is designed to be informative and collaborative. Do you have a fun story, positive patient feedback, or a funny work picture? Use the form on this page to submit!
Unity is strength...when there is teamwork and collaboration, wonderful things can be achieved.

Mattie Stepanek
Give a big THANK YOU to our Respiratory Therapists! We appreciate all that you do and are so glad that you're a part of the Mountain View family!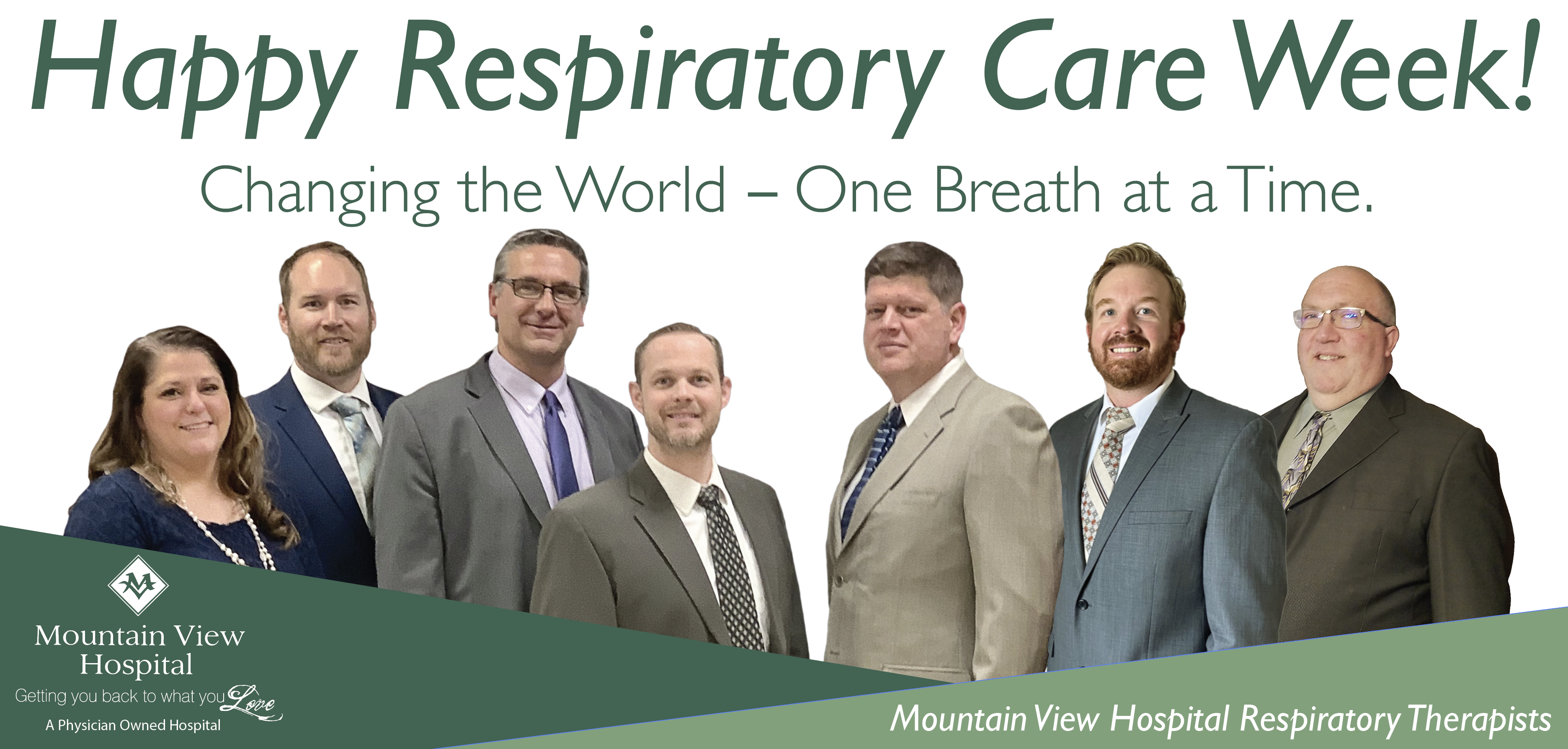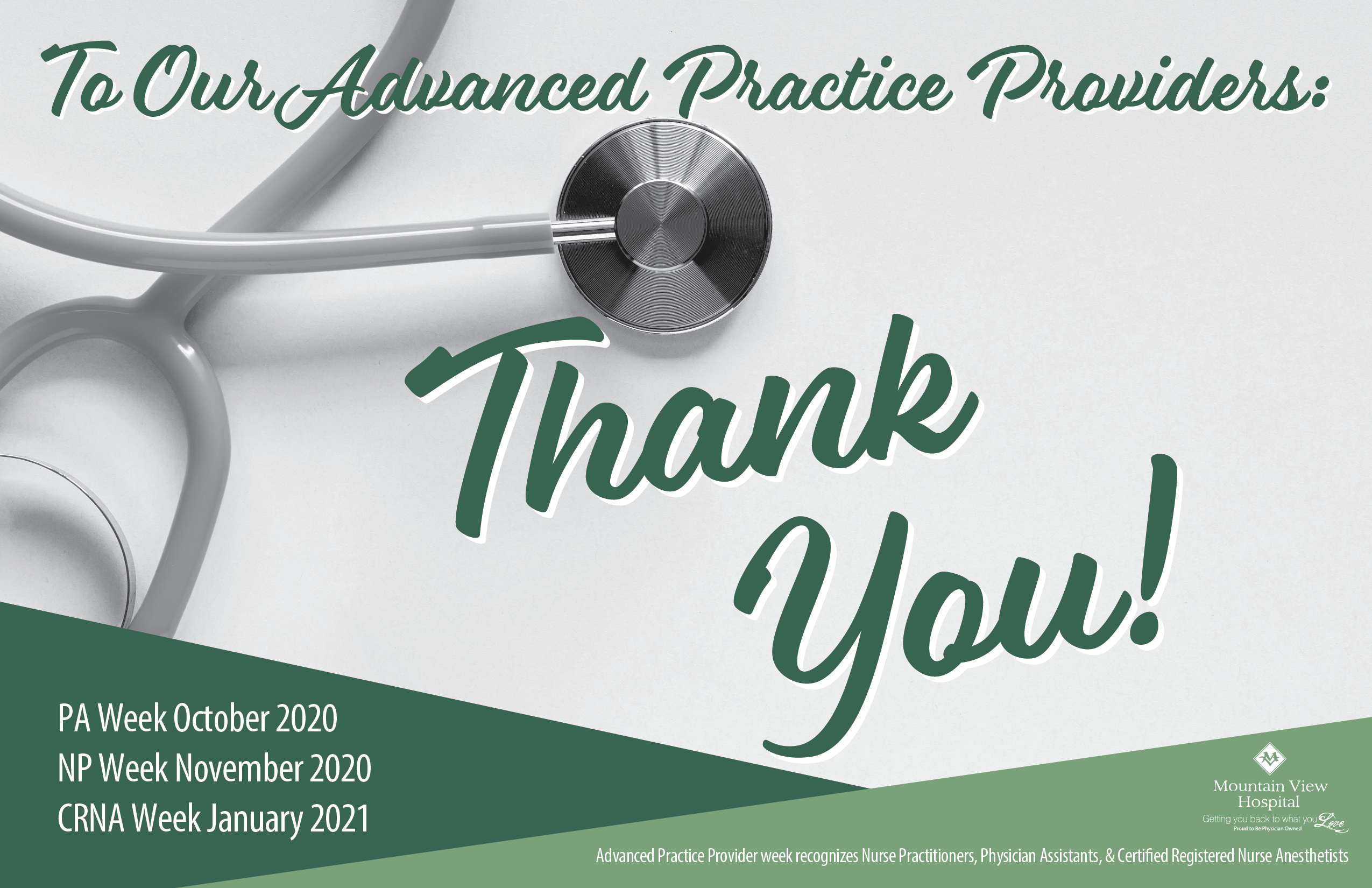 We recently received this awesome feedback from one of our patients. Way to go team!
"On Wednesday the 14th I had surgery at your hospital. I have a long history of post op nausea and vomiting and was not looking forward to surgery, and in fact I had avoided it for years. This has turned out to be my best experience with anesthesia/surgery yet. From the time I was first contacted by the pre-op nurse to the time I left the building, everyone that I and my wife encountered was very pleasant and professional, friendly and helpful. As a retired firefighter/paramedic and my wife is a retired nurse we have seen a lot of hospitals and yours is top notch. I especially want to thank the anesthesia crew. They listened to me and did everything they could to alleviate my concerns. I was absolutely amazed by the robot in surgery. And my recovery nurse was great. I would not hesitate to recommend your hospital to anyone."
Al's Sporting Goods
2020 Corporate Night
Mountain View and Idaho Falls Community Hospital staff and their family members are invited to Al's Sporting Goods' annual Corporate Night Private Sale Event on Thursday November 12, 2020 2395 E 17th Street Idaho Falls, Idaho.
The private sale begins at 5 PM and ends at Midnight.
This is a special event and closed to the public. On this night only, Al's will be offering us their CEO/Managers pricing for a few key partner corporations in our area. This deal is very good and is only offered once a year to anyone outside of Al's Sporting Goods. The discounts are deep and go on For-ev-er. Employees will save anywhere from 25% to 40% in most departments and some exclusions may apply.
To make it easier for you to know the prices, a flyer will be handed out at the door with instructions. This should allow individuals to scan any of the products to see Al's special pricing.
Here's a little information about Al's Sporting Goods for those who are new to the area or haven't had the opportunity to shop at Al's Sporting Goods:
Al's Sporting Goods has been doing business in Cache Valley (Logan Utah) for over 99 years, and we recently opened a third location near you on 17th Street in Idaho Falls. This facility is a 40,000 square foot, full line sporting goods store that carries gear for hunting, fishing, camping, skiing, snowboarding, athletics, team sports, footwear, cycling and water sports. We carry the biggest brands in the sports world and proudly consider ourselves to be Utah's best sporting goods store. Our Corporate Night sale event is held once a year to give neighboring businesses exclusive deals store wide, and it is always a smashing success. We would love to have you attend!
All you need is a copy of this flyer OR your employee badge at the main front entrance of the store, where you'll be greeted by an Al's Sporting Goods team member. You can also take a picture of the flyer and present the picture at the main front entrance. Families can be represented by the employee.
We Need Volunteers!
If you'd like to sign up for the upcoming Blood Drive, please contact our Volunteer Coordinator, Velisha Howard. 
Email: vhoward@mvhospital.net
Phone: 208-569-7589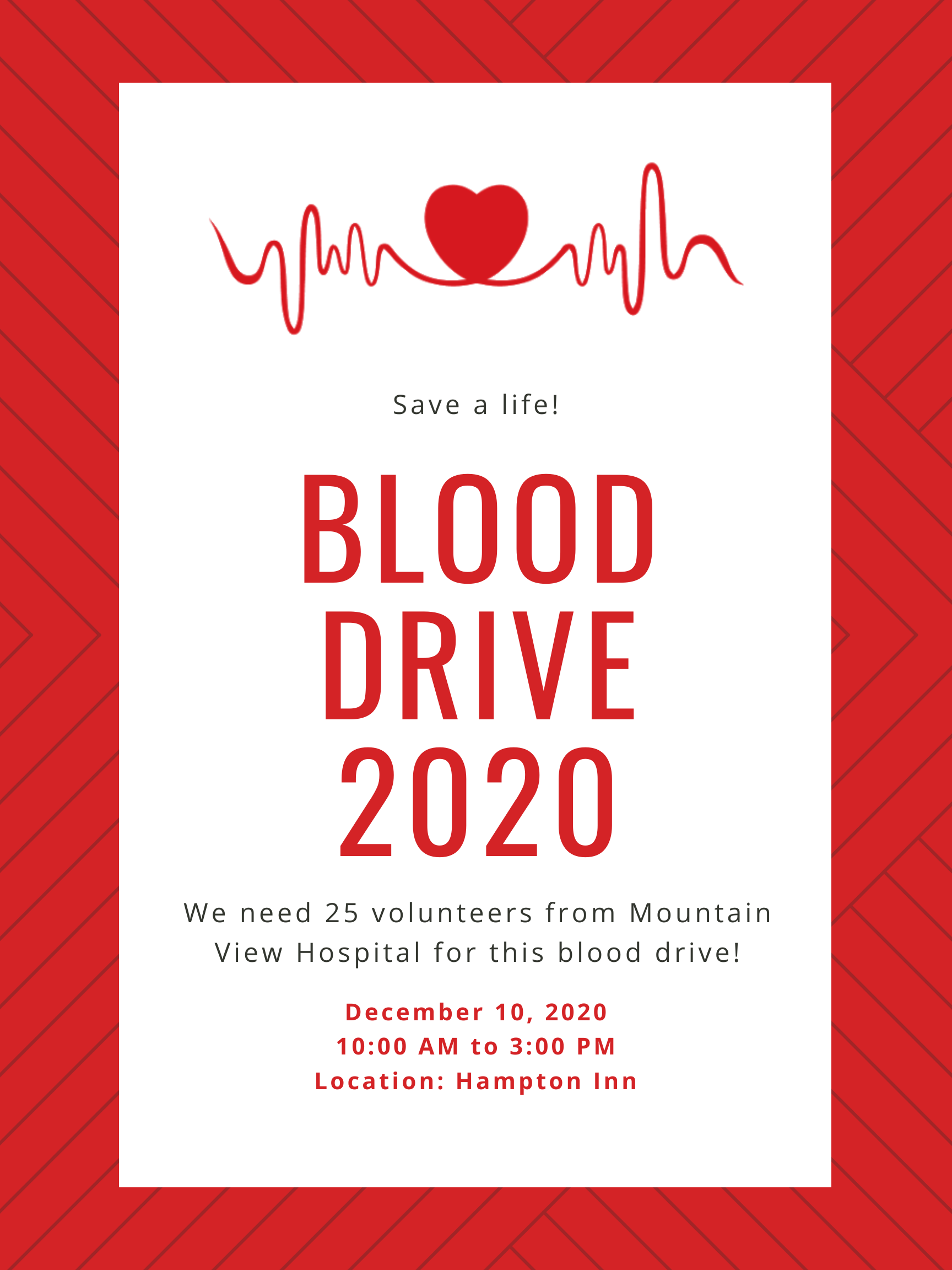 Hospital Week Coupon Extended
For those employees who received a hospital week coupon during the month of May and have not yet redeemed your coupon, this message is for you.
The vendors have agreed to extend the expiration of the coupon until November 30th. (Sadly, we do not have any spare coupons to replace lost coupons.)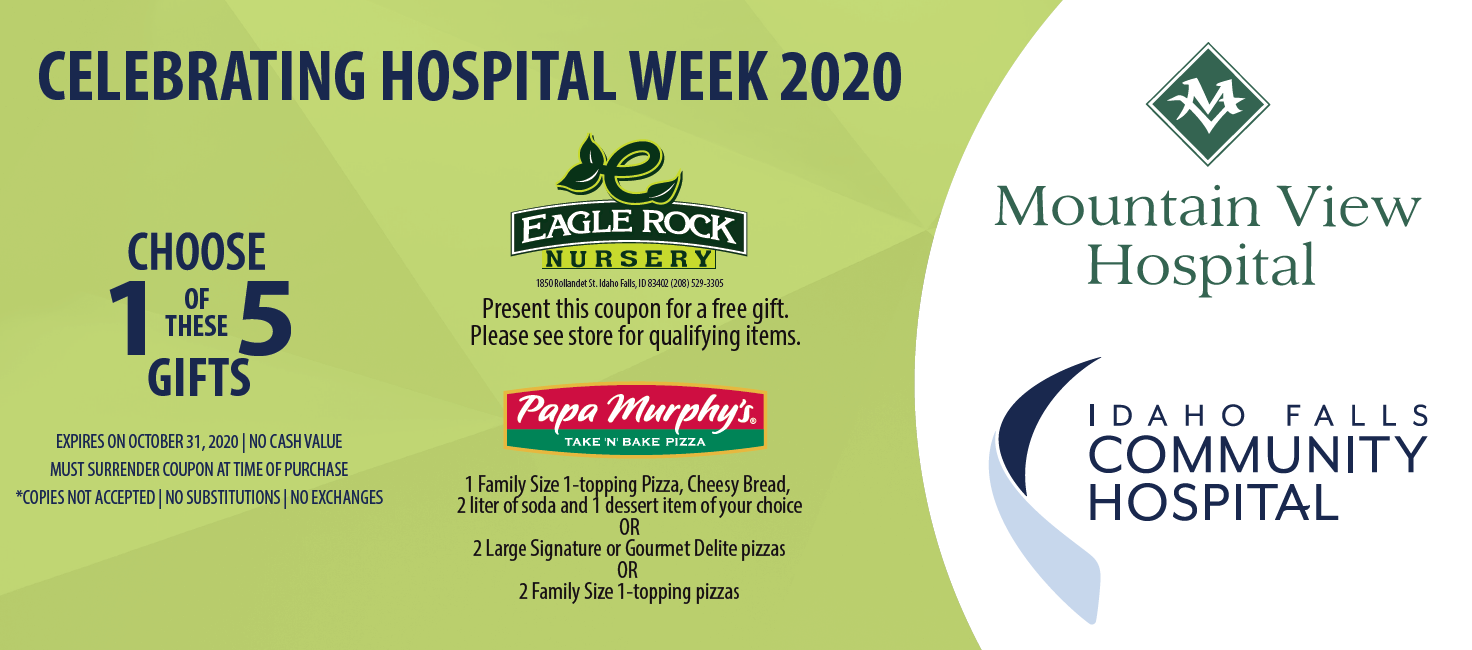 In these trying times it's nice for employees, patients, and visitors to see the smiling eyes of the Mountain View and IFCH front door screeners.
Since the Covid-19 precautions started in March, employees from various departments and clinics have shared the thankless task of screening every person who walks through our doors by taking temperatures, asking ever-evolving questions, directing patients and visitors to various destinations, and dealing with frequent changes in policy. Most of these people have dedicated many hours beyond their regular shifts to do this task.
Through it all, these employees have demonstrated the customer service that Mountain View is known for, standing to greet each person with a smile (you can see it in the eyes and cheeks even when a mask is worn), a warm welcome, and a gracious manner even when some patients, visitors, and even employees have grown frustrated with the precautionary measures Covid-19 has brought into our current lifestyle.
Don't hesitate to give these hardworking people a smile and a kind word to brighten their day because we couldn't do what we do without their service.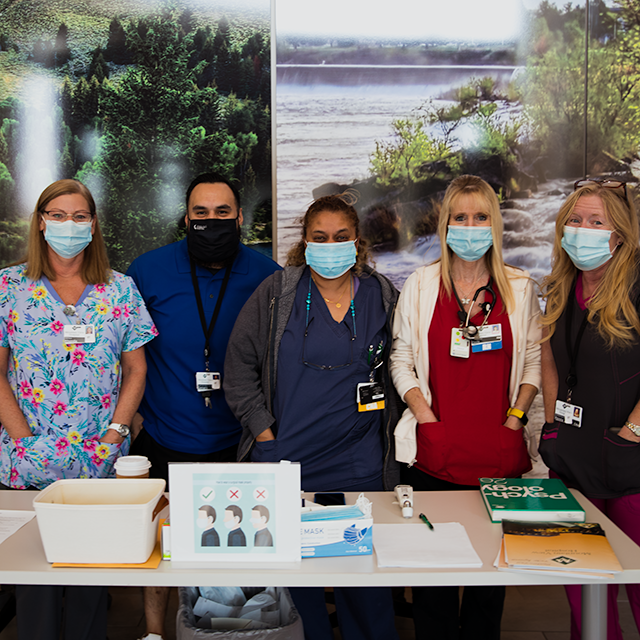 Mountain View Hospital 2020
Poinsettias Volunteer Fundraiser
These poinsettias are grown locally at Town & Country Gardens and are of exceptional quality. There are over 20 exciting colors including salmon, pink, purple, speckled, and white and of course, all shades red!
Vouchers are purchased and then buyers redeem their vouchers between November 9th 2020 and December 7th, 2020.
Customers can select their poinsettias from a greenhouse full of hundreds of beautiful plants-customer satisfaction guaranteed!
Each voucher is $14.99. All money is due by November 9th 2020.
Checks can be written to Mountain View Volunteer Auxiliary. These are also tax deductible, we are non-profit.
Your purchase enables us to award scholarships, through College of Eastern Idaho, to worthy individuals seeking education in the medical fields.
Contact: Information Desk at Mountain View Hospital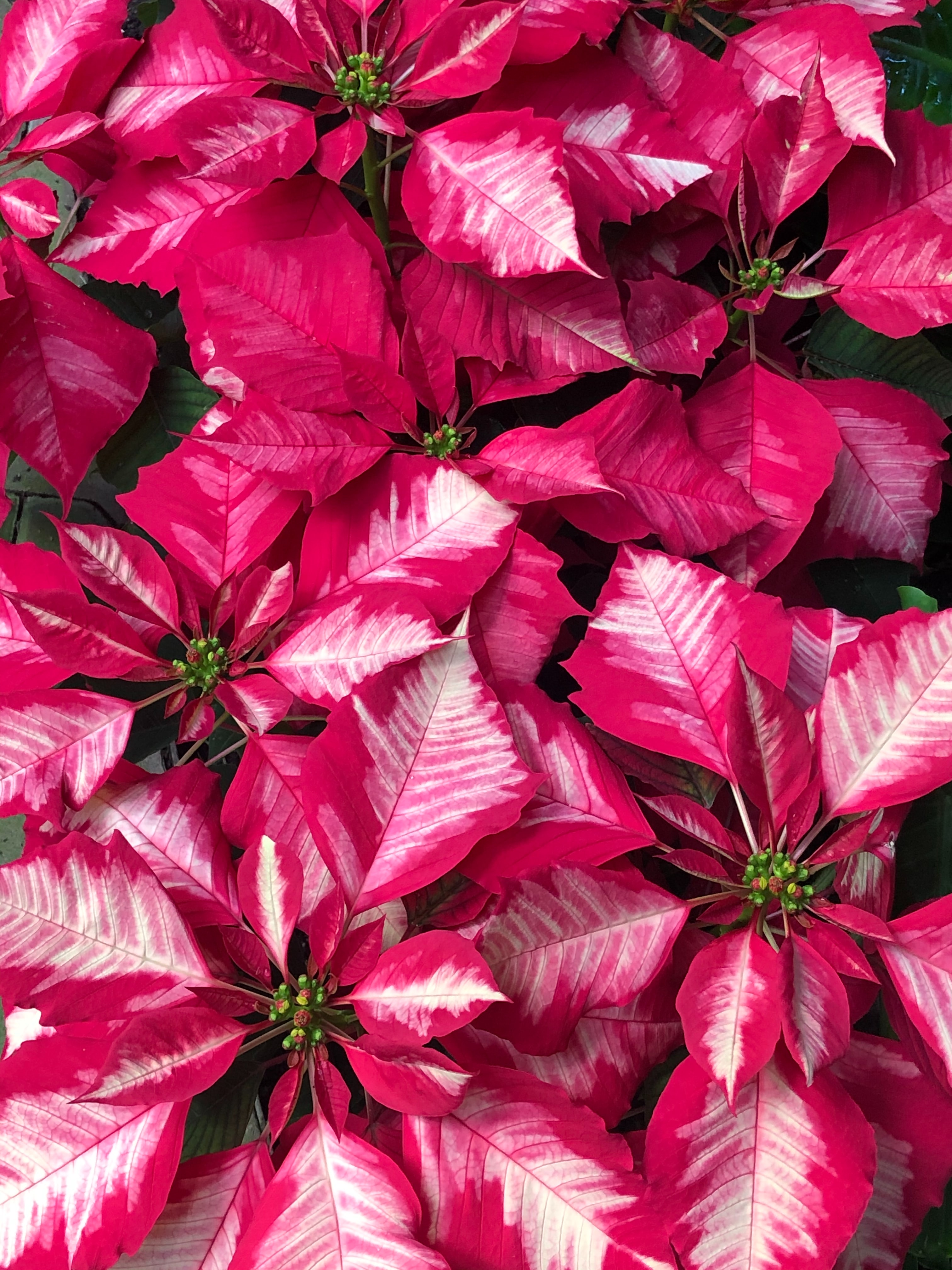 | | | | |
| --- | --- | --- | --- |
| 10/01 | KARIANNE | JOHNSON | Physician Management Services |
| 10/01 | RYAN | PEOPLES | Pharmacy |
| 10/01 | JADEN | POULTER | Pain Specialists of ID |
| 10/01 | JORDAN | WARD | Pain Specialists of ID-Pocatel |
| 10/02 | MARIE | GARCIA | Business Office |
| 10/02 | JAYCEE | LANDON | Wound Care |
| 10/02 | ALEX | SVOBODA | Lab |
| 10/02 | ORLAN | WHITE | Information Systems |
| 10/03 | SELENA | RIPPLINGER | Business Office |
| 10/03 | DAWN | KELLY | Workmens Compensation |
| 10/03 | KATHRYN | STRONKS | Nursery |
| 10/04 | FRANCISCA | ACOSTA JIMENEZ | MedSurg |
| 10/04 | SOFIA | AGUAYO QUEZADA | Prescription Center Retail |
| 10/04 | KERRI | HANSEN | Radiology |
| 10/04 | AMANDA | HOBBS | Pain Specialists of ID-Proc Ct |
| 10/04 | MADISON | PATTESON | Labor & Delivery |
| 10/04 | BRITTANY | RANGEL | Blackfoot Pain Clinic |
| 10/04 | CLAIRE | ROWE | Business Office |
| 10/05 | DEBORAH | CHRISWELL | Teton Cancer Institute |
| 10/05 | TIFFANY | HENDERSON | Lab |
| 10/05 | ANNA | STOCKWELL | Eastern ID Spine Center (Vlach |
| 10/06 | SHAUNA | HARTOG | Pain Specialists of ID |
| 10/06 | ROBERT | HIATT | Pulmonary Function Test |
| 10/06 | ADORA | MAGAOAY | Business Office |
| 10/06 | SYMPHONY | WIRTALA | Eastern ID Spine Center (Vlach |
| 10/07 | DANIEL | RICK | Primary Care Specialists |
| 10/07 | AMANDA | ROUNDY | Surgery |
| 10/08 | PORSCHE | BAUER | Labor & Delivery |
| 10/08 | JUSTIN | GREGORY | Administration |
| 10/08 | LAURIE | JENSEN | Labor & Delivery |
| 10/08 | JENNIFER | JOLLEY | Grand Teton |
| 10/08 | DUANE | OSWALD | Machen Family Medicine |
| 10/08 | TANYA | PRZYBYLA | Community Care-Channing |
| 10/08 | HEATHER | RUSHTON | Surgery |
| 10/08 | DILLON | SCHENKEL | Pharmacy |
| 10/09 | MAKAYLA | PARK | Teton Cancer Institute |
| 10/10 | JUDY | CARRANZA | Housekeeping |
| 10/10 | LESLIE | CARRANZA-ESTRADA | Eastern ID Spine Center (Vlach |
| 10/10 | KRISTEN | DOWNS | IF Clinic |
| 10/10 | SOFIA | YBARRA | Business Office |
| 10/11 | DIANE | FISHER | Surgery |
| 10/11 | LORA | KEARSLEY | Grand Teton |
| 10/11 | BAYLEY | ORR | PIC Pocatello |
| 10/11 | LISA | SUTER | Pain Specialists of ID |
| 10/12 | TRISTA | CLARK | Business Office |
| 10/12 | SHERI | SCHAAT | Urology Associates of Idaho Fa |
| 10/12 | SHANNON | SORENSON | MedSurg |
| 10/12 | SHANE | WITHERS | Pharmacy |
| 10/13 | KATIE | ADAMSON | BMC/Johanson Surgery |
| 10/13 | RICHAEL | BELNAP | Administration |
| 10/13 | HEIDI | BUCK | Community Care-Rexburg |
| 10/13 | DYLAN | DUVAL | Point of Care |
| 10/13 | SHAWN | MOHLER | Radiology |
| 10/13 | CORTNEY | MURDOCH | Community Care-West Side |
| 10/13 | ALEX | PAYNTER | Information Systems |
| 10/13 | MANDI | PAYNTER | Business Office |
| 10/13 | ANA | PONCE | Business Office |
| 10/13 | ERNA | RUSSO | Endoscopy |
| 10/14 | MARA | CLARK | Pain Specialists of ID |
| 10/14 | LYNETTE | HANSEN | Surgery |
| 10/14 | MIRIAM | JIMENEZ | Business Office |
| 10/15 | KAYLYNN | CAMPBELL | Primary Care Specialists |
| 10/15 | TERA | MCCARTY | Creekside Surgery Center |
| 10/15 | BEVERLY | PARKS | Labor & Delivery |
| 10/15 | CINDY | POPEJOY | BMC Admin |
| 10/15 | KAMILLA | WEAVER | Business Office |
| 10/16 | ALEXIS | BRAZIL | Blackfoot Medical Laboratory |
| 10/16 | JARED | CAMPBELL | Pharmacy |
| 10/16 | JULIE | COOK | Speech Therapy |
| 10/16 | HEATHER | GREEN | Business Office |
| 10/16 | PHIL | JORDE | Purchasing |
| 10/16 | DANETTE | WALTERS | MedSurg |
| 10/17 | EMILY | AUSTIN | Human Resources |
| 10/17 | SHANDRA | BLACKER | Wellness and Recovery |
| 10/17 | AMI | DRAPER | Purchasing |
| 10/17 | SHEREE | HENDERSON | PIC Pocatello |
| 10/17 | JUDY | HOLDER | Housekeeping |
| 10/17 | BRENDA | LOPEZ | Channing Redicare Clinic |
| 10/17 | TORI | LOUK | Labor & Delivery |
| 10/17 | RILEE | WILDE | Pain Specialists of ID-Pocatel |
| 10/18 | TODD | CRANOR | Community Care-Pocatello |
| 10/18 | ANGELICA | DORANTES | Business Office |
| 10/18 | CAMILLEA | LINDSTROM | Business Office |
| 10/18 | TAMARA | MARTINEZ | Sleep Specialists |
| 10/18 | KATHERYN | NELSON | Housekeeping |
| 10/19 | CARISSA | BINGHAM | Pain Specialists of ID-Proc Ct |
| 10/19 | YVETTE | BLAKE | Creekside Surgery Center |
| 10/19 | KATAYANA | DOWALO | Business Office |
| 10/19 | CORY | ESCOBEDO | Lab |
| 10/19 | JENNIFER | PACKER | Surgery |
| 10/20 | JOSH | ATKINSON | Pain Specialists of ID |
| 10/20 | KEETON | DOGGETT | Coffee Shop |
| 10/20 | LISA | EZELL | Quality Resources |
| 10/20 | BRANDI | LISH | Teton Cancer Institute |
| 10/20 | CHRISTINA | RASMUSSEN | Teton Cancer Institute |
| 10/20 | MARIE | ROLFE | Peri-Op |
| 10/20 | ANA | SWANSON | Lab |
| 10/21 | NATASHA | DEITZ | Business Office |
| 10/21 | NICKI | MAGGART | Labor & Delivery |
| 10/21 | HEATHER | MCVEY | Primary Care Specialists |
| 10/21 | KYLIE | PARKER | Population Health |
| 10/21 | MARY | WHITNEY | Administration |
| 10/22 | HEATHER | DRANEY | Pulmonary Services |
| 10/22 | CORTNEY | FYFE | Primary Care Specialists |
| 10/22 | JESSICA | GREAVES | Primary Care Specialists |
| 10/22 | TAWNY | HYMAS | Sleep Specialists |
| 10/22 | MARY | STUCKI | Speech Therapy |
| 10/23 | KATHRYN | ANDREASEN | BMC Admin |
| 10/23 | XAN | MILEY | Sleep Specialists |
| 10/23 | BETHANY | PEIRSOL | Peri-Op |
| 10/23 | BARBRA | SANCHEZ | Quality Resources |
| 10/23 | SYDNEY | SCHWIEDER | Grand Teton |
| 10/23 | CRYSTAL | VAUGHN | Eastern ID Spine Center (Vlach |
| 10/24 | CANDICE | BECK | Teton Cancer Institute |
| 10/26 | CHRISTINE | MICKELSEN | Community Care-West Side |
| 10/27 | ENRI | DAFA | Purchasing |
| 10/27 | HOWARD | MADSEN | Pharmacy |
| 10/27 | DUANE | MORTENSON | Channing Redicare Clinic |
| 10/27 | BRIANNA | TEEL | Channing Redicare Clinic |
| 10/28 | ROBERT | ADAMSON | Purchasing |
| 10/28 | LEXIE | BELL | PIC Pocatello |
| 10/28 | AARON | CRAYTHORN | Respiratory Therapy |
| 10/28 | MARY | HANSEN | Peri-Op |
| 10/28 | KELLY | ORF | Prescription Center Infusions |
| 10/28 | LAURIE | SOLIDAY | Business Office |
| 10/28 | EMILY | SPEAKMAN | Community Care-Channing |
| 10/29 | MATTHEW | IVIE | Community Care-Channing |
| 10/29 | TAMERA | NAKASHIMA | Blackfoot Pain Clinic |
| 10/29 | TAYLOR | SISTRUNK | Business Office |
| 10/29 | AMY | WALL | Machen Family Medicine |
| 10/30 | TIVISAY | ESTRADA | Workmens Compensation |
| 10/30 | CALLIE | OLAVESON | Labor & Delivery |
| 10/30 | BRENDA | RANDALL | Peri-Op |
| 10/30 | RUSSELL | TAYLOR | Finance |
| 10/31 | EMILY | HULSE | Business Office |
| 10/31 | KAYLA | JOHANSEN | Pain Specialists of ID |
| 10/31 | GAYLEEN | PARKER | Hinckley ENT |
| 10/31 | LISA | VALENZUELA | Labor & Delivery |
| 10/31 | ANGELENE | WILLIE | Lab |
| | | | |
| --- | --- | --- | --- |
| 11/01 | TERRI | CURTIS | Pain Specialists of ID |
| 11/01 | BRENNA | JAMISON | Human Resources |
| 11/01 | AMANDA | JUDY | Pain Specialists of ID |
| 11/01 | KAMILLA | SPENCER | Channing Redicare Clinic |
| 11/01 | KENT | STALEY | Information Systems |
| 11/02 | SHERRY | BOGGS | Administration |
| 11/02 | KIMBERLY | BYBEE | Sleep Specialists |
| 11/02 | TIAWNA | PARRY | Pain Specialists of ID |
| 11/03 | RANDELL | DRAKE | Physical Plant |
| 11/03 | MARYLOU | GALVAN | BMC Shelley |
| 11/03 | GRANT | GOHR | Physical Plant |
| 11/03 | DARIC | RUSSELL | Pain Specialists of ID |
| 11/03 | JESSLYN | SPEAKMAN | BMC Shelley |
| 11/03 | KAYLA | TAPPER | Eastern ID Spine Center (Vlach |
| 11/04 | KARA | GILMER | Peri-Op |
| 11/04 | JENNIFER | GRAHAM | Community Care-Rigby |
| 11/04 | MARK | HOLBROOK | Quality Resources |
| 11/04 | TARA | JOHNSON | Community Care-West Side |
| 11/04 | MAKAYLA | SEYMORE | Business Office |
| 11/04 | LINDA | STALNAKER | Pain Specialists of ID-Pocatel |
| 11/05 | ANDREA | BRAINARD | Primary Care Specialists |
| 11/05 | MEGAN | CAROLAN | Surgery |
| 11/05 | ROBYN | LUTES | Business Office |
| 11/05 | JARED | MANWARING | Urology Associates of Idaho Fa |
| 11/05 | COURTNEY | MARSHALL | Administration |
| 11/06 | JOLENE | BLACKER | Premier Speech Therapy |
| 11/06 | JORY | DRAKE | Surgery |
| 11/06 | KENDALL | ROGERS | Pain Specialists of ID-Pocatel |
| 11/06 | CHRISTINA | WATSON | Hinckley ENT |
| 11/07 | TANNER | CRAFT | Lab |
| 11/07 | TAMI | DELGADO | Housekeeping |
| 11/07 | GREG | MOORE | Surgery |
| 11/07 | KELLEE | ROBINETTE | Quality Resources |
| 11/08 | DAVID | BARNHILL | Peri-Op |
| 11/08 | SYDNEY | LEATHERS | Finance |
| 11/08 | RYAN | WILLIAMS | Pain Specialists of ID |
| 11/09 | TERI | FRY | Peri-Op |
| 11/09 | ASHLEY | KERBS | Administration |
| 11/09 | AMANDA | MOORE | Point of Care |
| 11/09 | DAVID | WINCHESTER | Channing Redicare Clinic |
| 11/10 | JULIE | MALLOY | MedSurg |
| 11/10 | SHAKIRA | NASH | Pain Specialists of ID-Proc Ct |
| 11/10 | JENNIFER | THURBER | Pain Specialists of ID-Proc Ct |
| 11/10 | TRINA | ZIEBARTH | Lab |
| 11/11 | AARON | ALTENBURG | Altenburg Joint Replacement Po |
| 11/11 | STEPHANIE | BAILEY | Lab |
| 11/12 | NICOLE | CHAVEZ | Business Office |
| 11/12 | AMANDA | HUFF | Housekeeping |
| 11/12 | MICHAEL | SCHRADER | Teton Cancer Institute |
| 11/13 | KATHERINE | BRUNDY | BMC/Johanson Surgery |
| 11/13 | MARY | HANSON | Physician Management Services |
| 11/13 | LINDSAY | HOLLINS | PIC Pocatello |
| 11/13 | TIFFANY | MCMURTREY | Housekeeping |
| 11/13 | KYLEE | NELSON | Community Care-West Side |
| 11/13 | PRUDENCE | RIVERA | Housekeeping |
| 11/13 | JANET | ROBINSON | Pain Clinic |
| 11/13 | BRIAN | ZIEL | Marketing |
| 11/14 | KATHRYN | FENSKE | Labor & Delivery |
| 11/15 | NATASHA | CONRAD | Health Information Management |
| 11/15 | CAROL | LIVERMONT | Physical Plant |
| 11/15 | EVANGELINA | LOPEZ | MedSurg |
| 11/15 | CHRISTINA | NORMAN | Urology Associates of Idaho Fa |
| 11/15 | ASHLEIGH | VARGA | Pulmonary Services |
| 11/15 | BOBBI | WARREN | Pain Specialists of ID-Pocatel |
| 11/16 | FREDERICKA | BIRD | Teton Cancer Institute |
| 11/16 | DEREK | CAMPBELL | Community Care-West Side |
| 11/16 | HEIDI | JESSOP | Surgery |
| 11/16 | KERRY | LEWIS | Labor & Delivery |
| 11/16 | MEGAN | MCCOMB | Peri-Op |
| 11/16 | HEATHER | PINCOCK | Pain Specialists of ID-Proc Ct |
| 11/16 | ALLEIGH | THURBER | Labor & Delivery |
| 11/16 | CARMEN | WHITMAN | Eastern Idaho Foot Clinic |
| 11/17 | MILLIE | ADAMS | Blackfoot Pain Clinic |
| 11/17 | JACOB | COOLEY | Prescription Center Infusions |
| 11/17 | ERIK | HILLYARD | Business Office |
| 11/17 | BRYNNA | KRIEGER | MedSurg |
| 11/17 | MARY | MATHEWS | Physician Management Services |
| 11/17 | WHITTNEY | MILLER | Community Care-Rigby |
| 11/18 | WILLIAM | HALE | Surgery |
| 11/18 | SHERI | LONG | Urology Associates of Idaho Fa |
| 11/19 | JASON | AIKELE | Information Systems |
| 11/19 | WENDY | BATEMAN | Quality Resources |
| 11/19 | RICHARD | BLACK | Pharmacy |
| 11/19 | BRIANNA | HATCH | Pain Specialists of ID |
| 11/19 | BRIAN | JOHNSON | Physical Plant |
| 11/19 | JOLENE | PINNOCK | Pain Specialists of ID-Proc Ct |
| 11/19 | SARAH | RICH | Business Office |
| 11/20 | PENNY | BRENNAN | MedSurg |
| 11/20 | ALEXIS | CARBAJAL | Business Office |
| 11/20 | KRISTY | ENGLIS | Point of Care |
| 11/20 | PAULA | NOEL | Teton Cancer Institute |
| 11/20 | STEPHANIE | PIERCE | BMC/Johanson Surgery |
| 11/20 | CAMMY | POTTER | Teton Cancer Institute |
| 11/20 | JESSE | WAGEMAN | Pharmacy |
| 11/20 | KARMA | YOUNGSTROM | Channing Redicare Clinic |
| 11/21 | CANDIS | BISHOFF | Peri-Op |
| 11/21 | KELSEY | ELLIS | Grand Teton |
| 11/21 | DESTINY | JONES | Eastern ID Spine Center (Vlach |
| 11/21 | TERESA | MCKIRDY | Peri-Op |
| 11/21 | TODD | PAGE | Physical Plant |
| 11/22 | KATHRYN | BAIRD | Business Office |
| 11/22 | BAILEY | BATES | Community Care-Pocatello |
| 11/22 | ERIC | COFFEL | Quality Resources |
| 11/22 | DIONNE | PICKETT | Preventative Services |
| 11/22 | KILEY | WILLIAMS | BMC/Johanson Surgery |
| 11/23 | KADE | SMITH | Housekeeping |
| 11/24 | SARA | CORAY | PIC Chubbuck |
| 11/24 | DEBRA | FUELLING | Radiation Oncology |
| 11/24 | JESSE | JONES-BLAIR | Information Systems |
| 11/25 | AMY | LARSEN | Administration |
| 11/25 | MICHELLE | SVOBODA | Speech Therapy |
| 11/26 | TINA | CASE | Pain Specialists of ID-Pocatel |
| 11/26 | STEPHANIE | IANUZI | Creekside Surgery Center |
| 11/26 | HOLLY | KNIEVEL | Primary Care Specialists |
| 11/27 | JAMIE | BROWN | Purchasing |
| 11/27 | ZACHARY | BUCK | Channing Redicare Clinic |
| 11/27 | CHARITY | JOHNSON | PIC Pocatello |
| 11/27 | CAROL | LENGYEL | Housekeeping |
| 11/28 | SUZY | NELSEN | Peri-Op |
| 11/28 | TERRI | NEUERBURG | Quality Resources |
| 11/29 | TREVOR | DAW | Peri-Op |
| 11/29 | SCOTT | HANNERS | Physical Plant |
| 11/29 | CARRIE | WALKER | Brad Erickson |
| 11/29 | BRYCE | WYLIE | Community Care-Rigby |
| 11/30 | JANAE | ALBERTSON | Pain Specialists of ID |
| 11/30 | ASHLIE | HENRIE | Surgery |
| 11/30 | ERICA | KLEIN | Peri-Op |