Welcome to The Beat 
In this newsletter, we'll share company-wide news, including upcoming events, birthdays, spotlights, department news, and more. This newsletter is designed to be informative and collaborative. Do you have a fun story, positive patient feedback, or a funny work picture? Use the form on this page to submit!
If everyone is moving forward together, then success takes care of itself.

Henry Ford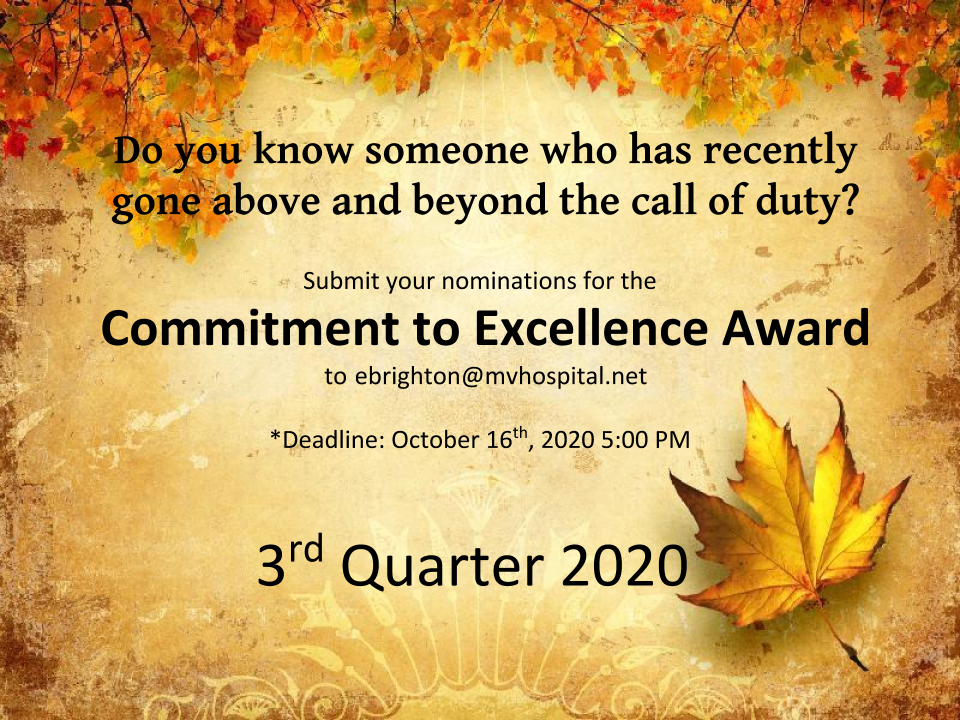 Patient Testimonials
Way to go team! Patient care is so important, and it is wonderful to get reviews like this.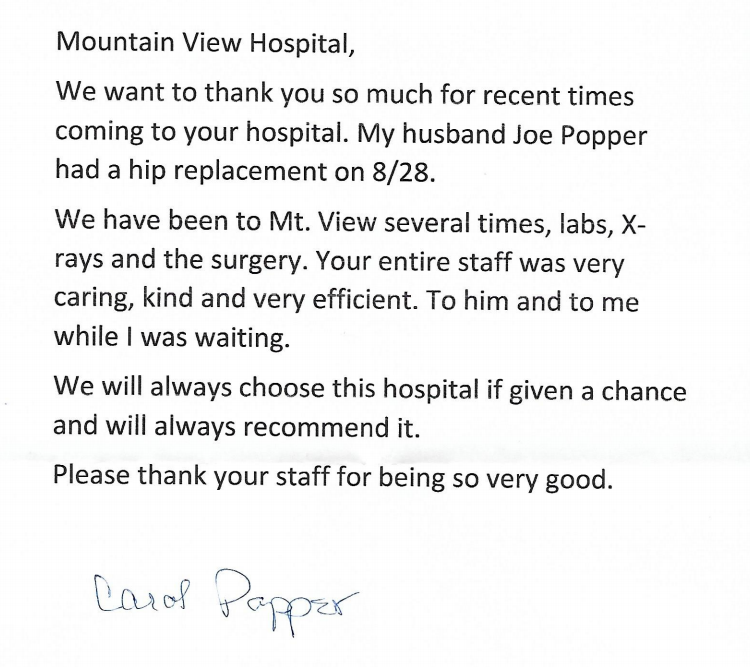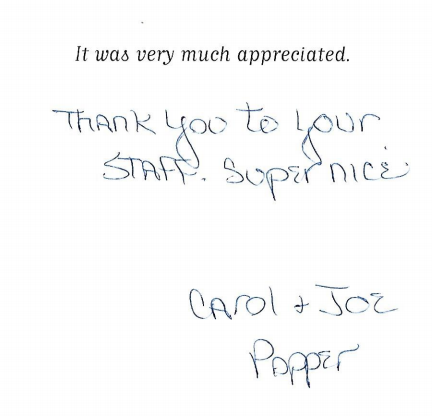 Get your Flu Vaccine
Hello everyone! If you need your flu vaccine, now is the time! 
Saige Becker is planning a flu clinic to help MVH employees get vaccinated. Join us October 13 from 4 to 7 pm in the boardroom upstairs from the Physical Therapy Department. 
We have the vaccines on the floors currently so this will just be for employees who haven't had the opportunity to receive a vaccine while they are working.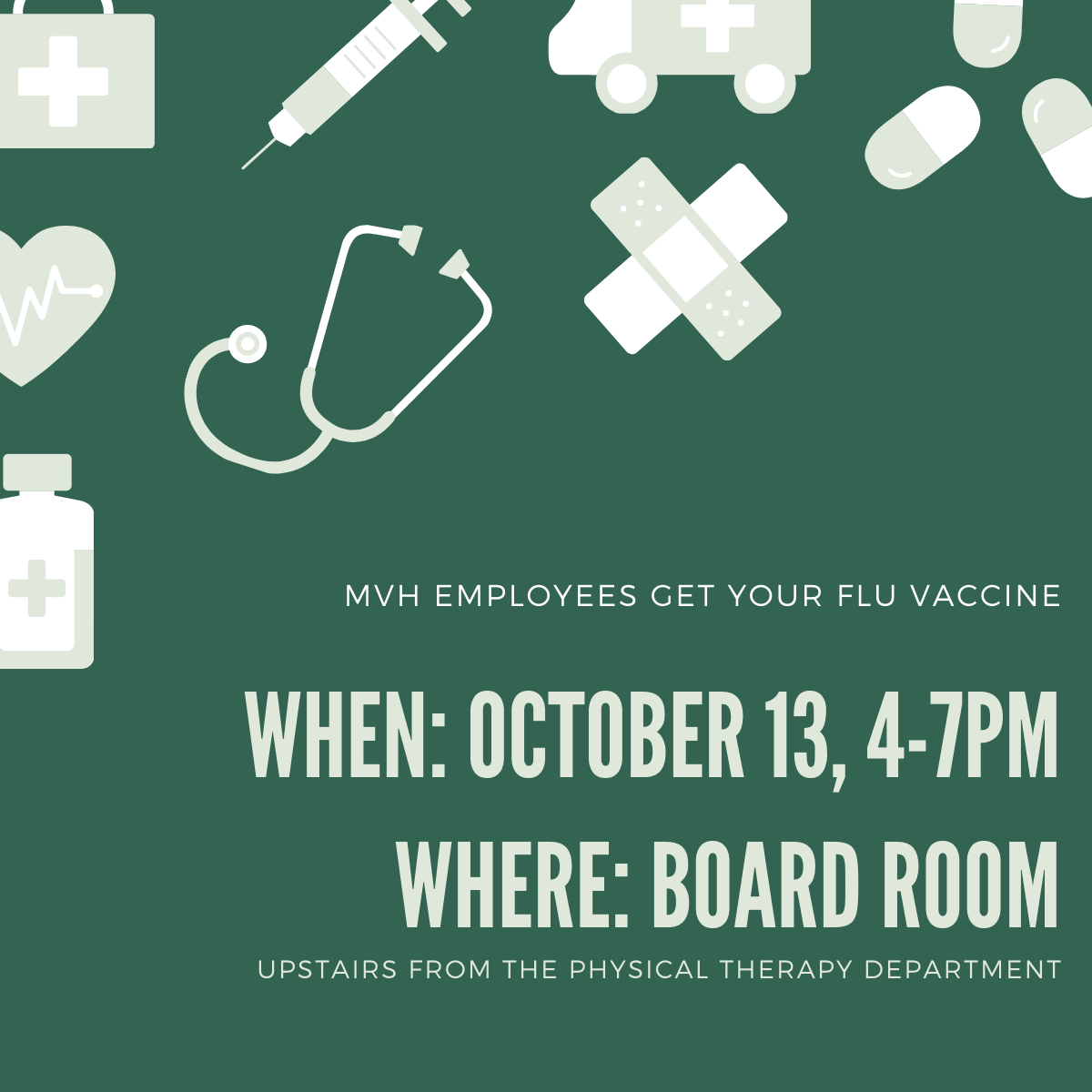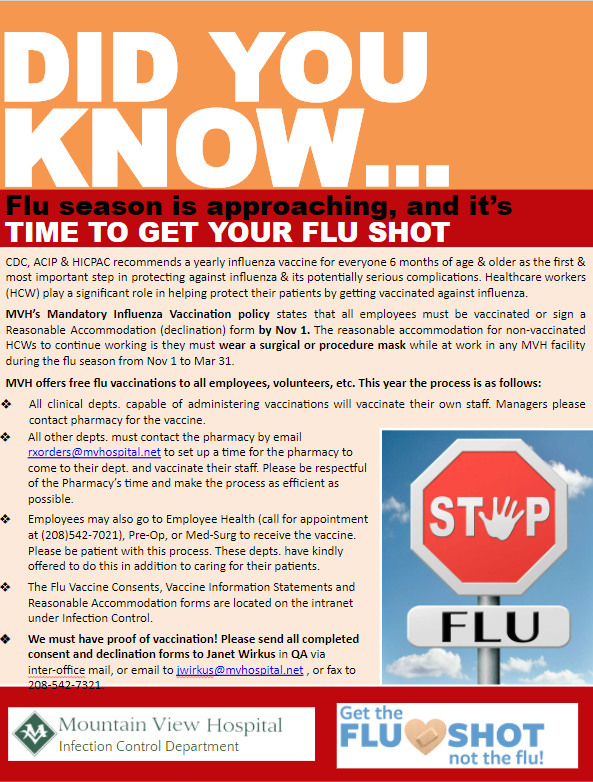 Are you ready for Drive Thru to Fight the Flu?
Tell your friends and family about this great opportunity for them to get their flu vaccines from the comfort of their own vehicles! 
Please note: This event is only for patients only, not employees. 
IT Security
Phishing: is the fraudulent attempt to obtain sensitive information or data, such as usernames, passwords and credit card details, by disguising oneself as a trustworthy entity in an electronic communication. If you ever see an attempt or not sure of the email you receive please forward the email to itsecurity@mvhospital.net
Pop Quiz:
What is the best line of defense for avoiding a data breach?
The first 3 to respond with the correct answer gets a prize. Send answer to itsecurity@mvhospital.net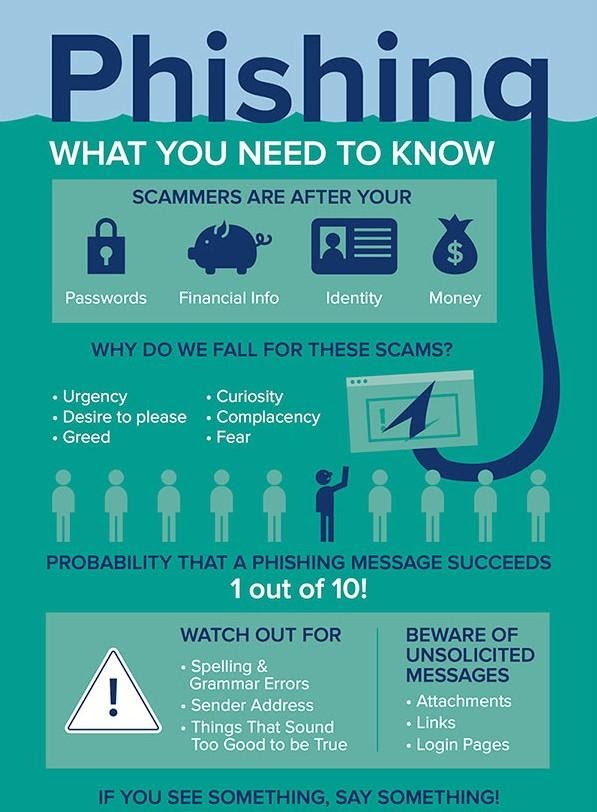 A Huge Thank You from EVS!
On behalf of the entire EVS team I would like to thank all of the departments and individuals who participated in Housekeeping Week last week. It was an amazing week of fun, food and gifts! The outpouring of love and support shown to the EVS team was incredible. I would especially like to thank Whitney Cooley and Tiffany Mendoza for coordinating the effort to purchase the entire EVS team (all 65 of us) jackets and for everyone who contributed in order to make it happen. Last week we also had the privilege of celebrating Carla Thueson's retirement and though we will miss her 18 years of knowledge and expertise we wish her the best on her new adventures. Thank you to everyone who came out to wish her well!
Sarah Johnson
Environmental Services
Mountain View Hospital
September is Pain Awareness Month
September is Pain Awareness Month! We want to highlight Pain & Spine Specialists as we start out the month.
As Pain Awareness Month continues, Pain & Spine Specialists wants to help spread awareness that chronic pain can be treatable. Over 50 million Americans live with chronic pain, and there is likely someone you know (or even you) who is living with pain every day. The providers at Pain & Spine Specialists understand pain and how each person experiences pain in a different way. Because of this, they create individualized treatment plans to help get their patients back to doing what they love.
Pain & Spine Specialists takes an interventional approach with each patient that comes through their doors. They are focused on treating all types of pain and want to help individuals find a better quality of life with the right treatment plan. Some of the treatment options Pain & Spine Specialists offers includes spine and joint injections, nerve ablations, Botox for migraines, regenerative medicine, ketamine infusions for depression and pain, intrathecal pain pumps, spinal cord stimulators and other interventional procedures.
Pain & Spine Specialists has four locations in Southeast Idaho to better serve the community, with procedure centers at their Idaho Falls and Pocatello locations. All five of their doctors are double-board certified in anesthesia and pain medicine, and they have seven mid-level providers that are also specialized in pain care.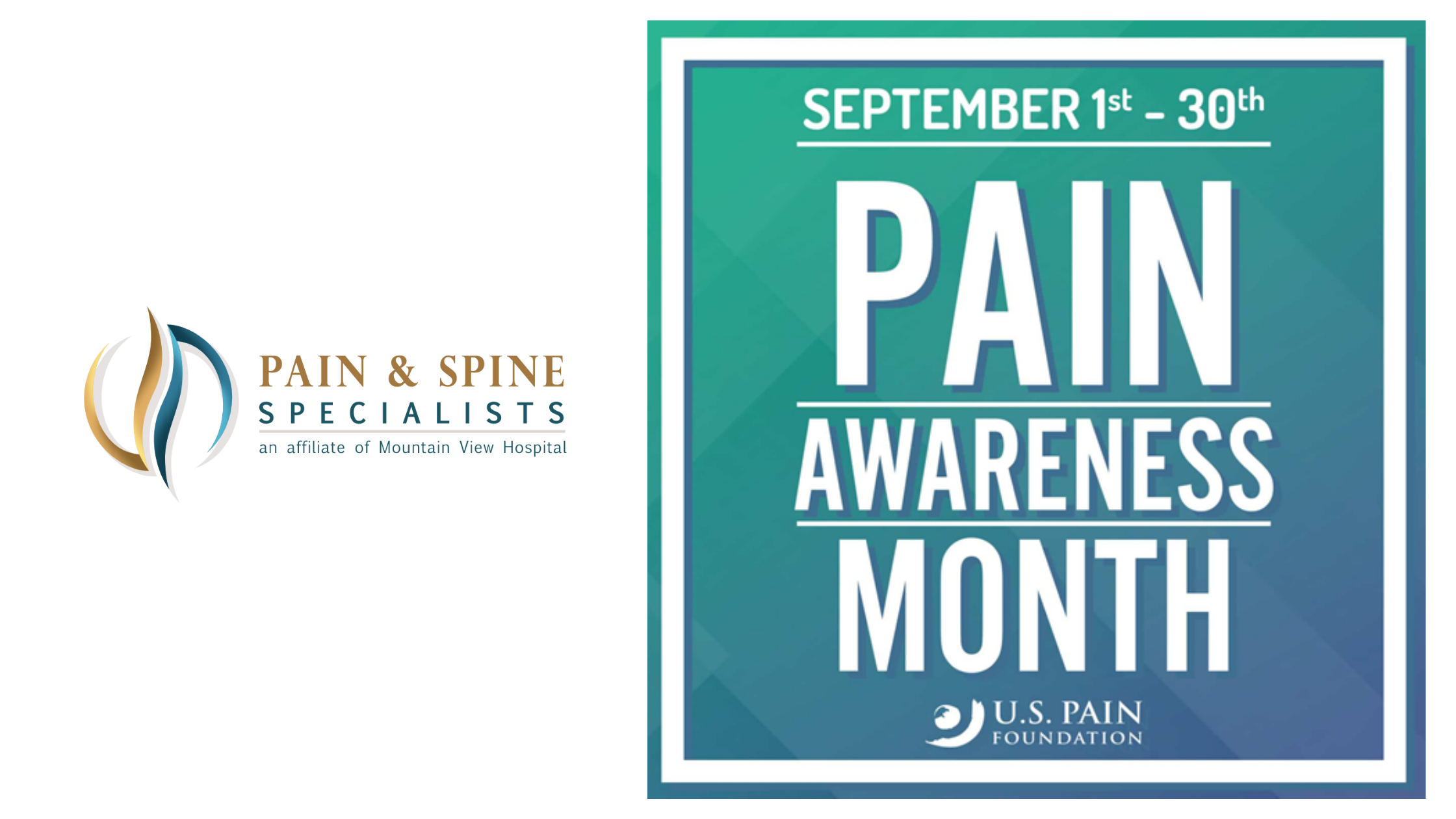 To learn more about Pain Awareness Month and get a sneak peek of the U.S. Pain Foundation's Pain Awareness Campaign, visit http://uspainfoundation.org/news/pain-awareness-month-2020-sneak-preview.
| | | | |
| --- | --- | --- | --- |
| 09/01 | KIM | EDELMAYER | Quality Resources |
| 09/01 | COURTNEY | HOFHINE | Business Office |
| 09/01 | TRISTAN | LARSEN | Preventative Services |
| 09/01 | GRACE | RUSSELL | Surgery |
| 09/02 | TRISTA | CAHOON | Business Office |
| 09/02 | AMBER | HILL | Pain Specialists of ID |
| 09/02 | MELISSA | WINWARD | BMC Admin |
| 09/03 | CARLY | BYRD | Labor & Delivery |
| 09/03 | HADLEY | EDELMAYER | Pharmacy |
| 09/03 | AMANDA | GILLISH | BMC/Johanson Surgery |
| 09/04 | DAVID | BAUMGARTEN | Pain Specialists of ID |
| 09/04 | NICOLE | BURBANK | Labor & Delivery |
| 09/04 | SARA | FELGENHAUER | Peri-Op |
| 09/04 | JENNIFER | PUGMIRE | Prescription Center Infusions |
| 09/05 | KAITLYN | COLLET | Radiology |
| 09/05 | NICOLE | FLORA | MedSurg |
| 09/05 | ZIPPORAH | GHOLSON | Population Health |
| 09/05 | KERA | OTTLEY | Labor & Delivery |
| 09/05 | EUNICE | RAMIREZ | Eastern ID Spine Center (Vlach |
| 09/05 | CRYSTAL | SUMMERS | Community Care-Rigby |
| 09/05 | ROSABEL | TREJO | BMC/Johanson Surgery |
| 09/05 | ANA | TYLER | Preventative Services |
| 09/07 | LISA | BARKOW | Human Resources |
| 09/07 | MELISSA | FULLMER | MedSurg |
| 09/07 | ELIZABETH | MINER | Wellness and Recovery |
| 09/07 | CURTIS | NASH | Lab |
| 09/07 | KRISTA | ROBINSON | Sand Creek Echo |
| 09/07 | JAMES | TERRY | Hyperbarics |
| 09/08 | VIRGINIA | DELORA | Pain Specialists of ID-Pocatel |
| 09/08 | AMY | KLINGLER | Surgery |
| 09/08 | KRISTA | MOREAU | Business Office |
| 09/09 | JAESI | BOCHENEK | MedSurg |
| 09/09 | KIMBERLYN | FITCH | Community Care-Pocatello |
| 09/09 | CHRISTINA | MARTINEZ | Business Office |
| 09/09 | SUZIE | SAMPLE | Labor & Delivery |
| 09/09 | PAIGE | SHELLEY | Blackfoot Medical Imaging |
| 09/09 | JULIUS | THOMPSON | Business Office |
| 09/09 | VON | WADSWORTH | Physical Plant |
| 09/10 | BRENAN | DRAKE | Physical Plant |
| 09/10 | KAITLYN | HOUX | Urology Associates of Idaho Fa |
| 09/10 | JESSICA | JONES | Business Office |
| 09/10 | LETICIA | LUIS | BMC Admin |
| 09/10 | BRIANNA | NORIEGA | Preventative Services |
| 09/11 | BRITTAN | HARDY | Lab |
| 09/11 | ARI | HERRON | Pain Specialists of ID-Pocatel |
| 09/11 | MORGAN | JENSEN | Community Care-Rexburg |
| 09/11 | SHAELEN | MARLOW | Business Office |
| 09/11 | JENNIFER | RAMIREZ | Radiology |
| 09/12 | SANDRA | DREWES | Pain Specialists of ID |
| 09/12 | JUSTIN | GIUFFRA | Channing Redicare Clinic |
| 09/12 | MARISELA | GOMEZ | Blackfoot Pain Clinic |
| 09/12 | LORAN | HILLMAN | Physician Management Services |
| 09/12 | ELIZABETH | SCOTT | Peri-Op |
| 09/13 | MONICA | MITCHELL | Business Office |
| 09/13 | TIFFANI | MOON | Radiology |
| 09/13 | BRITTANY | RUSSELL | Administration |
| 09/14 | KISTIN | FIFE | Surgery |
| 09/14 | SUNNY | HARTGRAVES | Peri-Op |
| 09/14 | SCOTT | MANGUM | PIC Chubbuck |
| 09/14 | ALANNA | MORRIS | Community Care-West Side |
| 09/15 | JARED | BARTON | PIC Pocatello |
| 09/15 | LISA | KILLIAN | Urology Associates of Idaho Fa |
| 09/15 | VINCENT | MELANESE | Peri-Op |
| 09/15 | JOEL | WHITING | Community Care-Channing |
| 09/15 | KATELYN | WILSON | Pain Specialists of ID |
| 09/16 | KEITH | CHRISTENSEN | Business Office |
| 09/16 | PEYTON | JOHNS | Population Health |
| 09/16 | SEAN | WHITAKER | Teton Cancer Institute |
| 09/17 | KEONA | DELL | Community Care-Channing |
| 09/17 | TRISTINA | MESERVY | Business Office |
| 09/17 | CARRIE | STEVENS | Community Care-West Side |
| 09/17 | CASEY | THOMPSON | PIC Chubbuck |
| 09/17 | TROY | WELLS | Finance |
| 09/18 | GEORGE | CHUDLEIGH | Physical Therapy |
| 09/18 | MATHEW | DUNGAN | Surgery |
| 09/18 | NETANYA | FREEMAN | PIC Pocatello |
| 09/19 | ELIZABETH | HANSEN | Mountain View Infusion Service |
| 09/19 | KELSEY | MANZON | Population Health |
| 09/19 | BECKY | PARKER | Community Care-Rexburg |
| 09/19 | LABRETTA | WOODLAND | Blackfoot Pain Clinic |
| 09/20 | JADE | ANDERSEN | Community Care-Pocatello |
| 09/20 | TERA | BYBEE | Parkway ASC |
| 09/20 | DAMARIS | FERNANDEZ | Community Care-Channing |
| 09/20 | DIANE | MADSEN | Housekeeping |
| 09/20 | RYAN | NUTTALL | Purchasing |
| 09/20 | MONICA | PALACIOS | Urology Associates of Idaho Fa |
| 09/20 | BODEN | PALMER | Pain Specialists of ID |
| 09/20 | WHITNEY | ZUNDEL | Workmens Compensation |
| 09/21 | JONATHAN | HORTON | Wound Care |
| 09/21 | LORI | KIDWELL | Pharmacy |
| 09/21 | RAQUEL | LOREDO | PIC Chubbuck |
| 09/21 | KELSIE | PFEIFFER | MedSurg |
| 09/21 | SHAUNIE | SCHOW | Teton Cancer Institute |
| 09/22 | KRYSTA | GLIDER | Creekside Surgery Center |
| 09/22 | WHITTNEY | MURPHY | Primary Care Specialists |
| 09/23 | TYLA | ADERS | Finance |
| 09/23 | CRAIG | FUNK | MedSurg |
| 09/23 | CORTNEY | JACOBSON | Eastern ID Spine Center (Vlach |
| 09/23 | GAIL | KURPINSKI | Radiation Oncology |
| 09/23 | DUSTIN | SAXTON | Pain Specialists of ID-Proc Ct |
| 09/24 | LANA | CALIGIURI | Speech Therapy |
| 09/24 | ANNIKA | HERBST | Surgery |
| 09/24 | KIM | JACKSON | Surgery |
| 09/24 | TIFFANY | JONES | Radiology |
| 09/24 | TARA | POWELL | Channing Redicare Clinic |
| 09/25 | SARAH | CAUDLE | MedSurg |
| 09/25 | HEATHER | FUMICH | Business Office |
| 09/25 | MARNI | JONES | Business Office |
| 09/25 | JASON | LONG | Lab |
| 09/25 | ELIZABETH | MENDOZA | Community Care-Channing |
| 09/25 | STEPHANIE | PERRENOUD | Pharmacy |
| 09/25 | JOSIE | PRITCHARD | Quality Resources |
| 09/25 | JOSEY | RACE | Sleep Specialists |
| 09/25 | AMBER | REDDICK | Sleep Lab |
| 09/25 | KACEY | SCHREIER | Physician Management Services |
| 09/25 | CHRISTOPHER | TRUBL | Quality Resources |
| 09/26 | BRYCE | ANDERSEN | Channing Redicare Clinic |
| 09/26 | MICHELE | GEORGE | Peri-Op |
| 09/26 | WILLIAM | NEFF | Lab |
| 09/26 | NICOLE | OVERFIELD | Surgery |
| 09/26 | CHRISTINE | POTTORFF | Peri-Op |
| 09/27 | BECKY | BOCHENEK | Teton Cancer Institute |
| 09/27 | KATHRYN | BRADLEY | Pharmacy |
| 09/27 | HOLLAND | FOX | Surgery |
| 09/27 | TOBIE | VINCENT | Eastern ID Neurological |
| 09/28 | COLLEEN | BARNEY | Surgery |
| 09/28 | SARAH | CARDINAL | MedSurg |
| 09/28 | BARBARA | WALKER | Housekeeping |
| 09/29 | ANDREA | BECK | Business Office |
| 09/29 | CAROLINE | BULLOCK | Housekeeping |
| 09/29 | LORI | DURBACK | Primary Care Specialists |
| 09/29 | SHAUNA | RICHARDSON | Labor & Delivery |
| 09/29 | NATASHA | SMITH | PIC Pocatello |
| 09/30 | KAITLIN | BURKE | Premier Speech Therapy |
| 09/30 | ANGELA | FRONTCZAK | Surgery |
| 09/30 | CONNIE | JOHNSON | Surgery |
| 09/30 | BRIGHAM | TAYLOR | Pain Specialists of ID |