Welcome to The Beat
In this newsletter, we'll share company-wide news, including upcoming events, birthdays, spotlights, department news, and more. 
This newsletter is designed to be informative and collaborative. Do you have a fun story, positive patient feedback, or a funny work picture? Use the form on this page to submit!
Check back on The Beat's main page for more updates. 
Quality means doing it right when no one is looking.

Henry Ford
Physician Care Centers Spotlight: Trilby Wedler
We want to Congratulate to Trilby Wedler, NPC at Physicians Care Centers for being recognized by the Southeast Idaho community as "Best Nurse Practitioner" through the Reader Choice Awards. Trilby has been practicing with Physicians since 2012. She is a joy to work with and is eager to help her patients whether it be in geriatric care, nutritional care, womens/mens health, and hormone replacement therapy, she loves all her patients! It's clear to see that they love her too and so do we! Congrats Trilby!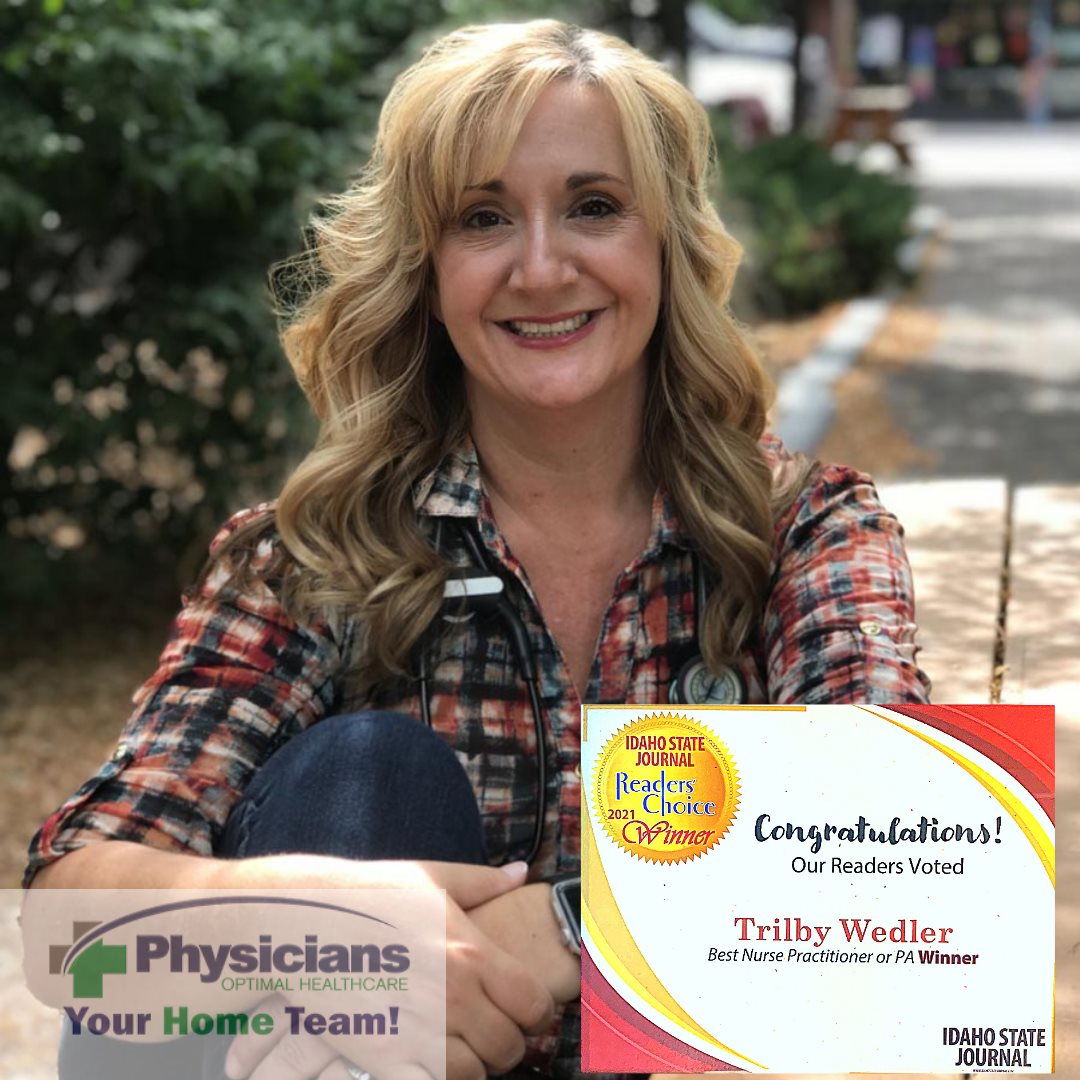 Employee Blood Drive was a Success!
THANK YOU to all the blood drive donors. We had an amazing turn-out.
Goal = 26 units
Collected = 35 units!!
NEXT BLOOD DRIVE!
Tuesday, August 31, 2021
1:00 p.m. to 6:00 p.m. in the IFCH boardroom
To schedule an appointment go to RedCrossBlood.org, sponsor code - MVH
or contact Shellie Jackman at 208-557-2792.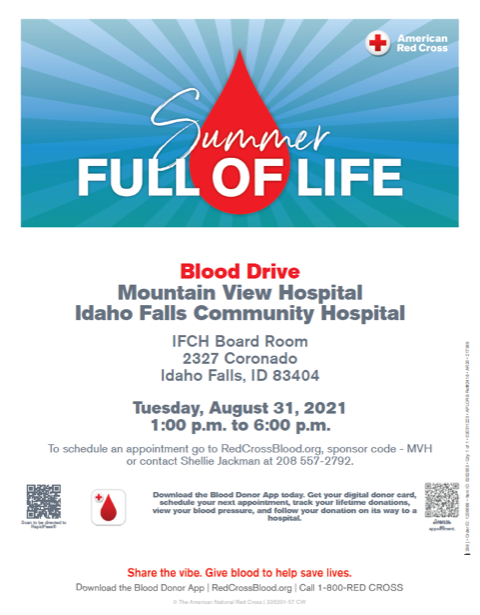 Health Insurance Planning in Retirement Seminars
Edward Jones will be hosting two seminars on October 6 via Zoom for anyone who is interested in attending. Please see the information below for the seminars. 
Hosted by Trevor Rice at Edward Jones along with guest speaker Jaren Nelson at Alpine Castle Lake Insurance
Time - October 6 at 2:00 and 6:00 (30-40 minutes, same content)
Health Insurance Options under age 65
Health Insurance Options over age 65
Pros and cons to Medicare, Medicare Supplemental Policies, and Medicare Advantage Policies
Topic: Health Insurance Planning in Retirement
Time: Oct 6, 2021 02:00 PM Mountain Time (US and Canada)
Join Zoom Meeting
https://edwardjones.zoom.us/j/99134835987?pwd=RHBVVzNYc2dKOXJyRGJuY1lpTUZaQT09
Meeting ID: 991 3483 5987
Passcode: 001609
One tap mobile
+13462487799,,99134835987#,,,,*001609# US (Houston)
+16699006833,,99134835987#,,,,*001609# US (San Jose)
Dial by your location
+1 346 248 7799 US (Houston)
Topic: Health Insurance Planning in Retirement
Time: Oct 6, 2021 06:00 PM Mountain Time (US and Canada)
Join Zoom Meeting
https://edwardjones.zoom.us/j/94391030768?pwd=blg2aTdpR0dOeFdDUmhESjRJRlUwdz09
Meeting ID: 943 9103 0768
Passcode: 963292
One tap mobile
+16699006833,,94391030768#,,,,*963292# US (San Jose)
+19292056099,,94391030768#,,,,*963292# US (New York)
Dial by your location
+1 669 900 6833 US (San Jose)
| | | | |
| --- | --- | --- | --- |
| 09/01 | ASHTYN | HEBERT | Lab |
| 09/01 | REBECCA | RIVERA | BMC/Johanson Surgery |
| 09/01 | KENNEDY | LAMBERT | NICU |
| 09/01 | GRACE | RUSSELL | Surgery |
| 09/01 | KAYLEE | MELANESE | Business Office |
| 09/01 | COURTNEY | HOFHINE | Business Office |
| 09/02 | AMBER | HILL | Pain Specialists of ID |
| 09/02 | MELISSA | WINWARD | BMC Admin |
| 09/02 | OAKLEY | REMINGTON | Community Care-Rexburg |
| 09/02 | TRISTA | CAHOON | Business Office |
| 09/02 | TYLEE | WRIGHT | Coffee Shop |
| 09/03 | HADLEY | EDELMAYER | Pharmacy |
| 09/04 | JENNIFER | PUGMIRE | Prescription Center Infusions |
| 09/04 | DAVID | BAUMGARTEN | Pain Specialists of ID |
| 09/04 | SARA | FELGENHAUER | Peri-Op |
| 09/04 | NICOLE | BURBANK | Labor & Delivery |
| 09/05 | KAITLYN | COLLET | Radiology |
| 09/05 | ANA | TYLER | Lab |
| 09/05 | JAZMIN DEL CARMEN | LANDEROS RAMOS | Pain Specialists of ID-Pocatel |
| 09/05 | EUNICE | RAMIREZ | Eastern ID Spine Center (Vlach |
| 09/05 | CRYSTAL | SUMMERS | Community Care-Rigby |
| 09/05 | KERA | OTTLEY | Labor & Delivery |
| 09/05 | NICOLE | FLORA | MedSurg |
| 09/05 | AMANDA | ELY | Business Office |
| 09/06 | NICOLE | LUNDE | Channing Redicare Clinic |
| 09/06 | ALLISON | TOMASKO | Grand Teton |
| 09/07 | KRISTA | ROBINSON | Sand Creek Echo |
| 09/07 | CURTIS | NASH | Lab |
| 09/07 | ELIZABETH | MINER | Quality Resources |
| 09/07 | MELISSA | FULLMER | MedSurg |
| 09/07 | TABITHA | KELLER | Workmens Compensation |
| 09/07 | JACQUELENE | BARKOW | Human Resources |
| 09/07 | LISA | CARLSON | Physician Management Services |
| 09/08 | KRISTA | MOREAU | Sleep Specialists |
| 09/08 | BRENDA | HANNAN | Prescription Center Infusions |
| 09/08 | CRYSTAL | PACKER | Lab |
| 09/08 | VIRGINIA | DELORA | Pain Specialists of ID-Pocatel |
| 09/08 | AMY | KLINGLER | Surgery |
| 09/08 | TERRAN | STOLLER | Housekeeping |
| 09/09 | DAKOTA | DENNEY | Radiology |
| 09/09 | PAIGE | SHELLEY | Blackfoot Medical Imaging |
| 09/09 | SUZIE | SAMPLE | Quality Resources |
| 09/09 | KIMBERLYN | FITCH | Community Care-Pocatello |
| 09/09 | JAESI | STEED | MedSurg |
| 09/09 | VON | WADSWORTH | Physical Plant |
| 09/09 | CHRISTINA | MARTINEZ | Business Office |
| 09/10 | BRIANNA | NORIEGA | Preventative Services |
| 09/10 | TANIA | SANTANA | Preventative Services |
| 09/10 | JANELLE | WEBB | Channing Redicare Clinic |
| 09/10 | VICTORIA | GROVER | Community Care-Rigby |
| 09/10 | ALICIA | FERNEY | Grand Teton |
| 09/10 | BRENAN | DRAKE | Physical Plant |
| 09/10 | JESSICA | JONES | Business Office |
| 09/11 | SIRAYA | FLORES | Sleep Specialists |
| 09/11 | JENNIFER | RAMIREZ | Radiology |
| 09/11 | BRITTAN | HARDY | Lab |
| 09/11 | PAULA | LOVELAND | Pain Specialists of ID |
| 09/11 | ANDREW | DURNFORD | MedSurg |
| 09/11 | SHAELIE | FLORES | Housekeeping |
| 09/11 | SHAELEN | MARLOW | Business Office |
| 09/12 | SANDRA L. | DREWES | Pain Specialists of ID |
| 09/12 | MARISELA | GOMEZ | Blackfoot Pain Clinic |
| 09/12 | LORAN | HILLMAN | Physician Management Services |
| 09/13 | TIFFANI | MOON | Radiology |
| 09/13 | SARAH | HEFNER | Housekeeping |
| 09/13 | MONICA | MITCHELL | Business Office |
| 09/13 | BRITTANY | RUSSELL | Administration |
| 09/14 | SARAH | KING | Channing Redicare Clinic |
| 09/14 | SCOTT | MANGUM | PIC Chubbuck |
| 09/14 | ALANNA | MORRIS | Community Care-West Side |
| 09/14 | SUNNY | HARTGRAVES | Peri-Op |
| 09/14 | KISTIN | FIFE | Surgery |
| 09/15 | LISA | KILLIAN | Urology Associates of Idaho Fa |
| 09/15 | JARED | BARTON | PIC Pocatello |
| 09/15 | JOEL B | WHITING | Community Care-Channing |
| 09/15 | VINCENT | MELANESE | Peri-Op |
| 09/16 | KIM | ROWBERRY | Pulmonary Services |
| 09/16 | SEAN | WHITAKER | Prescription Center Infusions |
| 09/16 | KEITH | CHRISTENSEN | Mountain View Infusion Service |
| 09/16 | JOSE | DE SOTO | Quality Resources |
| 09/16 | SUZANNE | HEFNER | Housekeeping |
| 09/16 | PEYTON | JOHNS | Population Health |
| 09/17 | BRANDI | LUMSDEN | Blackfoot Medical Laboratory |
| 09/17 | CHANCE | HENSE | Pain Specialists of ID-Pocatel |
| 09/17 | CASEY | THOMPSON | PIC Chubbuck |
| 09/17 | TRISTINA | MESERVY | Business Office |
| 09/17 | CARRIE | RECK | Business Office |
| 09/17 | TROY | WELLS | Finance |
| 09/18 | NETANYA | FREEMAN | PIC Pocatello |
| 09/18 | MATHEW | DUNGAN | Surgery |
| 09/19 | ELIZABETH | HANSEN | Mountain View Infusion Service |
| 09/19 | LABRETTA | WOODLAND | Blackfoot Pain Clinic |
| 09/19 | TIFFANY | LARSEN | Peri-Op |
| 09/19 | RILEE | GOULD | Labor & Delivery |
| 09/20 | RYAN | NUTTALL | Purchasing |
| 09/20 | MONICA | PALACIOS | Urology Associates of Idaho Fa |
| 09/20 | DAMARIS | FERNANDEZ | Community Care-Channing |
| 09/20 | WHITNEY | BIRD | Workmens Compensation |
| 09/20 | DIANE | MADSEN | Housekeeping |
| 09/21 | SHAUNIE | SCHOW | Teton Cancer Institute |
| 09/21 | JONATHAN | HORTON | Hyperbarics |
| 09/21 | LORI ANN | KIDWELL | Prescription Center Infusions |
| 09/21 | CALLI | WEAVER | Lab |
| 09/21 | RAQUEL | LOREDO | PIC Chubbuck |
| 09/21 | KELSIE | PFEIFFER | MedSurg |
| 09/22 | MICHELLE | PURKEY | Radiation Oncology |
| 09/22 | WHITTNEY | MURPHY | PCS Procedure Suite |
| 09/22 | NATASHA | OHENE OPARE | Labor & Delivery |
| 09/22 | KRYSTA | GLIDER | Creekside Surgery Center |
| 09/22 | HEATHER | SCHWABE | Housekeeping |
| 09/22 | CRYSTAL | FELGENHAUER | Health Information Management |
| 09/23 | GAIL M | KURPINSKI | Radiation Oncology |
| 09/23 | CORTNEY | JACOBSON | Eastern ID Spine Center (Vlach |
| 09/23 | DUSTIN E. | SAXTON | Pain Specialists of ID-Proc Ct |
| 09/23 | CRAIG | FUNK | MedSurg |
| 09/23 | MILDRED | MILIAN | MedSurg |
| 09/24 | TIFFANY | JONES | Radiology |
| 09/24 | LANA L | CALIGIURI | Speech Therapy |
| 09/24 | KIM | JACKSON | Surgery |
| 09/24 | ANNIKA | HERBST | Surgery |
| 09/25 | AMBER | REDDICK | Sleep Lab |
| 09/25 | JOSEY | RACE | Sleep Specialists |
| 09/25 | STEPHANIE | PERRENOUD | Pharmacy |
| 09/25 | CHRISTOPHER | TRUBL | Quality Resources |
| 09/25 | JOSIE | PRITCHARD | Pain Specialists of ID |
| 09/25 | EMMA | HUNTER | Community Care-Pocatello |
| 09/25 | MARNI L. | JONES | Business Office |
| 09/25 | HEATHER | FUMICH | Business Office |
| 09/25 | KACEY | SCHREIER | Physician Management Services |
| 09/26 | WILLIAM | NEFF | Lab |
| 09/26 | BRYCE | ANDERSEN | Channing Redicare Clinic |
| 09/26 | MELANIE | SULLIVAN | Eastern ID Spine Center (Vlach |
| 09/26 | MICHELE | GEORGE | Peri-Op |
| 09/26 | CHRISTINE | POTTORFF | Peri-Op |
| 09/26 | NICOLE | OVERFIELD | Surgery |
| 09/27 | BECKY | BOCHENEK | Teton Cancer Institute |
| 09/27 | TOBIE | VINCENT | Eastern ID Neurological |
| 09/27 | KATHRYN | BRADLEY | Pharmacy |
| 09/27 | TERI | RIDLON | Channing Redicare Clinic |
| 09/27 | HOLLAND | FOX | Surgery |
| 09/27 | DYLAN | WEBB | MedSurg |
| 09/28 | COLLEEN | BARNEY | Surgery |
| 09/28 | BARBARA D. | WALKER | Housekeeping |
| 09/29 | KENNEDY | ELDER | Peri-Op |
| 09/29 | JAZMIN | ARNOLD | MedSurg |
| 09/29 | ANDREA | BECK | Business Office |
| 09/29 | BROOKE | HEATH | Finance |
| 09/30 | SHAMRA | ANDERSON | Preventative Services |
| 09/30 | KAITLIN | BURKE | Premier Speech Therapy |
| 09/30 | BRIGHAM | TAYLOR | Pain Specialists of ID |
| 09/30 | CONNIE | JOHNSON | Surgery |
| 09/30 | ANGELA | FRONTCZAK | Surgery |