Welcome to The Beat 
In this newsletter, we'll share company-wide news, including upcoming events, birthdays, spotlights, department news, and more. This newsletter is designed to be informative and collaborative. Do you have a fun story, positive patient feedback, or a funny work picture? Use the form on this page to submit!
If you can't fly, then run. If you can't run, then walk.
If you can't walk, then crawl, but by all means, keep moving.

Martin Luther King Jr.
Do you know someone who has recently gone above and beyond the call of duty?
Submit your 2020 4th quarter nominations for the MVH Commitment to Excellence Award to:
ebrighton@mvhospital.net
*Deadline for nominations: 01/24/2021*
Rexburg Community Care Has Moved
Hey team, we just wanted to let you all know that our Rexburg Community Care office has moved to a new location. The new address is:
404 N 2nd E
Rexburg, ID
Thank You Guest Services Team!
As most of you know, the hospital restricts those who are under 18 from entering the hospital unless they are a patient. We have this small area set up at the front for those little ones who are brought in with a parent that may be having a quick procedure or a lab draw. I looked up from my desk and noticed our Guest Services Representative had taken a seat with this little girl at the table. They were working on a color page together. I thought it was a sweet gesture and a great example of going above and beyond to provide a positive experience for our patients and guests.
-Jennifer Smith, Guest Services Supervisor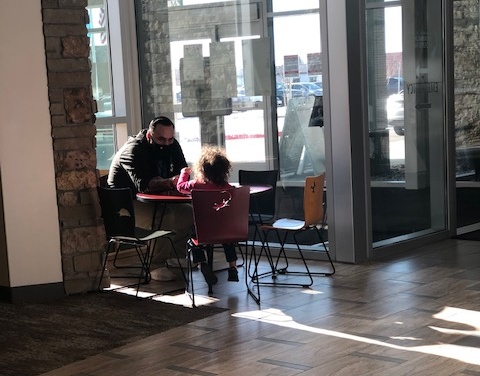 Message from Empower Retirement
Empower Retirement has acquired MassMutual's retirement business, your workplace retirement plan service provider. We're excited that your plan is coming to Empower and committed to making the transition as smooth as possible. As this transition unfolds, you'll notice there's a lot to be excited about too.
Please review the announcement with the button below. 
Good Job Labor & Delivery Team!
It's feedback like this that makes it all worth it. Good job everyone!
My wife Danielle and I were fortunate enough to have our baby, Jackson, on 01/01/21 and even more fortunate to be the first New Years baby born. Obviously, we are overwhelmed and so grateful for the number of gifts we received for Dani and Jackson. More importantly, we would like to thank the staff who took such great care of us, going above and beyond every expectation we could have had. Nurse Rachel, Nurse Maria and lactation specialist Mickey especially stood out to us. They guided us through this process and were so caring when working with my wife and son that I thought, at least, that I needed to let someone know how outstanding these people were and awesome they made this experience for us. Again, thank you, it is difficult to make a hospital day comfortable, but these people and many others made us feel like we were staying at the Ritz-Carlton, not a labor and delivery ward!
Respectfully,
Jason Fernandez
Bonneville CNA Class
Check out these photos from Bonneville's CNA class. 
| | | | |
| --- | --- | --- | --- |
| 01/01 | STEVEN | CLINGER | BMC Shelley |
| 01/01 | BRENDA | FARNES | Business Office |
| 01/02 | JANET S. | BEHM | Pain Specialists of ID-Proc Ct |
| 01/02 | RITA | MUCCI | Housekeeping |
| 01/03 | KABEL | SMITH | Pain Specialists of ID-Proc Ct |
| 01/03 | ANGELA S | PETERSON | Community Care-Channing |
| 01/04 | CATHERINE | ENGLAND | Teton Cancer Institute |
| 01/04 | NATALIE | ZEIGLER | Eastern ID Spine Center (Vlach |
| 01/04 | JULI | WINCHESTER | Peri-Op |
| 01/04 | IVETTE | CARMONA | Labor & Delivery |
| 01/05 | KALEIGH | THOMPSON | BMC/Johanson Surgery |
| 01/05 | MICHELLE | APEL | Primary Care Specialists |
| 01/05 | CHELSEY | ASLETT | Primary Care Specialists |
| 01/05 | NICOLE | HARPER | PIC Pocatello |
| 01/05 | DENENE | ESTERHOLDT | Pain Clinic |
| 01/06 | NONA | MADRONA | Wound Care |
| 01/06 | TROY | WALKER | Hyperbarics |
| 01/06 | LORI | TAWZER | Administration |
| 01/07 | DANIELLE | PICARD | Teton Cancer Institute |
| 01/07 | YADIRA | MARTINEZ-SANCHEZ | Prescription Center Retail |
| 01/07 | PABLO | VEGA | Blackfoot Pain Clinic |
| 01/07 | TERESA | BARELA | Business Office |
| 01/07 | KRISTIN | STREEPER | Marketing |
| 01/08 | BAILEE | BARNES | PIC Mental Health |
| 01/08 | ANDREA | CRESSWELL | Community Care-Rigby |
| 01/08 | TATE | POULSEN | Physical Plant |
| 01/09 | SUSAN S. | LEONARD | Pain Specialists of ID-Proc Ct |
| 01/09 | LISA | MCGREGOR | PIC Chubbuck |
| 01/09 | AMANDA | WILFORD | Labor & Delivery |
| 01/09 | RACHEL | SOUTH | Surgery |
| 01/10 | JOANNE | BOLTON | Radiology |
| 01/10 | SAMANTHA | JACK | Pain Specialists of ID |
| 01/10 | KAREN | BEAGLEY | Community Care-Rexburg |
| 01/10 | SERENITY | RICHARDS | Labor & Delivery |
| 01/11 | JOSHUA | BAGULEY | Business Office |
| 01/12 | PEGGY | ROWBERRY | Urology Associates of Idaho Fa |
| 01/12 | TROY | QUIRL | PIC Pocatello |
| 01/12 | TIFFANY | MITCHELL | Grand Teton |
| 01/13 | KATHRYN | CALL | Blackfoot Medical Imaging |
| 01/13 | DEREK | EDDIE | Community Care-Pocatello |
| 01/13 | SARAH | HALE | Surgery |
| 01/14 | HEIDI | BROWN | Respiratory Therapy |
| 01/14 | ANDREW HYRUM | BOYD | Sleep Lab |
| 01/14 | ROCIO | GUERRERO | Lab |
| 01/14 | AVERY | HALL | Pain Specialists of ID |
| 01/14 | RICHARD | OTTERSTROM | BMC/Johanson Surgery |
| 01/14 | KELSI | MOULTRIE | BMC/Johanson Surgery |
| 01/14 | ANDREW | AIKENS | Community Care-Pocatello |
| 01/14 | SARAH ANN | JEMMETT | Labor & Delivery |
| 01/14 | BERNITA | THOMPSON | Workmens Compensation |
| 01/15 | LACEE | PUTNAM | Teton Cancer Institute |
| 01/15 | DAYANA | CARLOS | Pulmonary Services |
| 01/15 | KENDRA | GOODWIN | Channing Redicare Clinic |
| 01/15 | RICHARD | ANDERSON | Surgery |
| 01/15 | DE | JONES | Administration |
| 01/15 | VELISHA | HOWARD | Administration |
| 01/16 | DREW B | WHITTIER | Radiation Oncology |
| 01/16 | TIMOTHY | TAYLOR | Southeast ID Urology (Taylor) |
| 01/16 | JACKIE | MORRIS | PIC Pocatello |
| 01/16 | DANIELLE | MORTENSEN | Community Care-Rexburg |
| 01/16 | COLLEEN | BROWN | Peri-Op |
| 01/16 | NIKKIA | PRESTON | Housekeeping |
| 01/16 | BART | ADCOCK | Housekeeping |
| 01/16 | MIRANDA | YARNELL | Housekeeping |
| 01/17 | NACHELLE | CRUMLEY | Channing Redicare Clinic |
| 01/17 | ALAYNA | ADAMS | Pain Specialists of ID |
| 01/17 | KASSIDY | RAFFERTY | Grand Teton |
| 01/18 | TRACY | WILSON | Teton Cancer Institute |
| 01/18 | ANDREA | BINGHAM | Lab |
| 01/18 | KARLA | PATTERSON | Channing Redicare Clinic |
| 01/18 | HILLARY | KIRWAN | Labor & Delivery |
| 01/19 | CHRISTOPHER | RIGBY | Physical Therapy |
| 01/19 | ALLISON | ROSE | Pain Specialists of ID |
| 01/19 | SHARLEEN | ALBRIGHT | Peri-Op |
| 01/19 | AMANDA | FULLMER | Labor & Delivery |
| 01/20 | ALEXIS | WILLIAMS | Sleep Specialists |
| 01/20 | ANN MARIE | PETERSON | Community Care-Rexburg |
| 01/20 | TINA | ACKERMAN | Workmens Compensation |
| 01/21 | CAROL | JONES | BMC/Johanson Surgery |
| 01/22 | TAY | MISSELDINE | Purchasing |
| 01/22 | LACEY | RAMIREZ | BMC Admin |
| 01/22 | BRENDA | CLEVELAND | Business Office |
| 01/23 | SARAH | ANDERSEN | Teton Cancer Institute |
| 01/23 | EDDY | GARCIA | Pharmacy |
| 01/23 | KATHRYN | MITCHELL | Eastern ID Spine Center (Vlach |
| 01/23 | LYNDZI | PARKINSON | Blackfoot Pain Clinic |
| 01/23 | TERESE | BECK | Eastern Idaho Foot Clinic |
| 01/23 | ANDREA | GARDNER | Machen Family Medicine |
| 01/23 | HOLLI | SAIZ | Primary Care Specialists |
| 01/23 | MARIA | ARELLANO | Grand Teton |
| 01/23 | KEVIN | CAMACHO | Housekeeping |
| 01/23 | DANNY | WILDER | Information Systems |
| 01/24 | DOROTHY | RUDD | IF Clinic |
| 01/24 | LYNETTE | BYBEE | Sand Creek Echo |
| 01/24 | KAYLOR | OLIVER | Pain Specialists of ID-Pocatel |
| 01/24 | WENDY | BERRETT | Hinckley ENT |
| 01/24 | CODY | NEALIS | Business Office |
| 01/24 | HEATHER | JOHNSON | Health Information Management |
| 01/25 | TIMOTHY | SNELL | Pain Specialists of ID |
| 01/25 | KENDALL | TAYLOR | MedSurg |
| 01/25 | ADRIANA | OROZCO | Business Office |
| 01/26 | LISA MARIE | ANDERSON | Teton Cancer Institute |
| 01/26 | JODI | ZOLYNSKI | Wound Care |
| 01/26 | JAY | MILLS | Physical Therapy |
| 01/26 | KELSEY | NELSON | Brad Erickson |
| 01/26 | DENISE | SCHWIEDER | Grand Teton |
| 01/26 | CHELSEA | LITTLEWOOD | Business Office |
| 01/26 | MARISSA | HONLEY | Business Office |
| 01/27 | WILLIAM | COX | Purchasing |
| 01/27 | ERYN | MARTINDALE | Pulmonary Services |
| 01/27 | TASIA | SOLLENDER | Sleep Specialists |
| 01/27 | KIANA | BEUS | Sand Creek Echo |
| 01/27 | LISA | SIGMAN | Channing Redicare Clinic |
| 01/27 | CHRYSLER | POTTER | Brad Erickson |
| 01/28 | AMY | MURPHY | Teton Cancer Institute |
| 01/28 | MIA | SINE | Wound Care |
| 01/28 | JAVAD | BAYAT-MOKHTARI | Radiology |
| 01/28 | ERIN | PETERSON | Quality Resources |
| 01/28 | BRADY | SLOAN | Pain Specialists of ID |
| 01/28 | BRYAN | MERKLEY | Surgery |
| 01/28 | CECELIA | HRUSKA | Business Office |
| 01/29 | ALEXANDRA | LONGFELLOW | Teton Cancer Institute |
| 01/29 | COURTNEY | SCOTT | Lab |
| 01/29 | KLARISSA | SULLIVAN | Community Care-Rexburg |
| 01/29 | SHAYLA | JACOBS | Nursery |
| 01/29 | JOSH | STANGER | Physical Plant |
| 01/30 | LINDSAY | JONES | Eastern ID Spine Center (Vlach |
| 01/30 | JAMES | BLAINE | Community Care-West Side |
| 01/31 | SHELBY | POGGE | BMC Admin |
| 01/31 | MARY | RUSHER | Finance |