Welcome to The Beat
In this newsletter, we'll share company-wide news, including upcoming events, birthdays, spotlights, department news, and more. 
This newsletter is designed to be informative and collaborative. Do you have a fun story, positive patient feedback, or a funny work picture? Use the form on this page to submit!
Check back on The Beat's main page for more updates. 
Just don't give up trying to do what you really want to do. Where there is love and INSPIRATION, I don't think you can go wrong.

Ella Fitzgerald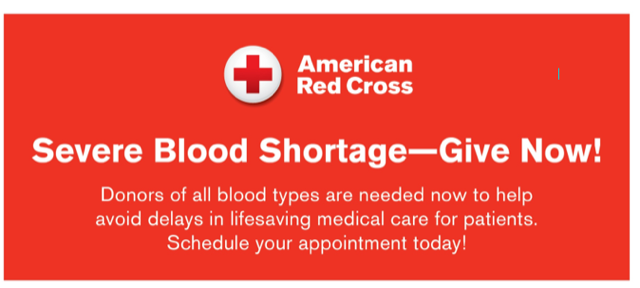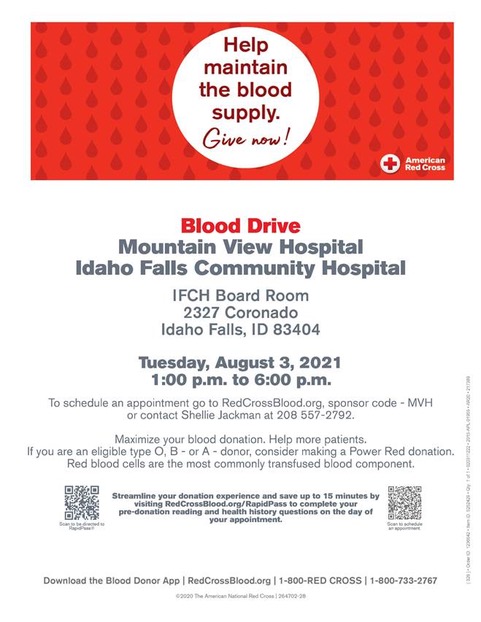 This is an Employees Only blood drive.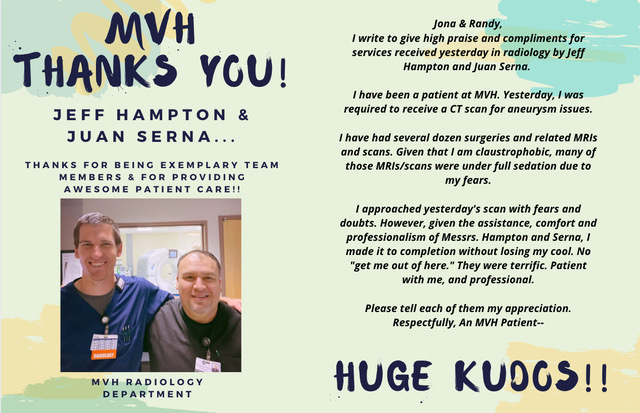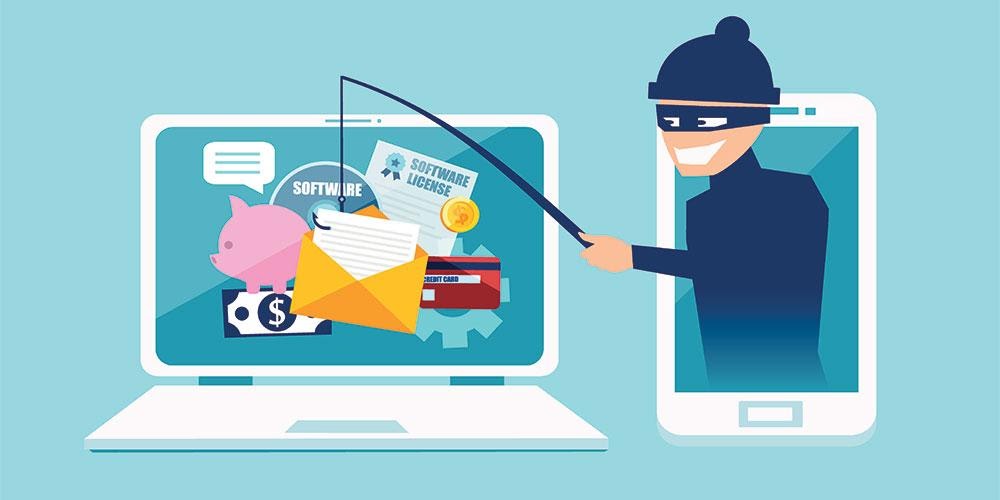 Phishing is a cybercrime in which a target or targets are contacted by email, telephone or text message by someone posing as a legitimate institution to lure individuals into providing sensitive data such as personally identifiable information, banking and credit card details, and passwords.
The information is then used to access important accounts and can result in identity theft and financial loss.
10 Things to Look Out For
Don't trust the display name of who the email is from.
Just because it is coming from a name that you recognize, does not mean it is safe. Be sure to look at the email address to confirm the sender.
Look but don't click
Hover your mouse over parts of the email without clicking. If something appears out of place or not correct, contact the IT Help Desk.
Check for spelling and grammatical errors
Often times there will be spelling or grammatical errors in the text of the email.
Consider the salutation
Is the address general or vague?
Is the email asking for personal information?
Legitimate companies most likely will not ask for personal information in an email.
Beware of urgency
Often times the email will state that there is some sort of emergency.
Check the email signature
Most of the time the sender will have an address block at the bottom of their emails.
Be careful with attachments
Attackers will try and get you to click on an attachment by making it have a long name or by making it look like familiar file types.
Don't believe everything that you see
If it looks too good to be true, chances are that it is. If something seems out of place, it is better to be safe than sorry. Contact the IT Help Desk for assistance.
When in doubt, contact the IT Help Desk
IT would ask that you reach out to them if you suspect a phishing email.
IT Help Desk is available 24/7 – 365 days a year
Telephone Number: 208-557-2705
Email Address: ithelpdesk@mvhospital.net
Health Insurance Planning in Retirement Seminars
Edward Jones will be hosting two seminars on October 6 via Zoom for anyone who is interested in attending. Please see the information below for the seminars. 
Hosted by Trevor Rice at Edward Jones along with guest speaker Jaren Nelson at Alpine Castle Lake Insurance
Time - October 6 at 2:00 and 6:00 (30-40 minutes, same content)
Health Insurance Options under age 65
Health Insurance Options over age 65
Pros and cons to Medicare, Medicare Supplemental Policies, and Medicare Advantage Policies
Topic: Health Insurance Planning in Retirement
Time: Oct 6, 2021 02:00 PM Mountain Time (US and Canada)
Join Zoom Meeting
https://edwardjones.zoom.us/j/99134835987?pwd=RHBVVzNYc2dKOXJyRGJuY1lpTUZaQT09
Meeting ID: 991 3483 5987
Passcode: 001609
One tap mobile
+13462487799,,99134835987#,,,,*001609# US (Houston)
+16699006833,,99134835987#,,,,*001609# US (San Jose)
Dial by your location
+1 346 248 7799 US (Houston)
Topic: Health Insurance Planning in Retirement
Time: Oct 6, 2021 06:00 PM Mountain Time (US and Canada)
Join Zoom Meeting
https://edwardjones.zoom.us/j/94391030768?pwd=blg2aTdpR0dOeFdDUmhESjRJRlUwdz09
Meeting ID: 943 9103 0768
Passcode: 963292
One tap mobile
+16699006833,,94391030768#,,,,*963292# US (San Jose)
+19292056099,,94391030768#,,,,*963292# US (New York)
Dial by your location
+1 669 900 6833 US (San Jose)
| | | | |
| --- | --- | --- | --- |
| 08/01 | MELISSA | VASQUEZ | Teton Cancer Institute |
| 08/01 | JANNA | BAKER | Community Care-Rigby |
| 08/01 | HANNAH | WOOD | Peri-Op |
| 08/01 | BRITNIE | ANDERSON | Physician Management Services |
| 08/02 | PHILIP | HESSE | Wound Care |
| 08/02 | KRISTINE | TREJO | Blackfoot Pain Clinic |
| 08/03 | ANDREA | LEAVITT | Teton Cancer Institute |
| 08/03 | AIMEE | BELNAP | Teton Cancer Institute |
| 08/03 | JOHN | PATTESON | Respiratory Therapy |
| 08/03 | JACQUELINE | TREJO | Pharmacy |
| 08/03 | AMANDA K | BARTLETT | Quality Resources |
| 08/03 | LOIS | LENZ | Pain Specialists of ID |
| 08/03 | LACI | JACOBSON | Pain Specialists of ID-Proc Ct |
| 08/03 | NISSA | NEFF | BMC Admin |
| 08/03 | MICHELLE | MURRAY | PIC Pocatello |
| 08/03 | DEBRA | STEFFLER | Creekside Surgery Center |
| 08/03 | KENIA | RODRIGUEZ | Business Office |
| 08/03 | DEBORAH | WALKER | Human Resources |
| 08/03 | PATRISHA | RENCHER | Physician Management Services |
| 08/04 | KYLE | ROBERTS | Pharmacy |
| 08/04 | ROZLYN | ROMRIELL | Point of Care |
| 08/04 | CHERILYN | WOOLF | Channing Redicare Clinic |
| 08/05 | MELISSA | WADSWORTH | Prescription Center Infusions |
| 08/05 | MEISJE | DICKERSON | Pain Clinic |
| 08/05 | JILL | MESERVY | Labor & Delivery |
| 08/05 | RICHARD | FRANCIS | Surgery |
| 08/05 | HAYLEY | PARK | Surgery |
| 08/05 | DEVIN | HATCH | MedSurg |
| 08/05 | JENNIFER | HENDERSON | Business Office |
| 08/06 | DANAE | WALKER | Teton Cancer Institute |
| 08/06 | JAMES | SOUTHWICK | Pharmacy |
| 08/06 | TRECIA | TROST | Mountain View Infusion Service |
| 08/06 | AMANDA | CLICK | Physical Therapy |
| 08/06 | THOMAS ANDREW | FLAMM | Community Care-Rexburg |
| 08/07 | BRIAN | BYRD | Prescription Center Infusions |
| 08/07 | ANTONITA | MALDONADO | Community Care-Pocatello |
| 08/07 | LINDSAY | TAYLOR | Peri-Op |
| 08/07 | RILEY | HAMMON | Physical Plant |
| 08/07 | GUADALUPE | LANDEROS | Housekeeping |
| 08/07 | AUDREY | SMITH | Business Office |
| 08/08 | CALE | HONE | Pharmacy |
| 08/08 | BENJAMIN | WELKER | Lab |
| 08/08 | CATHERINE | JELLESED | Pain Specialists of ID-Pocatel |
| 08/08 | MARIA ANGELA | ROSALES | Labor & Delivery |
| 08/08 | KAYLEEN | SKINNER | Eagle Rock ASC |
| 08/08 | ANNA | DAVIS | Business Office |
| 08/08 | CHRIS | CAHOON | Information Systems |
| 08/08 | HAYLEY | REID | Population Health |
| 08/09 | CHARYN | BROOKS | Peri-Op |
| 08/10 | STEPHANIE | FISHER | Teton Cancer Institute |
| 08/10 | MACHELL | ALDRICH | Peri-Op |
| 08/10 | KENNADEE | WALTON | Business Office |
| 08/11 | LINDA | CHAPPLE | Prescription Center Infusions |
| 08/11 | KARA | MCAFFEE | Quality Resources |
| 08/11 | ANNETTE | TUFT | Peri-Op |
| 08/11 | NIKI | HALL | MedSurg |
| 08/12 | PAULA | LARSEN | Teton Cancer Institute |
| 08/12 | JULIE | THIEME | Teton Cancer Institute |
| 08/12 | HARRISON | HOSKINS | Pharmacy |
| 08/12 | GREGORY | CARTER | Pharmacy |
| 08/12 | ALEX | ORTON | Lab |
| 08/12 | NATHAN | RAYMOND | Information Systems |
| 08/12 | CHANELLE | FALKINGHAM | Physician Management Services |
| 08/13 | HAILEY | BULLARD | Radiology |
| 08/13 | AARON | LOWRY | Physical Therapy |
| 08/13 | KARI | VOGEL | Quality Resources |
| 08/13 | BECKY | ROSENBERG | Channing Redicare Clinic |
| 08/13 | EVA | PETERSON | Peri-Op |
| 08/13 | CANDICE | KNACKERT | Housekeeping |
| 08/13 | QUADEN VANCE | BOND | Business Office |
| 08/14 | REBECCA | CHRISTENSEN | Blackfoot Medical Imaging |
| 08/14 | MARIANITA | BROWN | Quality Resources |
| 08/14 | DIONEVIE | HIGH | Channing Redicare Clinic |
| 08/14 | MINDY | BRAMWELL | NICU |
| 08/14 | MARGARITA | TENIENTE | Housekeeping |
| 08/14 | JENNIFER | WILSON | Health Information Management |
| 08/15 | LISA | HESS | Mountain View Infusion Service |
| 08/16 | ELIZANGELA | ARMITAGE | Preventative Services |
| 08/16 | EVAN | MELAHN | Teton Cancer Institute |
| 08/16 | HEATHER | KEMPF | Speech Therapy |
| 08/16 | DEBORAH | MARLER | Surgery |
| 08/16 | ERIN | STATEN | Creekside Surgery Center |
| 08/16 | KATHY | WESTRUM | Finance |
| 08/17 | KIMBERLEE | MARTINEZ | Sleep Specialists |
| 08/17 | CHRISTIE | QUIRL | PIC Pocatello |
| 08/17 | KYELI | OSTLER | CC Rexburg Lab & Imaging |
| 08/17 | STACEY | POCOCK | Creekside Surgery Center |
| 08/17 | JANAE | WEAVER | Business Office |
| 08/17 | KHALEB | DUTTON | Business Office |
| 08/19 | KIMBERLY | HARKNESS | Pulmonary Services |
| 08/19 | HILARY | STALEY | CC Rigby Lab & Imaging |
| 08/19 | BRITTNEY | PENA | Eagle Rock ASC |
| 08/19 | B. | MICKELSEN | Business Office |
| 08/19 | DEVEN | GEORGE | Finance |
| 08/19 | ASHLEY N | SUTTON | Administration |
| 08/20 | MELISSA | MCINELLY | Teton Cancer Institute |
| 08/20 | DARBI | ROBERTS | Premier Speech Therapy |
| 08/20 | ROSEMARY | MAILE | Pain Specialists of ID |
| 08/20 | STEVEN | LEWIS | BMC/Johanson Surgery |
| 08/20 | LORENA | TELFORD | Hinckley ENT |
| 08/20 | ASHLEY | ANDERSON | Peri-Op |
| 08/20 | BETH | GRIFFITH | Peri-Op |
| 08/20 | LYNN | WARNER | Business Office |
| 08/21 | LISA | ALDOUS | BMC Admin |
| 08/21 | LEA | LEMONS | Peri-Op |
| 08/21 | ALLISON | PARKES | NICU |
| 08/22 | PEGGY SUE | ASHBOCKER | Teton Cancer Institute |
| 08/22 | HEATHER | HAY | Pharmacy |
| 08/22 | ASHLEY | WELLINGTON | Blackfoot Medical Laboratory |
| 08/22 | TIFFANY A | CARLSON | Quality Resources |
| 08/22 | CINDI | ISAAC | BMC Admin |
| 08/22 | MARSHA | FRIDEN | PIC Pocatello |
| 08/22 | BRANDON | ANDERSON | Surgery |
| 08/22 | NICHOLE JOSEPHI | HANSEN | Administration |
| 08/23 | RYAN | WATSON | Prescription Center Infusions |
| 08/23 | LINDA | SALDIVAR | Lab |
| 08/23 | KIMBERLY | POOLE | Pain Specialists of ID |
| 08/23 | BRIANA | FULLMER | Housekeeping |
| 08/23 | JESUS | CAMACHO | Housekeeping |
| 08/23 | JOUA | LAO | Health Information Management |
| 08/23 | DAPHNE | CLOUTIER | Population Health |
| 08/24 | LAURIE | LARSEN | Community Care-Rigby |
| 08/24 | WENDY | COX | Peri-Op |
| 08/24 | JANICE | ROLLINS | Eagle Rock ASC |
| 08/25 | EUGENE | GILBERT | Teton Cancer Institute |
| 08/25 | ISABEL MARIE | HOPKINS | Blackfoot Medical Imaging |
| 08/25 | BRANDON | SMITH | Community Care-Pocatello |
| 08/25 | ALAINA | LLOYD | Community Care-Rigby |
| 08/25 | JACINDA | WARD | Surgery |
| 08/25 | ELIYAH | SMITH | Housekeeping |
| 08/25 | GINA | ROWE | Business Office |
| 08/26 | KADEN | SCHMITT | Quality Resources |
| 08/26 | SHELBY | MILLER | Channing Redicare Clinic |
| 08/26 | NOELLE | BURNETT | BMC/Johanson Surgery |
| 08/26 | BONNIE | BROWN | Surgery |
| 08/26 | AMANDA | HORROCKS | Business Office |
| 08/27 | DANIEL | RIDLEY | Sleep Lab |
| 08/27 | ACACIA | MCMURTREY | Sleep Specialists |
| 08/27 | MATT | HANSEN | Radiology |
| 08/27 | ARLENE | HUBBARD | Altenburg Joint Replacement Po |
| 08/27 | RITA | BURKE | Peri-Op |
| 08/28 | MARY | COBOS | Quality Resources |
| 08/28 | SANDRA | WALKER | BMC Admin |
| 08/28 | KELLY | WEISERT | Business Office |
| 08/28 | JASMINE | CHURCH | Business Office |
| 08/28 | JONATHAN | ZWYGART | Information Systems |
| 08/29 | ALISA | ORR | Teton Cancer Institute |
| 08/29 | SARAH | TAYLOR | Quality Resources |
| 08/29 | KELLIE | WILDE | Pain Specialists of ID-Proc Ct |
| 08/29 | KAILYN | ALLMON | Community Care-Pocatello |
| 08/29 | AMBER | BLACKER | Business Office |
| 08/29 | MCKOTY | JARVIS | Administration |
| 08/30 | ASHLEY | PEREZ | Quality Resources |
| 08/30 | SUNDEE D | BAGULEY | Business Office |
| 08/30 | ERIN | ANDERSON | Business Office |
| 08/31 | ZACH | PUGMIRE | Physical Therapy |
| 08/31 | ADAM | JENKINS | Brad Erickson |
| 08/31 | JESSALYNN | RAMOS | Business Office |