We're Updating The Beat!
In this newsletter, we'll share company-wide news, including upcoming events, birthdays, spotlights, department news, and more. And now, we're going to be sharing The Beat every week! But that means we need your help.
This newsletter is designed to be informative and collaborative. Do you have a fun story, positive patient feedback, or a funny work picture? Use the form on this page to submit!
Check back on The Beat's main page for more updates. 
Don't let what you can't do stop you from doing what you can do.

John Wooden
Cornerstone Café Needs Cooks!
The Cornerstone Café is looking for cooks. We have five openings for Cook 2, both full and part time spots are available. Duties include assisting the chefs, prepping food, making salads etc. No experience necessary - will train the right person.
We are offering a $1000 sign on bonus for full time and a $500 sign on bonus for part time. Full benefits package available. Must be at least 18 years old. In addition to the usual "Thank You Referral Bonus" provide by the hospital, if we hire your referral, we will also thank you with $50 worth of vouchers to the Cornerstone Café. Have applicants apply at IFCHjobs.com.
Urology Associates of Idaho Falls Welcomes New Team Member
Meet Heather!
She is the newest PA at Urology Associates of Idaho Falls. Heather has worked as a PA in Southeast Idaho for 13 years and grew up in Blackfoot. She has worked in both urgent care and assisting in general surgery. She received her bachelor's degree from the University of Utah and then completed her PA studies at Idaho State University.
She and her husband Cody love watching and supporting their four kids in the various sports and activities they are involved in.
She enjoys snow skiing, camping, hiking and traveling with her family. She loves living and practicing in Southeast Idaho because of its strong community values of family and patriotism, and the beautiful landscape it offers.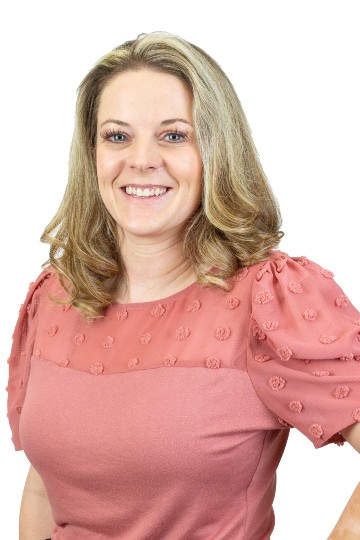 Commitment to Excellence
Thanks to everyone that submitted nominations for our Commitment to Excellence award! Say congratulations to the winners and check out all of our honorable mentions!
WINNER: Jenny Wall - Labor & Delivery
We have a SUPERSTAR on our unit. Her name is JENNY WALL. She literally shines! Her smile and excitement is felt with every interaction she has with co-workers and patients. Her many post-partum patients have raved (during management/patient rounding) about the GREAT care Jenny gives. They mention how they all feel like they are her only patient on the unit, even when they know we are very busy. Jenny also has been a ROCK STAR at onboarding new employee's and ensuring that each new member had a great experience which has helped create a better retention percentage on L&D. She takes the time to explain processes as well as evaluate and observe for understanding. Her many trainees have reported how wonderful of a preceptor she is. She also is one of our teams HCAPS representatives and we appreciate all she does for us!
She is now in 2021 training to be a Labor nurse and we all have full confidence that she will be outstanding in that new role as well.
FIRST RUNNER-UP: Felicia Hall - Pocatello ENT
Felicia Hall is very deserving of this. She currently works full time at the Pocatello ENT clinic. I know she is navigating through additional challenges but you would never know it. She is committed to this job and is currently training our new CMA. The feedback I have received is she is doing great in that task. She is willing to do whatever tasks are asked of her as she was recently asked to change providers which added to her responsibilities. Never once did she complain or oppose this idea. She is very deserving of this.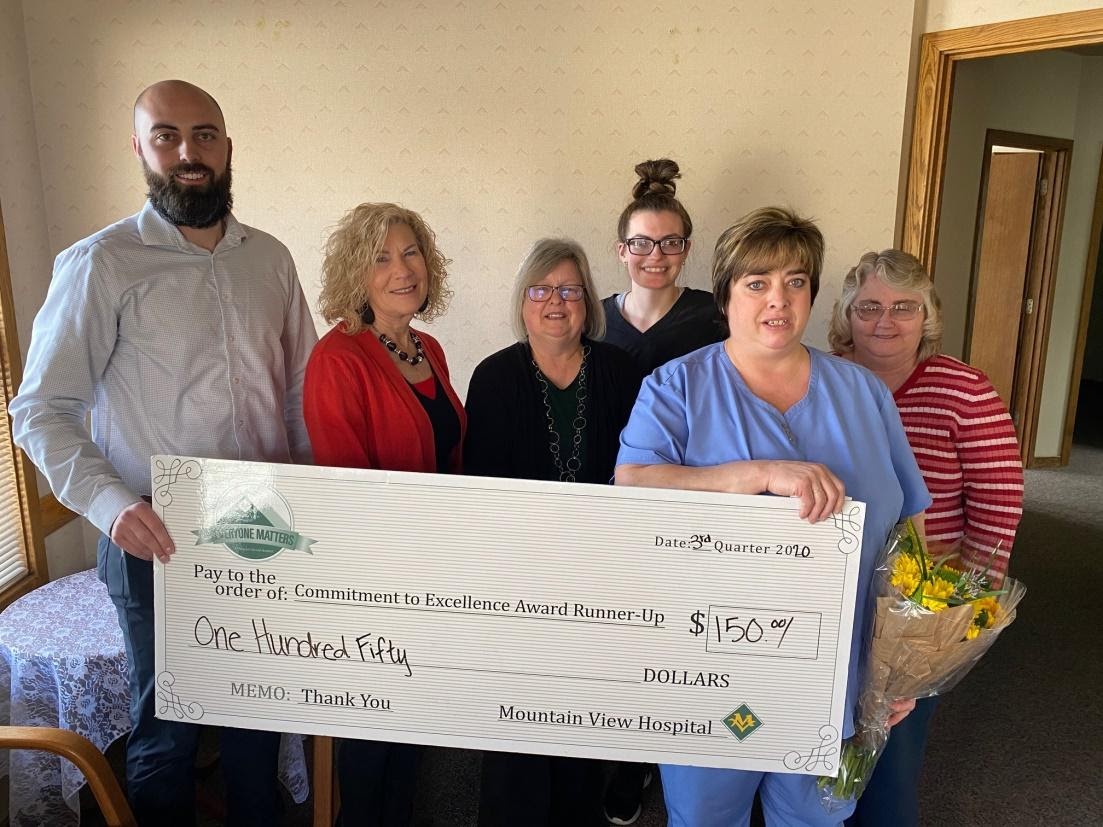 Commitment to Excellence
Shout Outs
The last quarter of 2020 was quite challenging in our department due to being down several individuals but needing to continue to perform the same tasks. This meant taking a number of extra shifts, and often on short notice. This team rose to the challenge and performed without complaint, even though this was often at the expense of their work/life balance and personal health.
Gina simply amazes me. Over the past 3 years, she has earned my respect, love, and gratitude. Gina is hands down one of our MVP's in the business office. Her knowledge and expertise are critical to the insurance denials department, and to the entire business office. She is the glue to our denials team, and we would be truly lost without her daily guidance. Gina has taken the new billing system, the new hospital, new clinics, and the pandemic all in stride. She has led us by example to remain steadfast and positive, especially when times are tough. She is a committed employee. In addition to all those recent hurdles and on top of her normal duties, Gina has personally trained over 20 people in the past 2 years! She handles the constant questions without ever snapping or belittling someone. What an amazing amount of patience she must have! We have all grown in our knowledge because of her everyday efforts. I truly appreciate her!
I nominate Trudy White. She is always smiling and making the office a happier place.  She is always courteous and kind to everyone she talks to.
I wanted to give a shout out to Morgan! I am preparing for nursing school and needed some vaccines. Morgan is the similitude of customer service as he got back to me immediately and got me in the next day for vaccines. He went through my paperwork meticulously to make sure I had it all worked out and even did my physical for me to save me time and money. Morgan is also at the front lines of the COVID pandemic and totally kept his cool when receiving several calls, while he was drawing my blood. He never lost his composure, and never lost his smile. Morgan is amazing! Give him a pat on the back and let him know his example is one to emulate. 
I would like to nominate Morgan Garriott for the commitment to Excellence award this quarter. He really has gone above and beyond this year with all of the COVID protocol. I have been able to call him with questions and he always gets back to me very quickly. It has been very nice to have him to reach out to for questions about what staff should be doing if they have symptoms during this pandemic. He has definitely been great to work with!

Message from IT Security
Phishing is the fraudulent attempt to obtain sensitive information or data, such as usernames, passwords and credit card details, by disguising oneself as a trustworthy entity in an electronic communication. If you ever see an attempt or not sure of the email you receive please forward the email to itsecurity@mvhospital.net
Pop Quiz
The first 3 to respond with correct answer gets a prize. Send answer to itsecurity@mvhospital.net.
What is the best line of defense for avoiding a data breach?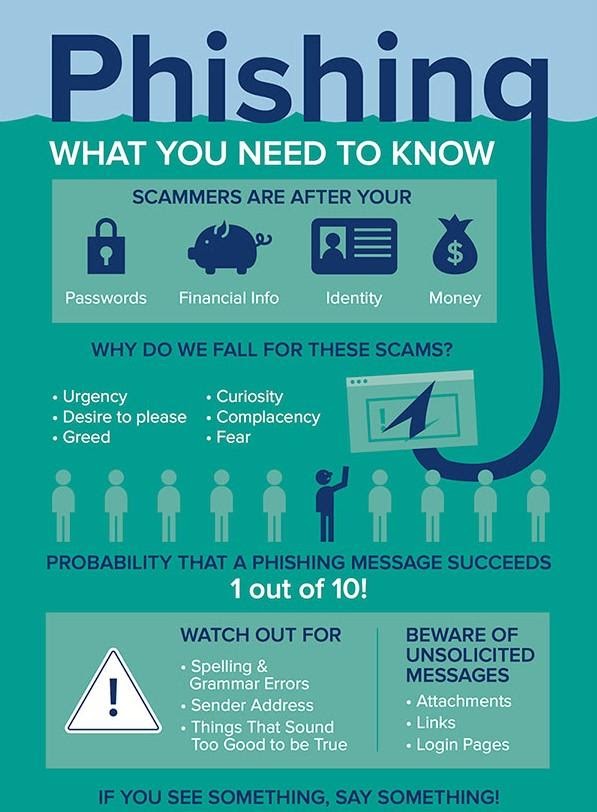 | | | |
| --- | --- | --- |
| 03/01 | BARTH, JAYLENE | Community Care-Rigby |
| 03/01 | JOHANSON, KAYLEY LANE | Pharmacy |
| 03/01 | PALMA-TORRES, DENISE | Blackfoot Medical Imaging |
| 03/01 | PURCELL, BRIAN BLAKE | Surgery |
| 03/02 | ADAMS, MORGAN JANE | Channing Redicare Clinic |
| 03/02 | ALVAREZ, MARIELA | Business Office |
| 03/02 | MIYASAKI, NATHAN NOBUO | Physical Plant |
| 03/02 | RUBIO VACA, CARLOS ANTHONY | Pharmacy |
| 03/03 | DORSEY, JADONNA NICOLE | Pharmacy |
| 03/03 | HALL, FELICIA ANN | Pocatello ENT |
| 03/03 | JONES, TREANA | Labor & Delivery |
| 03/03 | POMEROY, PAUL ANTHONY | Pharmacy |
| 03/03 | STACEY, MELISA | Peri-Op |
| 03/03 | YOUNG, JARED LEE | Physical Plant |
| 03/04 | AESCHBACHER, GLENDA ANNE | Radiation Oncology |
| 03/04 | BURKE, SHIRLEY | Peri-Op |
| 03/04 | CHRISTENSEN, JORDAN ALISHA | Pulmonary Services |
| 03/04 | LUGO, JOSE LUIS | Purchasing |
| 03/05 | HOMER, ASHLEY BROOKE | Lab |
| 03/05 | ORR, ALYSSA N | Labor & Delivery |
| 03/05 | PORTER, JANELL | Radiology |
| 03/05 | STEED, COURTNEY L | Health Information Management |
| 03/05 | STEWART, CATHERINE | Teton Cancer Institute |
| 03/05 | WHITMAN, TYRONNE PAPENFUSS | Information Systems |
| 03/06 | ALLEN, TRAVIS L | Pain Specialists of ID |
| 03/06 | DEVISSER, REGINA | Business Office |
| 03/06 | FOX, CAROL | Peri-Op |
| 03/06 | HUFFMAN, JILL M. | Eastern ID Spine Center (Vlach |
| 03/06 | JUDY, KATIE L | Physician Management Services |
| 03/06 | MITKI, CATHERINE FAITH | Pain Clinic |
| 03/07 | ABEGGLEN, MEGAN | Wound Care |
| 03/07 | CRAPO, SHAD FREDRICK | Community Care-Rigby |
| 03/07 | GRANDELL, KELLY | Sleep Specialists |
| 03/07 | HILLYARD, NED | Quality Resources |
| 03/07 | ORR, DENEL JANAE | Channing Redicare Clinic |
| 03/07 | WAGGONER, KATHY L | Blackfoot Pain Clinic |
| 03/08 | DIXON, GORDON E | Community Care-Pocatello |
| 03/08 | WELKER, MISTY D | Teton Cancer Institute |
| 03/09 | BRANSON, KYREE | Business Office |
| 03/09 | GOSS, MELISSA A | Administration |
| 03/09 | JANKOWSKI, PATRICK J | Surgery |
| 03/09 | LEE, MARSHA LANAE | Speech Therapy |
| 03/09 | THRUSH, SAMUEL MARK | Lab |
| 03/10 | BROOKSHIER, ROSEMARY | Grand Teton |
| 03/10 | CHALLENDER, ROBIN Y | Pharmacy |
| 03/10 | CROSTHWAIT, CHARLES DEAN | Information Systems |
| 03/11 | ACOSTA, LILIANA | Business Office |
| 03/11 | DALTON, KARLIE THURGOOD | Community Care-Channing |
| 03/11 | JONES, ANGELA KAY | Physical Therapy |
| 03/11 | KUHARSKE, ALISA CHRISTINE | Radiology |
| 03/11 | SHAW, TRENT E | Community Care-Rexburg |
| 03/11 | VILLEGAS, CARLOS | Business Office |
| 03/11 | WATSON, BONNIE J. | Eastern Idaho Foot Clinic |
| 03/12 | DICKINSON, JOHN | Dickinson Neurological Surgery |
| 03/12 | LARSON, KATRINA ADELL | Teton Cancer Institute |
| 03/12 | LODER, KENADIE MICHELLE | PIC Pocatello |
| 03/12 | MOORE, DEREK JAMES | Physical Plant |
| 03/12 | NELSON, MATT R | Pain Specialists of ID |
| 03/13 | CRUMPTON, KYLEE | Labor & Delivery |
| 03/13 | DUMMER, MACIE LYNN | Business Office |
| 03/13 | DURRANT, CAMILLE YVONNE | Grand Teton |
| 03/13 | PALMA, RODRIGO | Information Systems |
| 03/13 | RUSSELL, KYLIE KELLI | Radiology |
| 03/13 | SIERRA, NOHELY | Teton Cancer Institute |
| 03/14 | AUSTIN, JESSICA KRISTINE | Primary Care Specialists |
| 03/14 | BAMBARGER, STEVEN DANIEL | Teton Cancer Institute |
| 03/14 | HINCKLEY, DANIEL | Hinckley ENT |
| 03/14 | HOPE, STORMY GAYLE | Surgery |
| 03/14 | SMITH, JOSHUA | Finance |
| 03/14 | WADSWORTH, SARALEE | Mountain View Infusion Service |
| 03/15 | BODILY, SOREN L | Physician Management Services |
| 03/15 | JARDINE, CODY MATTHEW | Business Office |
| 03/15 | MCMURTREY, TREENA DEANNE | Creekside Surgery Center |
| 03/15 | STEVENS, CHRISTINE KAARI | Teton Cancer Institute |
| 03/15 | WAETJE, AMY A. | Prescription Center Infusions |
| 03/16 | BAIR, SHEYANN M | Channing Redicare Clinic |
| 03/16 | MAYS, DEBRA JEAN | Physician Management Services |
| 03/16 | MOSER, FRANCIS B | BMC/Johanson Surgery |
| 03/16 | RUBIO, HUGO | Pharmacy |
| 03/16 | SANDERS, STEPHANIE | Teton Cancer Institute |
| 03/16 | SIMMONS, ADAM | Pharmacy |
| 03/17 | BREWINGTON, SHERA | Pain Specialists of ID |
| 03/17 | GOINGS, SYDNEY | PIC Pocatello |
| 03/17 | HUNTSMAN, MCKINZIE A. | Pain Specialists of ID |
| 03/17 | KREBS, GARRETT JOHN | MedSurg |
| 03/17 | MADSEN, KAITLYN | Business Office |
| 03/17 | WAHLQUIST, JESSICA | MedSurg |
| 03/18 | CAMPBELL, MELISSA ANN | Quality Resources |
| 03/18 | FORD, KATHRYN VIRGINIA | Housekeeping |
| 03/18 | KELLY, MELISSA DAWN | Prescription Center Infusions |
| 03/18 | LEWIS, MINDY J. | Pain Specialists of ID-Proc Ct |
| 03/18 | NEWBY, JACKIE SON | Community Care-West Side |
| 03/18 | PASSEY, ALYSSA | Business Office |
| 03/18 | TANNER, ANGELA DONNA | Teton Cancer Institute |
| 03/18 | WILLS, BAILEY RAE | Community Care-West Side |
| 03/19 | BYINGTON, LORI LEE | Premier Speech Therapy |
| 03/19 | HOLLIS, MATTISON ANNE | Population Health |
| 03/19 | ORCHARD, KAILI DAWN | Business Office |
| 03/19 | PALACIOS, KARINA | Housekeeping |
| 03/19 | RANGEL, CARINA | Surgery |
| 03/19 | SMITH, PAULA MARIE | Business Office |
| 03/20 | BITTER, SHARLENE MACKLEY | Labor & Delivery |
| 03/20 | DOWNEY, TYLER C | Pharmacy |
| 03/20 | HARRISON, JILL C. | Labor & Delivery |
| 03/20 | NELSON, JAMES | Surgery |
| 03/20 | NERY, JACQUELINE LISSETTE | Channing Redicare Clinic |
| 03/20 | NUENKE, ANDREW JAMES | Pharmacy |
| 03/21 | ANDERSON, DARCY MARIE | BMC/Johanson Surgery |
| 03/21 | MARSH, KELBEE KAY | Finance |
| 03/21 | SHARP, CASEY DAWN | Lab |
| 03/21 | SWALLOW, BECKY S | Pocatello ENT |
| 03/22 | CAUDILLO RAMIREZ, NANCY | Housekeeping |
| 03/22 | ERICKSON, KELLY STEPHANIE | Prescription Center Infusions |
| 03/22 | FIFE, WESLEY SCOTT | Surgery |
| 03/22 | FURNISS, LOGAN T | Physical Plant |
| 03/22 | HARKNESS, REGINA | Blackfoot Pain Clinic |
| 03/22 | LABRA, JESSIE T | Business Office |
| 03/22 | RIDGWAY, KATELYN | PIC Chubbuck |
| 03/22 | STORK, NICOLE LEE | PIC Chubbuck |
| 03/22 | THOMAS, PATRICIA A. | Pain Specialists of ID |
| 03/22 | YOUNG, NATALIE | Health Information Management |
| 03/23 | NAVARRO, MARISELA | Teton Cancer Institute |
| 03/23 | SARGENT, ANGIE | Peri-Op |
| 03/23 | STEWART, KORTNI | Surgery |
| 03/23 | TENIENTE, GABRIELA | Housekeeping |
| 03/24 | CAMPBELL, KEITH LEO | Lab |
| 03/25 | ADAMS, KYLIE CHRISTINE | Coffee Shop |
| 03/25 | CONYERS, JAMIE | Surgery |
| 03/25 | HIGLEY, MEGAN L | Primary Care Specialists |
| 03/25 | LAMBSON, JUSTUS FLIN | Community Care-West Side |
| 03/25 | MCGINNIS, CASEY AMANDA | Labor & Delivery |
| 03/25 | RAY, DANI KELLOGG | Channing Redicare Clinic |
| 03/25 | SALDANA, SAYRED | Housekeeping |
| 03/25 | WARD, KORI E | Community Care-Pocatello |
| 03/26 | ANSELMI, MORGAN KAY | Radiology |
| 03/26 | RICE, REBECCA | Point of Care |
| 03/26 | SHIGIHARA, KENDRA RAYE | Lab |
| 03/26 | SHRESTHA, UPAMA | Quality Resources |
| 03/26 | STOCKWELL, JASMINE RACHAEL | Quality Resources |
| 03/26 | WAHLQUIST, MICHAEL JAMES | Lab |
| 03/26 | WILLIS, HOWARD JAMES | Community Care-Channing |
| 03/27 | JOSLIN, LINDSEY | Radiation Oncology |
| 03/27 | MCFARLAND, ANGELA ANN | Hinckley ENT |
| 03/27 | SOUCIE, LINDSEY | Surgery |
| 03/27 | WELLS, SAMANTHA JEANNE | PIC Pocatello |
| 03/28 | HANSEN, ERVIN RAY | Quality Resources |
| 03/28 | HARTWIG, TYLER SCOTT | Surgery |
| 03/28 | TAM, SHAUNA LYNN | Surgery |
| 03/29 | BATTLESON, KIMBERLEY MARIE | Physician Management Services |
| 03/29 | BROOKS, NIC R | Radiology |
| 03/29 | DRAK, JOSEPH ALLEN | Peri-Op |
| 03/29 | LILYA, JULIE A | Pain Specialists of ID-Pocatel |
| 03/29 | MURDOCK, CAMILLE | Community Care-Rexburg |
| 03/29 | PECK, MCKENNA ANN | Lab |
| 03/29 | WEST, JULIE H | Prescription Center Infusions |
| 03/29 | WOODHOUSE, JERRI LYNN | Administration |
| 03/30 | CARTER, LINDSEY | Business Office |
| 03/30 | DURTSCHI, MELISSA | Labor & Delivery |
| 03/30 | KARRAKER, KRISTEN | Eastern ID Neurological |
| 03/30 | KOPLIN, JANET JEAN | Pharmacy |
| 03/30 | MATHIS, BRANDEE DAWN | Community Care-Rexburg |
| 03/30 | SILZLY, PAMELA | Creekside Surgery Center |
| 03/30 | STUBBS, LYDIA K. | Business Office |
| 03/31 | SMALL, STEPHNE M | Mountain View Infusion Service |