We're Updating The Beat!
In this newsletter, we'll share company-wide news, including upcoming events, birthdays, spotlights, department news, and more. And now, we're going to be sharing The Beat every week! But that means we need your help.
This newsletter is designed to be informative and collaborative. Do you have a fun story, positive patient feedback, or a funny work picture? Use the form on this page to submit!
Check back on The Beat's main page for more updates. 
Do what you can, with what you have, where you are.

Theodore Roosevelt
Nutritional Services Department is Looking for New Team Members
We have several positions available in our department, and if you help us find team members with your referrals, besides the regular Thank You Referral Bonus, we'll also give $50 in vouchers to spend at the Cornerstone Café upon hire of your referral. Team members must at least 18 years old. We're looking for the following:
Café Cashier
1 part time position available with $500 sign on bonus
Cook 2 (Chef's assistant)
1 full time position (typically 5 eight-hour shifts/week) with $1,250 sign on bonus
4 part time positions (typically 5 four-five hour shifts) with $750 sign on bonus
Nutrition Hospitality (delivers patient meals)
1 full time position (typically 3 twelve hour shifts/week) with $1,000 sign on bonus
1 part time position (typically 2 twelve hour shifts/week) with $500 sign on bonus
Have your referrals apply at IFCHjobs.com and make sure they list you as the person referring them on the application. Thanks for your help 😊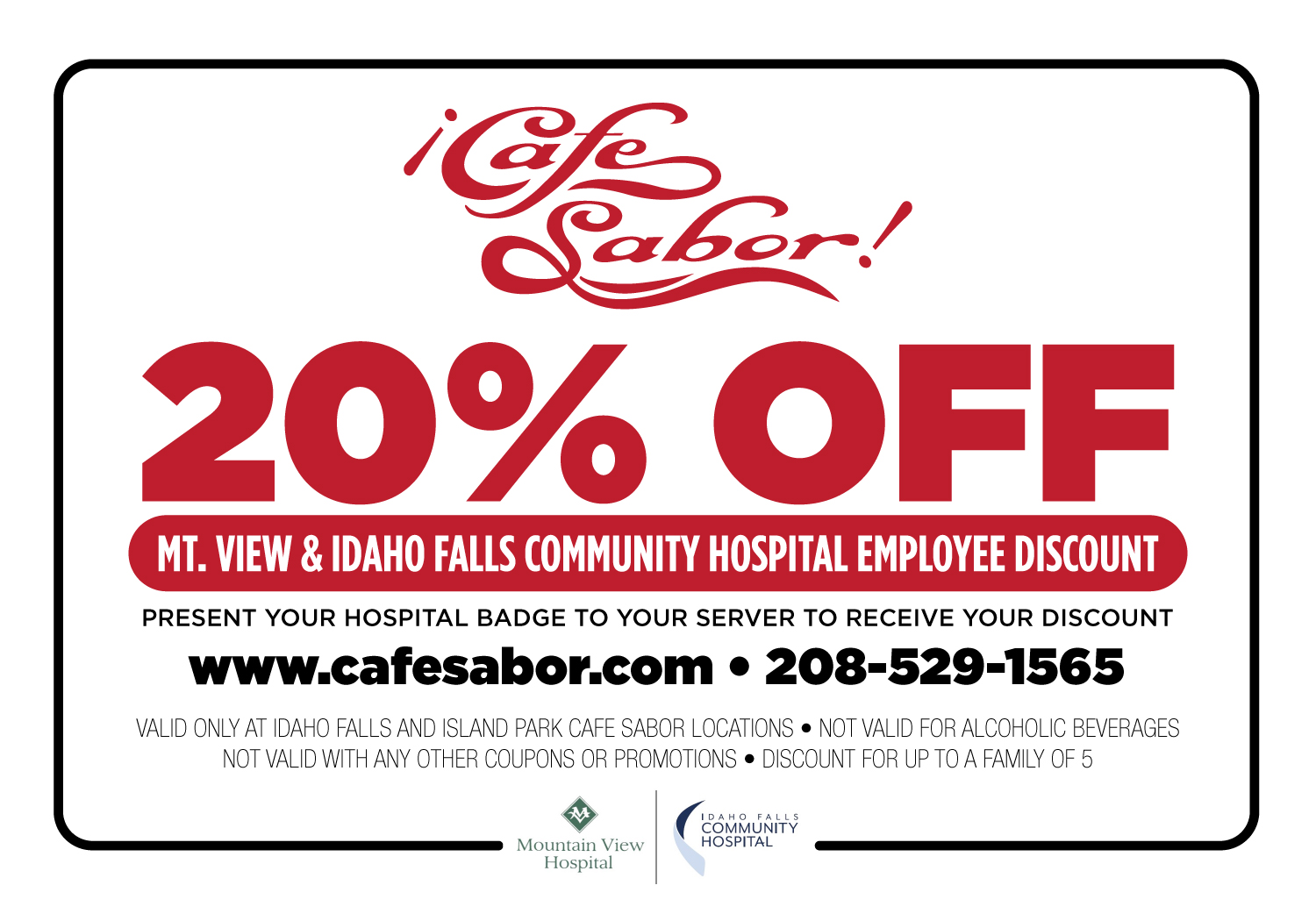 Certificates of Appreciation from District 93
District 93 instructors presented Education with certificates of appreciation for assisting with their Tech Wars. Eric coordinated with the schools to allow Chris and Dave to be judges for the EMT and CNA student competitions. We are so grateful we were given the opportunity to participate and build relationships with the local schools and students who will be coming through our facilities.
This is the article that was on East Idaho News about the event—featuring our very own Dave in one of the photos! https://www.eastidahonews.com/2021/03/tech-wars-brings-high-school-students-together-with-industry-professionals/
Helpful Information on the Intranet
Did you know you can access information about current best practices and medications by visiting the Pharmacy page on the Intranet?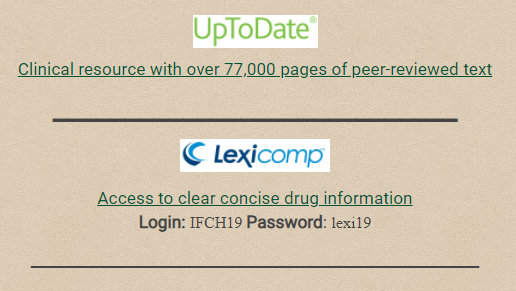 Just click the "Medical Depts" dropdown from the Intranet and choose "Pharmacy," and you will see the links as pictured above.
UpToDate is an excellent clinical resource with information on disease processes, skills, and much more. Lexicomp is a helpful drug library that can answer many of the questions medical professionals may have about the medications we give our patients.
Message from IT Security
What is ransomware?
Ransomware is a malware that stealthily gets installed in your PC or mobile device and holds your files or operating system functions for ransom. It restricts you from using your PC or mobile device, and from accessing your files (files are sometimes locked or encrypted), unless you pay the ransom (in exchange for file decryption). Learn more at microsoft.com. 
According to Gartner Security, ransomware attacks on US healthcare organizations cost $20.8 billion in 2020.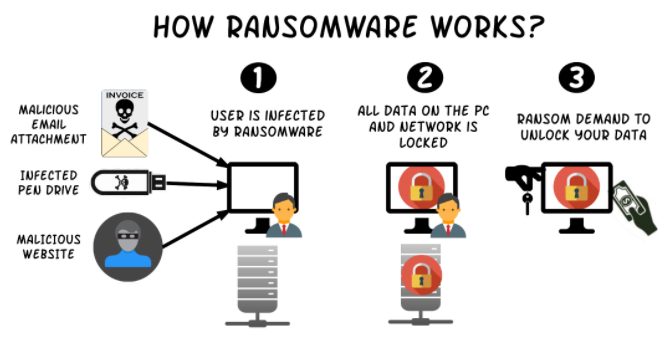 You are the first line of defense against ransomware. You can make a difference by doing the following:
Do not open email attachments or click on links from unknown senders.
Beware of phishing attempts.
Do not plug in an unknown thumb drive to your computer.
Practice safe browsing by going to reliable and reputable websites.
For any questions email itsecurity@mvhospital.net or call us at 208-557-2705.
| | | |
| --- | --- | --- |
| 03/01 | BARTH, JAYLENE | Community Care-Rigby |
| 03/01 | JOHANSON, KAYLEY LANE | Pharmacy |
| 03/01 | PALMA-TORRES, DENISE | Blackfoot Medical Imaging |
| 03/01 | PURCELL, BRIAN BLAKE | Surgery |
| 03/02 | ADAMS, MORGAN JANE | Channing Redicare Clinic |
| 03/02 | ALVAREZ, MARIELA | Business Office |
| 03/02 | MIYASAKI, NATHAN NOBUO | Physical Plant |
| 03/02 | RUBIO VACA, CARLOS ANTHONY | Pharmacy |
| 03/03 | DORSEY, JADONNA NICOLE | Pharmacy |
| 03/03 | HALL, FELICIA ANN | Pocatello ENT |
| 03/03 | JONES, TREANA | Labor & Delivery |
| 03/03 | POMEROY, PAUL ANTHONY | Pharmacy |
| 03/03 | STACEY, MELISA | Peri-Op |
| 03/03 | YOUNG, JARED LEE | Physical Plant |
| 03/04 | AESCHBACHER, GLENDA ANNE | Radiation Oncology |
| 03/04 | BURKE, SHIRLEY | Peri-Op |
| 03/04 | CHRISTENSEN, JORDAN ALISHA | Pulmonary Services |
| 03/04 | LUGO, JOSE LUIS | Purchasing |
| 03/05 | HOMER, ASHLEY BROOKE | Lab |
| 03/05 | ORR, ALYSSA N | Labor & Delivery |
| 03/05 | PORTER, JANELL | Radiology |
| 03/05 | STEED, COURTNEY L | Health Information Management |
| 03/05 | STEWART, CATHERINE | Teton Cancer Institute |
| 03/05 | WHITMAN, TYRONNE PAPENFUSS | Information Systems |
| 03/06 | ALLEN, TRAVIS L | Pain Specialists of ID |
| 03/06 | DEVISSER, REGINA | Business Office |
| 03/06 | FOX, CAROL | Peri-Op |
| 03/06 | HUFFMAN, JILL M. | Eastern ID Spine Center (Vlach |
| 03/06 | JUDY, KATIE L | Physician Management Services |
| 03/06 | MITKI, CATHERINE FAITH | Pain Clinic |
| 03/07 | ABEGGLEN, MEGAN | Wound Care |
| 03/07 | CRAPO, SHAD FREDRICK | Community Care-Rigby |
| 03/07 | GRANDELL, KELLY | Sleep Specialists |
| 03/07 | HILLYARD, NED | Quality Resources |
| 03/07 | ORR, DENEL JANAE | Channing Redicare Clinic |
| 03/07 | WAGGONER, KATHY L | Blackfoot Pain Clinic |
| 03/08 | DIXON, GORDON E | Community Care-Pocatello |
| 03/08 | WELKER, MISTY D | Teton Cancer Institute |
| 03/09 | BRANSON, KYREE | Business Office |
| 03/09 | GOSS, MELISSA A | Administration |
| 03/09 | JANKOWSKI, PATRICK J | Surgery |
| 03/09 | LEE, MARSHA LANAE | Speech Therapy |
| 03/09 | THRUSH, SAMUEL MARK | Lab |
| 03/10 | BROOKSHIER, ROSEMARY | Grand Teton |
| 03/10 | CHALLENDER, ROBIN Y | Pharmacy |
| 03/10 | CROSTHWAIT, CHARLES DEAN | Information Systems |
| 03/11 | ACOSTA, LILIANA | Business Office |
| 03/11 | DALTON, KARLIE THURGOOD | Community Care-Channing |
| 03/11 | JONES, ANGELA KAY | Physical Therapy |
| 03/11 | KUHARSKE, ALISA CHRISTINE | Radiology |
| 03/11 | SHAW, TRENT E | Community Care-Rexburg |
| 03/11 | VILLEGAS, CARLOS | Business Office |
| 03/11 | WATSON, BONNIE J. | Eastern Idaho Foot Clinic |
| 03/12 | DICKINSON, JOHN | Dickinson Neurological Surgery |
| 03/12 | LARSON, KATRINA ADELL | Teton Cancer Institute |
| 03/12 | LODER, KENADIE MICHELLE | PIC Pocatello |
| 03/12 | MOORE, DEREK JAMES | Physical Plant |
| 03/12 | NELSON, MATT R | Pain Specialists of ID |
| 03/13 | CRUMPTON, KYLEE | Labor & Delivery |
| 03/13 | DUMMER, MACIE LYNN | Business Office |
| 03/13 | DURRANT, CAMILLE YVONNE | Grand Teton |
| 03/13 | PALMA, RODRIGO | Information Systems |
| 03/13 | RUSSELL, KYLIE KELLI | Radiology |
| 03/13 | SIERRA, NOHELY | Teton Cancer Institute |
| 03/14 | AUSTIN, JESSICA KRISTINE | Primary Care Specialists |
| 03/14 | BAMBARGER, STEVEN DANIEL | Teton Cancer Institute |
| 03/14 | HINCKLEY, DANIEL | Hinckley ENT |
| 03/14 | HOPE, STORMY GAYLE | Surgery |
| 03/14 | SMITH, JOSHUA | Finance |
| 03/14 | WADSWORTH, SARALEE | Mountain View Infusion Service |
| 03/15 | BODILY, SOREN L | Physician Management Services |
| 03/15 | JARDINE, CODY MATTHEW | Business Office |
| 03/15 | MCMURTREY, TREENA DEANNE | Creekside Surgery Center |
| 03/15 | STEVENS, CHRISTINE KAARI | Teton Cancer Institute |
| 03/15 | WAETJE, AMY A. | Prescription Center Infusions |
| 03/16 | BAIR, SHEYANN M | Channing Redicare Clinic |
| 03/16 | MAYS, DEBRA JEAN | Physician Management Services |
| 03/16 | MOSER, FRANCIS B | BMC/Johanson Surgery |
| 03/16 | RUBIO, HUGO | Pharmacy |
| 03/16 | SANDERS, STEPHANIE | Teton Cancer Institute |
| 03/16 | SIMMONS, ADAM | Pharmacy |
| 03/17 | BREWINGTON, SHERA | Pain Specialists of ID |
| 03/17 | GOINGS, SYDNEY | PIC Pocatello |
| 03/17 | HUNTSMAN, MCKINZIE A. | Pain Specialists of ID |
| 03/17 | KREBS, GARRETT JOHN | MedSurg |
| 03/17 | MADSEN, KAITLYN | Business Office |
| 03/17 | WAHLQUIST, JESSICA | MedSurg |
| 03/18 | CAMPBELL, MELISSA ANN | Quality Resources |
| 03/18 | FORD, KATHRYN VIRGINIA | Housekeeping |
| 03/18 | KELLY, MELISSA DAWN | Prescription Center Infusions |
| 03/18 | LEWIS, MINDY J. | Pain Specialists of ID-Proc Ct |
| 03/18 | NEWBY, JACKIE SON | Community Care-West Side |
| 03/18 | PASSEY, ALYSSA | Business Office |
| 03/18 | TANNER, ANGELA DONNA | Teton Cancer Institute |
| 03/18 | WILLS, BAILEY RAE | Community Care-West Side |
| 03/19 | BYINGTON, LORI LEE | Premier Speech Therapy |
| 03/19 | HOLLIS, MATTISON ANNE | Population Health |
| 03/19 | ORCHARD, KAILI DAWN | Business Office |
| 03/19 | PALACIOS, KARINA | Housekeeping |
| 03/19 | RANGEL, CARINA | Surgery |
| 03/19 | SMITH, PAULA MARIE | Business Office |
| 03/20 | BITTER, SHARLENE MACKLEY | Labor & Delivery |
| 03/20 | DOWNEY, TYLER C | Pharmacy |
| 03/20 | HARRISON, JILL C. | Labor & Delivery |
| 03/20 | NELSON, JAMES | Surgery |
| 03/20 | NERY, JACQUELINE LISSETTE | Channing Redicare Clinic |
| 03/20 | NUENKE, ANDREW JAMES | Pharmacy |
| 03/21 | ANDERSON, DARCY MARIE | BMC/Johanson Surgery |
| 03/21 | MARSH, KELBEE KAY | Finance |
| 03/21 | SHARP, CASEY DAWN | Lab |
| 03/21 | SWALLOW, BECKY S | Pocatello ENT |
| 03/22 | CAUDILLO RAMIREZ, NANCY | Housekeeping |
| 03/22 | ERICKSON, KELLY STEPHANIE | Prescription Center Infusions |
| 03/22 | FIFE, WESLEY SCOTT | Surgery |
| 03/22 | FURNISS, LOGAN T | Physical Plant |
| 03/22 | HARKNESS, REGINA | Blackfoot Pain Clinic |
| 03/22 | LABRA, JESSIE T | Business Office |
| 03/22 | RIDGWAY, KATELYN | PIC Chubbuck |
| 03/22 | STORK, NICOLE LEE | PIC Chubbuck |
| 03/22 | THOMAS, PATRICIA A. | Pain Specialists of ID |
| 03/22 | YOUNG, NATALIE | Health Information Management |
| 03/23 | NAVARRO, MARISELA | Teton Cancer Institute |
| 03/23 | SARGENT, ANGIE | Peri-Op |
| 03/23 | STEWART, KORTNI | Surgery |
| 03/23 | TENIENTE, GABRIELA | Housekeeping |
| 03/24 | CAMPBELL, KEITH LEO | Lab |
| 03/25 | ADAMS, KYLIE CHRISTINE | Coffee Shop |
| 03/25 | CONYERS, JAMIE | Surgery |
| 03/25 | HIGLEY, MEGAN L | Primary Care Specialists |
| 03/25 | LAMBSON, JUSTUS FLIN | Community Care-West Side |
| 03/25 | MCGINNIS, CASEY AMANDA | Labor & Delivery |
| 03/25 | RAY, DANI KELLOGG | Channing Redicare Clinic |
| 03/25 | SALDANA, SAYRED | Housekeeping |
| 03/25 | WARD, KORI E | Community Care-Pocatello |
| 03/26 | ANSELMI, MORGAN KAY | Radiology |
| 03/26 | RICE, REBECCA | Point of Care |
| 03/26 | SHIGIHARA, KENDRA RAYE | Lab |
| 03/26 | SHRESTHA, UPAMA | Quality Resources |
| 03/26 | STOCKWELL, JASMINE RACHAEL | Quality Resources |
| 03/26 | WAHLQUIST, MICHAEL JAMES | Lab |
| 03/26 | WILLIS, HOWARD JAMES | Community Care-Channing |
| 03/27 | JOSLIN, LINDSEY | Radiation Oncology |
| 03/27 | MCFARLAND, ANGELA ANN | Hinckley ENT |
| 03/27 | SOUCIE, LINDSEY | Surgery |
| 03/27 | WELLS, SAMANTHA JEANNE | PIC Pocatello |
| 03/28 | HANSEN, ERVIN RAY | Quality Resources |
| 03/28 | HARTWIG, TYLER SCOTT | Surgery |
| 03/28 | TAM, SHAUNA LYNN | Surgery |
| 03/29 | BATTLESON, KIMBERLEY MARIE | Physician Management Services |
| 03/29 | BROOKS, NIC R | Radiology |
| 03/29 | DRAK, JOSEPH ALLEN | Peri-Op |
| 03/29 | LILYA, JULIE A | Pain Specialists of ID-Pocatel |
| 03/29 | MURDOCK, CAMILLE | Community Care-Rexburg |
| 03/29 | PECK, MCKENNA ANN | Lab |
| 03/29 | WEST, JULIE H | Prescription Center Infusions |
| 03/29 | WOODHOUSE, JERRI LYNN | Administration |
| 03/30 | CARTER, LINDSEY | Business Office |
| 03/30 | DURTSCHI, MELISSA | Labor & Delivery |
| 03/30 | KARRAKER, KRISTEN | Eastern ID Neurological |
| 03/30 | KOPLIN, JANET JEAN | Pharmacy |
| 03/30 | MATHIS, BRANDEE DAWN | Community Care-Rexburg |
| 03/30 | SILZLY, PAMELA | Creekside Surgery Center |
| 03/30 | STUBBS, LYDIA K. | Business Office |
| 03/31 | SMALL, STEPHNE M | Mountain View Infusion Service |
| | | | |
| --- | --- | --- | --- |
| 04/01 | CLAYTON | WADSWORTH | Purchasing |
| 04/01 | SABRINA | ALLEN | Pain Specialists of ID |
| 04/01 | TIFANI | SCHMOE | Primary Care Specialists |
| 04/02 | CRYSTAL | DEVALL | Purchasing |
| 04/02 | KIMBERLY | ROUNTREE | Radiology |
| 04/02 | LONA | MATHIE | Pharmacy |
| 04/02 | KELSI | MARTINEZ | Community Care-West Side |
| 04/02 | STETSON | SAXTON | Physical Plant |
| 04/03 | AARON | HIMRICH | Pharmacy |
| 04/03 | ANNA | HIMRICH | Prescription Center Retail |
| 04/03 | KRISTINA | HEDMAN | Pain Specialists of ID |
| 04/03 | CODIE | ROBERTSON | Primary Care Specialists |
| 04/03 | LUCY | WESTFALL | Nursery |
| 04/03 | AMBER | STEPHENS | MedSurg |
| 04/04 | GERI | JOHNSON | Mountain View Infusion Service |
| 04/04 | ASHLEY | RUBECK | Quality Resources |
| 04/04 | COURTNEY | QUEEN | Business Office |
| 04/04 | NATALIE JOY | MERRILL | Population Health |
| 04/05 | WENDY | HINTZE | BMC/Johanson Surgery |
| 04/05 | DEBBIE | LINGSCHEIT | Health Information Management |
| 04/06 | AMANDA | TAYLOR | Teton Cancer Institute |
| 04/06 | KRISTA | LONG | Radiology |
| 04/06 | DYLON | SPRENGER | Quality Resources |
| 04/06 | CODY | EVANS | PIC Mental Health |
| 04/06 | KELSEY | GARBUTT | Peri-Op |
| 04/07 | DEBRA | SOPHER | BMC/Johanson Surgery |
| 04/07 | SANDRA | PEVNEY | PIC Pocatello |
| 04/07 | OLIVIA | RUTLEDGE | Peri-Op |
| 04/07 | TASI | MECHAM | Labor & Delivery |
| 04/07 | SUSAN | ACKLEY | Physician Management Services |
| 04/08 | KATHERINE | ERICKSON | Teton Cancer Institute |
| 04/08 | APRIL | DINNEEN | Wellness and Recovery |
| 04/08 | KRISTIN | BENSON | Business Office |
| 04/08 | DANEISHA | WOFFORD | Business Office |
| 04/08 | TANNER | TAIT | Information Systems |
| 04/09 | EMILY | COOK | Preventative Services |
| 04/09 | ERICA | MASON | Altenburg Joint Replacement Po |
| 04/09 | SHEILA | THALGOTT | BMC Admin |
| 04/09 | HALLEY | MATTESSICH | Brad Erickson |
| 04/09 | EMILY | HANSON | Labor & Delivery |
| 04/09 | ALEXIS | MARCHANT | Surgery |
| 04/10 | JORDYN | REESE | Sleep Specialists |
| 04/10 | JOHN | HALL | Pharmacy |
| 04/10 | KEYSHA | ANDERSON | Urology Associates of Idaho Fa |
| 04/10 | DIXIE R | MCFARLANE | Community Care-Channing |
| 04/10 | MCCALL | BINGHAM | Peri-Op |
| 04/11 | TALON | ANDREWS | Purchasing |
| 04/11 | TALON | ANDREWS | Purchasing |
| 04/11 | TIFFANY | LOUDER | Pharmacy |
| 04/11 | NATALIE | BANNISTER | Physical Therapy |
| 04/11 | ETHAN | MCCARTY | Blackfoot Medical Laboratory |
| 04/11 | ALAINA | SWEET | Wellness and Recovery |
| 04/11 | JENNIFER | JARAMILLO | Eastern ID Spine Center (Vlach |
| 04/11 | LISA | CALDWELL | BMC/Johanson Surgery |
| 04/11 | ASHLEY | WOOD | PIC Pocatello |
| 04/11 | JESSICA | LANHAM | PIC Chubbuck |
| 04/11 | SHANI | JEWKES | Labor & Delivery |
| 04/11 | SHARADA | BRYARS | Surgery |
| 04/11 | BRICE | BABB | Business Office |
| 04/12 | NIKKI | CRAMER | IF Clinic |
| 04/12 | BRITTANY | BALL | Teton Cancer Institute |
| 04/12 | JENNI | BORG | Teton Cancer Institute |
| 04/12 | REAGAN M | HAYES | Community Care-Channing |
| 04/12 | MARY | FRANKLIN | Peri-Op |
| 04/12 | LAUREN | RICKS | Nursery |
| 04/12 | CHRISSY | RANSOM | Business Office |
| 04/12 | HAILEY | TULLIS | Physician Management Services |
| 04/13 | RAE | BARZEE | Community Care-Rexburg |
| 04/13 | ELIZABETH | SARINANA | Housekeeping |
| 04/14 | BETTY | BROOKS | Quality Resources |
| 04/14 | CATHERINE | MOOSO | Channing Redicare Clinic |
| 04/14 | DAVID | HAMBLIN | Information Systems |
| 04/14 | HEATHER | NIXON | Human Resources |
| 04/15 | HANNAH | HAMM | Pain Specialists of ID |
| 04/15 | MATTHEW | ANDERSEN | PIC Mental Health |
| 04/16 | ANGIE | HARTWELL | Prescription Center Infusions |
| 04/16 | BRIAN DAVID | MILLER | Community Care-Rexburg |
| 04/16 | KRISTIE | FULLMER | Grand Teton |
| 04/16 | TESSA | SHERWOOD | Business Office |
| 04/16 | TAMMY | WEBER | Human Resources |
| 04/17 | HAILEY | LYMAN | Creekside Surgery Center |
| 04/17 | DALE | NIXDORF | Physical Plant |
| 04/17 | MARIA | KANG | Business Office |
| 04/18 | KIMBERLY | STEPHENS | Radiology |
| 04/18 | MICHELLE | ESTUS | Lab |
| 04/18 | MEGAN | BROWN | Wellness and Recovery |
| 04/18 | RACHEL | CURZON | Pain Specialists of ID-Pocatel |
| 04/18 | JOANNA | ANDERSON | Urology Associates of Idaho Fa |
| 04/18 | LYNETTE | PIERCE | Labor & Delivery |
| 04/18 | NICOLE | BALDWIN | Business Office |
| 04/18 | HEATHER | HAYMAN | Business Office |
| 04/18 | ELENA | NUNEZ | Health Information Management |
| 04/18 | MORGAN TIUS | GARRIOTT | Human Resources |
| 04/19 | TERESA | PARNELL | IF Clinic |
| 04/19 | SCOTT | HOAG | Sleep Specialists |
| 04/19 | ANGELA | CERVANTES | BMC/Johanson Surgery |
| 04/19 | LEAH | YOUNG | MedSurg |
| 04/19 | KIM | HAMILTON | Housekeeping |
| 04/20 | MICHAEL | LEEMHUIS | Sleep Specialists |
| 04/20 | DAWN | HOADLEY | Pharmacy |
| 04/20 | DAVID | AYERS | Quality Resources |
| 04/20 | SUSAN | STRINGHAM | Channing Redicare Clinic |
| 04/20 | JOSHUA | HANSEN | Community Care-Pocatello |
| 04/20 | SINDY | BRAITHWAITE | Grand Teton |
| 04/20 | KISHA | GLORFIELD | Population Health |
| 04/21 | MIRANDA | OGDEN | Sleep Specialists |
| 04/21 | ERIKA | GUNTER | Primary Care Specialists |
| 04/21 | LINDSEY | MARTIN | MedSurg |
| 04/22 | CHAD | NIELD | Purchasing |
| 04/22 | SARA | KAPPAS | Radiology |
| 04/22 | WYATT | SAXTON | Lab |
| 04/22 | TARA | CLEVERLEY | Machen Family Medicine |
| 04/22 | TREVOR RANDALL | BARTLETT | Community Care-West Side |
| 04/22 | RENEE | RAMMELL | Peri-Op |
| 04/22 | MELISSA | LYON | Labor & Delivery |
| 04/22 | NICOLE | OMAHA | Business Office |
| 04/23 | HANNAH | PROULX | Blackfoot Pain Clinic |
| 04/23 | JAMIE | HAGEN | Grand Teton |
| 04/24 | TERRI | ASHCROFT | IF Clinic |
| 04/24 | TAYLER | BRAGG | Prescription Center Retail |
| 04/24 | DEBRA | THIROS | Prescription Center Infusions |
| 04/24 | KELSEY | CARDENAS | Blackfoot Medical Laboratory |
| 04/24 | PAM | PETERSEN | MedSurg |
| 04/24 | KC | MOSER | Housekeeping |
| 04/24 | KARA | LUTKINS | Business Office |
| 04/25 | MELISSA | RUMBLE | Sleep Specialists |
| 04/25 | MEGAN | KIDD | Channing Redicare Clinic |
| 04/25 | JOLEE | NELSON | Pain Specialists of ID |
| 04/25 | THERESA | BLOXHAM | Blackfoot Pain Clinic |
| 04/25 | LARRY | CURTIS | Community Care-Rigby |
| 04/25 | KELSEY | GUDMUNSON | Business Office |
| 04/26 | JANET | CARPENTER | Quality Resources |
| 04/26 | KELLI | BROOKS | Community Care-Pocatello |
| 04/26 | JODIE | SIMMONS | Primary Care Specialists |
| 04/26 | CONNIE | HODGES | Workmens Compensation |
| 04/26 | KENNETH | CHIONO | Information Systems |
| 04/27 | ALLIX JORDAN | PETERSEN | Teton Cancer Institute |
| 04/27 | TRAVIS | TAYLOR | Sleep Lab |
| 04/27 | AUTUMN | ELLIS | Pulmonary Services |
| 04/27 | JARICA | WADSWORTH | Point of Care |
| 04/27 | TRUDY | SIMPSON | BMC/Johanson Surgery |
| 04/27 | MALLORY | ANDERSON | Peri-Op |
| 04/27 | RHONDA | SANDERS | MedSurg |
| 04/27 | KRISTEN | SMITH | Business Office |
| 04/27 | GOLDEN | TAWZER | Finance |
| 04/28 | ASHLEY | KRANTZ | IF Clinic |
| 04/28 | MCKENNA | MATUAUTO | Lab |
| 04/28 | ANDRINA | KALITA | Eastern ID Spine Center (Vlach |
| 04/28 | LAURA | MEZA | Business Office |
| 04/29 | BRYAN | HAMMAR | Community Care-Rigby |
| 04/29 | CATHERINE | MACKINTOSH | Population Health |
| 04/30 | BRETT CHRISTIAN | JENSEN | Radiology |
| 04/30 | CHRISTINE | LURUS | Pharmacy |
| 04/30 | LORIE | BURKE | Prescription Center Infusions |
| 04/30 | STEVEN | NAWROCKI | Pain Specialists of ID-Proc Ct |
| 04/30 | BRITTNEY | CRISP | Community Care-Rexburg |
| 04/30 | STEPHANIE | WOODWARD | Community Care-Channing |
| 04/30 | REMINGTON | KELLER | Peri-Op |
| 04/30 | TYRA | SIEPERT | Endoscopy |
| 04/30 | JEREMY | GILBERT | Surgery |