We're Updating The Beat!
In this newsletter, we'll share company-wide news, including upcoming events, birthdays, spotlights, department news, and more. And now, we're going to be sharing The Beat every week! But that means we need your help.
This newsletter is designed to be informative and collaborative. Do you have a fun story, positive patient feedback, or a funny work picture? Use the form on this page to submit!
Check back on The Beat's main page for more updates. 
There are three ways to ultimate success. The first way is to be kind. The second way is to be kind. The third way is to be kind.

Mister Rogers
4th Quarter 2020 Anniversaries
Congratulate these team members on their anniversaries with Mountain View Hospital! We thank you all for everything you do!
5 Years

ERIN
CRITTENDEN
Eastern ID Spine Center 
JENNIFER
COOKE
Eastern ID Spine Center 
MARK
HOLBROOK
Quality Resources
PAULA
SIMMERS
Pain Specialists of ID-Proc Ct
JENNIFER
THURBER
Pain Specialists of ID-Proc Ct
KARI
VOGEL
Cardio Pulmonary Rehab
REBECCA
MULLINS
Workmens Compensation
TRACY
BEEBE
Radiation Oncology
HANNAH
HAMM
Pain Specialists of ID
KAYLEEN
SKINNER
Quality Resources
DAVID
WINCHESTER
Channing Redicare Clinic
LISA
SUTER
Pain Specialists of ID
MARISELA
GOMEZ
Blackfoot Pain Clinic
AMY
WAETJE
Pharmacy
DANETTE
WALTERS
MedSurg
KATHY
ERICKSON
Pulmonary Services
ANDREA
BINGHAM
Lab
CHARLES
CROSTHWAIT
Information Systems
KYLEE
DEMITROPOULOS
Creekside Surgery Center
HEATHER
CRANDALL
Community Care-Rexburg
EUNICE
RAMIREZ
Eastern ID Spine Center

10 Years

TRINA
ZIEBARTH
Lab
PAMELA
SILZLY
Creekside Surgery Center
BECKY
BOCHENEK
Teton Cancer Institute
MARCI
NICHOLLS
Teton Cancer Institute
DEBORAH
CHRISWELL
Teton Cancer Institute
KRISTA
ROBINSON
Sand Creek Echo
RUTH
MECHAM
Wound Care
MARY
HANSEN
Peri-Op
SUNDEE D
BAGULEY
Business Office
JODY
BAKER
Finance

15 Years

DIANE
MADSEN
Housekeeping
Random Acts of Kindness
Random Acts of Kindness Week was in February. Check out these photos of our sweet admissions team delivering flowers to patients who are staying in the hospital and surprising folks in our parking lot with coffee cards.
AHA classes – You can now register for BLS, ACLS & PALS classes on your own without calling Education. You can go to the Mountain View Hospital public website www.mountainviewhospital.org/services/education and click on "Register for a Class" and choose the appropriate class. All of the reminder emails will go to the email you choose when you register. If you click on the "Choose a Class" option in HealthStream, it will take you to the website to register. If you register for a renewal and you are not current, we will send you an email and you will have to choose an initial class. We are hoping this will be a more convenient way for our you to register for a class and receive your emails.
Both ACLS and PALS classes require precourse and pretest work to be completed before coming to class. A copy of the pretest score showing a 70% or higher AND a copy of the completion certificate for the precourse work are required to attend class. Also, any student who is late 15 minutes or more will be asked to re-register for another class.
Thank you Admissions Team!
We just want to give a HUGE shoutout to our wonderful admissions team. They have been working on some awesome changes, and it shows! Check out these wonderful compliments that patients have sent in to us recently. 
Dear Mountain View Hospital Admissions, 
Thank you so much for the beautiful flowers you sent after the passing of my husband, Jody Jewkes. Thank you for making him feel special by always remembering & ackowledging him whenever we came. It meant a lot to him & me! We love you all!
Love, the Jewkes Family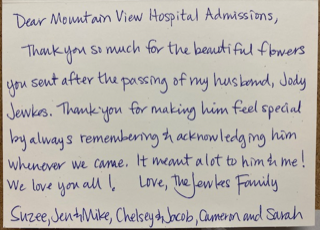 Just want you to know that Alexis is wonderful! We go to a lot of Dr appointments and Alexis is the best customer service we have ever had. She is so sweet. 
Vernon and Janet Egbert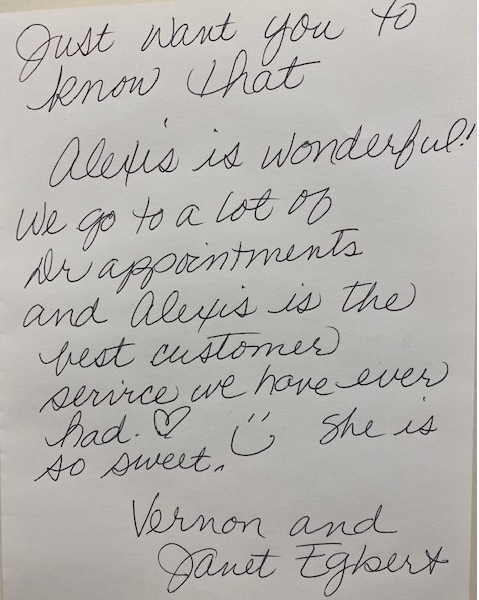 To whom it may concern:
Trista in admission was so amazing to work with. She was so helpful. My husband and myself were going to pay on our bill before his surgery and couldn't so I needed to come back after he had gone into sugary. His surgery was late so we had first saw her at 8:30am in the morning when I went back to see her it was runtime after 12:00pm. She remembered me, which I wasn't the patient and then helped me pay the account. She was very kind and helpful in a very crazy world.
I very much appreciated her kindness today.
Kami Perez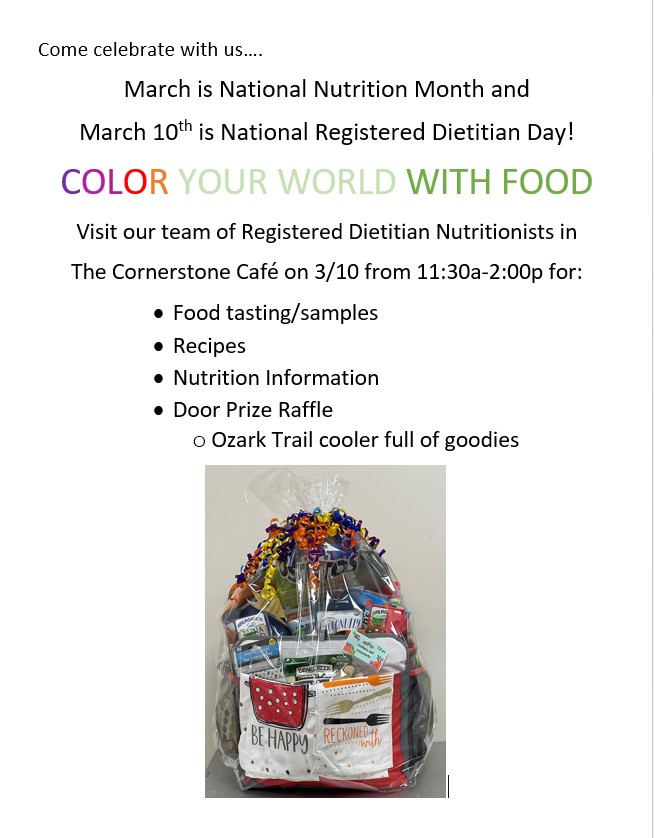 Let's take a moment to recognize Chris for a job well done with our PALS course! Carol Fox stopped by to drop off her paperwork and was very complimentary, asking who she should talk to to recognize Chris. She said he was a great teacher and took his time to explain things in a way she could understand. It's awesome to see a great teacher contributing to his student's success. Thanks Chris!
Message from IT Security
Phishing is the fraudulent attempt to obtain sensitive information or data, such as usernames, passwords and credit card details, by disguising oneself as a trustworthy entity in an electronic communication. If you ever see an attempt or not sure of the email you receive please forward the email to itsecurity@mvhospital.net
Pop Quiz
The first 3 to respond with correct answer gets a prize. Send answer to itsecurity@mvhospital.net.
What is the best line of defense for avoiding a data breach?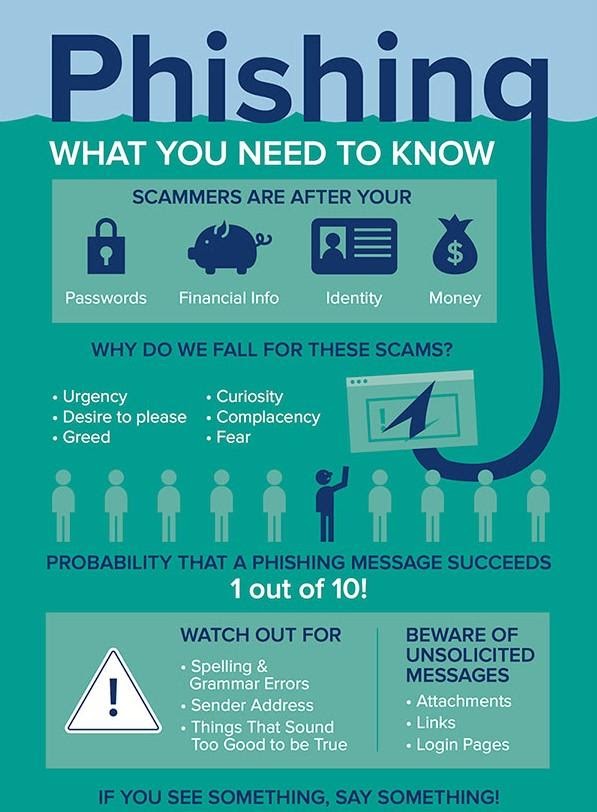 | | | |
| --- | --- | --- |
| 03/01 | BARTH, JAYLENE | Community Care-Rigby |
| 03/01 | JOHANSON, KAYLEY LANE | Pharmacy |
| 03/01 | PALMA-TORRES, DENISE | Blackfoot Medical Imaging |
| 03/01 | PURCELL, BRIAN BLAKE | Surgery |
| 03/02 | ADAMS, MORGAN JANE | Channing Redicare Clinic |
| 03/02 | ALVAREZ, MARIELA | Business Office |
| 03/02 | MIYASAKI, NATHAN NOBUO | Physical Plant |
| 03/02 | RUBIO VACA, CARLOS ANTHONY | Pharmacy |
| 03/03 | DORSEY, JADONNA NICOLE | Pharmacy |
| 03/03 | HALL, FELICIA ANN | Pocatello ENT |
| 03/03 | JONES, TREANA | Labor & Delivery |
| 03/03 | POMEROY, PAUL ANTHONY | Pharmacy |
| 03/03 | STACEY, MELISA | Peri-Op |
| 03/03 | YOUNG, JARED LEE | Physical Plant |
| 03/04 | AESCHBACHER, GLENDA ANNE | Radiation Oncology |
| 03/04 | BURKE, SHIRLEY | Peri-Op |
| 03/04 | CHRISTENSEN, JORDAN ALISHA | Pulmonary Services |
| 03/04 | LUGO, JOSE LUIS | Purchasing |
| 03/05 | HOMER, ASHLEY BROOKE | Lab |
| 03/05 | ORR, ALYSSA N | Labor & Delivery |
| 03/05 | PORTER, JANELL | Radiology |
| 03/05 | STEED, COURTNEY L | Health Information Management |
| 03/05 | STEWART, CATHERINE | Teton Cancer Institute |
| 03/05 | WHITMAN, TYRONNE PAPENFUSS | Information Systems |
| 03/06 | ALLEN, TRAVIS L | Pain Specialists of ID |
| 03/06 | DEVISSER, REGINA | Business Office |
| 03/06 | FOX, CAROL | Peri-Op |
| 03/06 | HUFFMAN, JILL M. | Eastern ID Spine Center (Vlach |
| 03/06 | JUDY, KATIE L | Physician Management Services |
| 03/06 | MITKI, CATHERINE FAITH | Pain Clinic |
| 03/07 | ABEGGLEN, MEGAN | Wound Care |
| 03/07 | CRAPO, SHAD FREDRICK | Community Care-Rigby |
| 03/07 | GRANDELL, KELLY | Sleep Specialists |
| 03/07 | HILLYARD, NED | Quality Resources |
| 03/07 | ORR, DENEL JANAE | Channing Redicare Clinic |
| 03/07 | WAGGONER, KATHY L | Blackfoot Pain Clinic |
| 03/08 | DIXON, GORDON E | Community Care-Pocatello |
| 03/08 | WELKER, MISTY D | Teton Cancer Institute |
| 03/09 | BRANSON, KYREE | Business Office |
| 03/09 | GOSS, MELISSA A | Administration |
| 03/09 | JANKOWSKI, PATRICK J | Surgery |
| 03/09 | LEE, MARSHA LANAE | Speech Therapy |
| 03/09 | THRUSH, SAMUEL MARK | Lab |
| 03/10 | BROOKSHIER, ROSEMARY | Grand Teton |
| 03/10 | CHALLENDER, ROBIN Y | Pharmacy |
| 03/10 | CROSTHWAIT, CHARLES DEAN | Information Systems |
| 03/11 | ACOSTA, LILIANA | Business Office |
| 03/11 | DALTON, KARLIE THURGOOD | Community Care-Channing |
| 03/11 | JONES, ANGELA KAY | Physical Therapy |
| 03/11 | KUHARSKE, ALISA CHRISTINE | Radiology |
| 03/11 | SHAW, TRENT E | Community Care-Rexburg |
| 03/11 | VILLEGAS, CARLOS | Business Office |
| 03/11 | WATSON, BONNIE J. | Eastern Idaho Foot Clinic |
| 03/12 | DICKINSON, JOHN | Dickinson Neurological Surgery |
| 03/12 | LARSON, KATRINA ADELL | Teton Cancer Institute |
| 03/12 | LODER, KENADIE MICHELLE | PIC Pocatello |
| 03/12 | MOORE, DEREK JAMES | Physical Plant |
| 03/12 | NELSON, MATT R | Pain Specialists of ID |
| 03/13 | CRUMPTON, KYLEE | Labor & Delivery |
| 03/13 | DUMMER, MACIE LYNN | Business Office |
| 03/13 | DURRANT, CAMILLE YVONNE | Grand Teton |
| 03/13 | PALMA, RODRIGO | Information Systems |
| 03/13 | RUSSELL, KYLIE KELLI | Radiology |
| 03/13 | SIERRA, NOHELY | Teton Cancer Institute |
| 03/14 | AUSTIN, JESSICA KRISTINE | Primary Care Specialists |
| 03/14 | BAMBARGER, STEVEN DANIEL | Teton Cancer Institute |
| 03/14 | HINCKLEY, DANIEL | Hinckley ENT |
| 03/14 | HOPE, STORMY GAYLE | Surgery |
| 03/14 | SMITH, JOSHUA | Finance |
| 03/14 | WADSWORTH, SARALEE | Mountain View Infusion Service |
| 03/15 | BODILY, SOREN L | Physician Management Services |
| 03/15 | JARDINE, CODY MATTHEW | Business Office |
| 03/15 | MCMURTREY, TREENA DEANNE | Creekside Surgery Center |
| 03/15 | STEVENS, CHRISTINE KAARI | Teton Cancer Institute |
| 03/15 | WAETJE, AMY A. | Prescription Center Infusions |
| 03/16 | BAIR, SHEYANN M | Channing Redicare Clinic |
| 03/16 | MAYS, DEBRA JEAN | Physician Management Services |
| 03/16 | MOSER, FRANCIS B | BMC/Johanson Surgery |
| 03/16 | RUBIO, HUGO | Pharmacy |
| 03/16 | SANDERS, STEPHANIE | Teton Cancer Institute |
| 03/16 | SIMMONS, ADAM | Pharmacy |
| 03/17 | BREWINGTON, SHERA | Pain Specialists of ID |
| 03/17 | GOINGS, SYDNEY | PIC Pocatello |
| 03/17 | HUNTSMAN, MCKINZIE A. | Pain Specialists of ID |
| 03/17 | KREBS, GARRETT JOHN | MedSurg |
| 03/17 | MADSEN, KAITLYN | Business Office |
| 03/17 | WAHLQUIST, JESSICA | MedSurg |
| 03/18 | CAMPBELL, MELISSA ANN | Quality Resources |
| 03/18 | FORD, KATHRYN VIRGINIA | Housekeeping |
| 03/18 | KELLY, MELISSA DAWN | Prescription Center Infusions |
| 03/18 | LEWIS, MINDY J. | Pain Specialists of ID-Proc Ct |
| 03/18 | NEWBY, JACKIE SON | Community Care-West Side |
| 03/18 | PASSEY, ALYSSA | Business Office |
| 03/18 | TANNER, ANGELA DONNA | Teton Cancer Institute |
| 03/18 | WILLS, BAILEY RAE | Community Care-West Side |
| 03/19 | BYINGTON, LORI LEE | Premier Speech Therapy |
| 03/19 | HOLLIS, MATTISON ANNE | Population Health |
| 03/19 | ORCHARD, KAILI DAWN | Business Office |
| 03/19 | PALACIOS, KARINA | Housekeeping |
| 03/19 | RANGEL, CARINA | Surgery |
| 03/19 | SMITH, PAULA MARIE | Business Office |
| 03/20 | BITTER, SHARLENE MACKLEY | Labor & Delivery |
| 03/20 | DOWNEY, TYLER C | Pharmacy |
| 03/20 | HARRISON, JILL C. | Labor & Delivery |
| 03/20 | NELSON, JAMES | Surgery |
| 03/20 | NERY, JACQUELINE LISSETTE | Channing Redicare Clinic |
| 03/20 | NUENKE, ANDREW JAMES | Pharmacy |
| 03/21 | ANDERSON, DARCY MARIE | BMC/Johanson Surgery |
| 03/21 | MARSH, KELBEE KAY | Finance |
| 03/21 | SHARP, CASEY DAWN | Lab |
| 03/21 | SWALLOW, BECKY S | Pocatello ENT |
| 03/22 | CAUDILLO RAMIREZ, NANCY | Housekeeping |
| 03/22 | ERICKSON, KELLY STEPHANIE | Prescription Center Infusions |
| 03/22 | FIFE, WESLEY SCOTT | Surgery |
| 03/22 | FURNISS, LOGAN T | Physical Plant |
| 03/22 | HARKNESS, REGINA | Blackfoot Pain Clinic |
| 03/22 | LABRA, JESSIE T | Business Office |
| 03/22 | RIDGWAY, KATELYN | PIC Chubbuck |
| 03/22 | STORK, NICOLE LEE | PIC Chubbuck |
| 03/22 | THOMAS, PATRICIA A. | Pain Specialists of ID |
| 03/22 | YOUNG, NATALIE | Health Information Management |
| 03/23 | NAVARRO, MARISELA | Teton Cancer Institute |
| 03/23 | SARGENT, ANGIE | Peri-Op |
| 03/23 | STEWART, KORTNI | Surgery |
| 03/23 | TENIENTE, GABRIELA | Housekeeping |
| 03/24 | CAMPBELL, KEITH LEO | Lab |
| 03/25 | ADAMS, KYLIE CHRISTINE | Coffee Shop |
| 03/25 | CONYERS, JAMIE | Surgery |
| 03/25 | HIGLEY, MEGAN L | Primary Care Specialists |
| 03/25 | LAMBSON, JUSTUS FLIN | Community Care-West Side |
| 03/25 | MCGINNIS, CASEY AMANDA | Labor & Delivery |
| 03/25 | RAY, DANI KELLOGG | Channing Redicare Clinic |
| 03/25 | SALDANA, SAYRED | Housekeeping |
| 03/25 | WARD, KORI E | Community Care-Pocatello |
| 03/26 | ANSELMI, MORGAN KAY | Radiology |
| 03/26 | RICE, REBECCA | Point of Care |
| 03/26 | SHIGIHARA, KENDRA RAYE | Lab |
| 03/26 | SHRESTHA, UPAMA | Quality Resources |
| 03/26 | STOCKWELL, JASMINE RACHAEL | Quality Resources |
| 03/26 | WAHLQUIST, MICHAEL JAMES | Lab |
| 03/26 | WILLIS, HOWARD JAMES | Community Care-Channing |
| 03/27 | JOSLIN, LINDSEY | Radiation Oncology |
| 03/27 | MCFARLAND, ANGELA ANN | Hinckley ENT |
| 03/27 | SOUCIE, LINDSEY | Surgery |
| 03/27 | WELLS, SAMANTHA JEANNE | PIC Pocatello |
| 03/28 | HANSEN, ERVIN RAY | Quality Resources |
| 03/28 | HARTWIG, TYLER SCOTT | Surgery |
| 03/28 | TAM, SHAUNA LYNN | Surgery |
| 03/29 | BATTLESON, KIMBERLEY MARIE | Physician Management Services |
| 03/29 | BROOKS, NIC R | Radiology |
| 03/29 | DRAK, JOSEPH ALLEN | Peri-Op |
| 03/29 | LILYA, JULIE A | Pain Specialists of ID-Pocatel |
| 03/29 | MURDOCK, CAMILLE | Community Care-Rexburg |
| 03/29 | PECK, MCKENNA ANN | Lab |
| 03/29 | WEST, JULIE H | Prescription Center Infusions |
| 03/29 | WOODHOUSE, JERRI LYNN | Administration |
| 03/30 | CARTER, LINDSEY | Business Office |
| 03/30 | DURTSCHI, MELISSA | Labor & Delivery |
| 03/30 | KARRAKER, KRISTEN | Eastern ID Neurological |
| 03/30 | KOPLIN, JANET JEAN | Pharmacy |
| 03/30 | MATHIS, BRANDEE DAWN | Community Care-Rexburg |
| 03/30 | SILZLY, PAMELA | Creekside Surgery Center |
| 03/30 | STUBBS, LYDIA K. | Business Office |
| 03/31 | SMALL, STEPHNE M | Mountain View Infusion Service |