Welcome to The Beat
In this newsletter, we'll share company-wide news, including upcoming events, birthdays, spotlights, department news, and more. 
This newsletter is designed to be informative and collaborative. Do you have a fun story, positive patient feedback, or a funny work picture? Use the form on this page to submit!
Check back on The Beat's main page for more updates. 
Success is not final, failure is not fatal; it is the courage to continue that counts."

Winston S. Churchill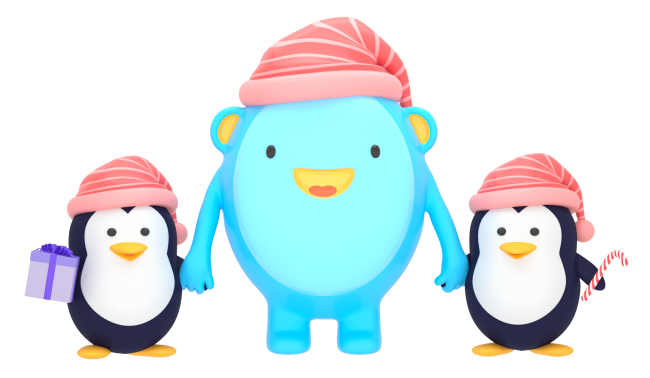 This week you will receive an email from Snappy that looks like this: "Snappy Gifts" info@meetsnappy.com. Please be sure to open this email and select a gift of your choice.
This gift is from the Hospital to THANK YOU for all your hard work and THANK YOU for being part of our great family, delivering exceptional patient care and outstanding customer service.
We wish you a wonderful holiday season filled with love, happiness, and health.
​
181 coats donated in total. People who donated were: MVH/IFCH employees, Fred Meyer, Cabellas, Skyline High School, Hillcrest High School, COSTCO, Idaho Falls Court House, and Dr. Erikson's Office. We donated them to: City of Refuge, Safe Haven, Ruth House, and Trinity United Methodist Church.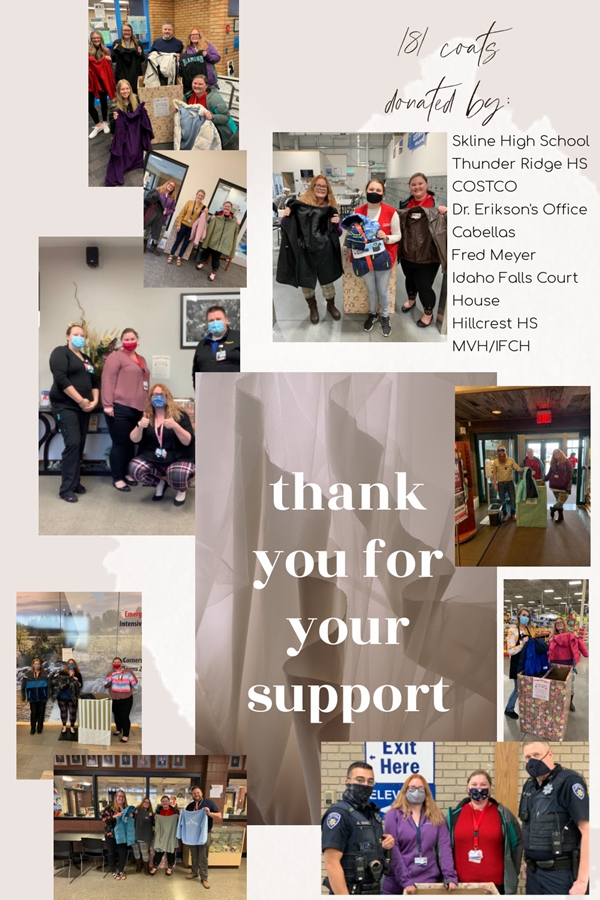 Referral Opportunities
We're Hiring!
We have a lot of job openings at the hospitals and across our affiliate clinics. If you know of anyone looking for new opportunity, point them to our job page to browse through our current opportunities. You may even be eligible for a referral bonus!
https://www.mountainviewhospital.org/employment-opportunities/
Estate Planning Seminar — Trusts vs. Wills
Guest Speaker, Kim Reeves from Hopkin Roden
For our next quarterly Zoom meetings for employees, we will have Kim Reeves from Hopkin Roden to talk about Estate Planning. Specifically, they will talk about trusts vs. wills. Please use the following links to attend:
First Call: January 12, 2:00 pm
Second Call: January 12, 6:00 pm
Christmas Basket Raffle!
Themed prizes, good causes, and holiday spirits are just around the corner!
Join us in supporting organizations like Hospice of Eastern Idaho, the Soup Kitchen, Meals on Wheels, and more. Departments are encouraged individually, or to team up with others,  to compile a basket worthy of a theme of their choice to be raffled in support of organizations in need. Winning departments will be recognized! Get creative and support your community this holiday season with the gift of giving.
| | | | |
| --- | --- | --- | --- |
| 12/01 | BRANDY | JOHNSON | Eastern ID Neurological |
| 12/01 | RICHARD | MARROTT | Pharmacy |
| 12/01 | KEVIN | WARD | Physical Therapy |
| 12/01 | TERI | ELIASSON | Surgery |
| 12/01 | CAROL | WATSON | Housekeeping |
| 12/02 | LEIGHANN | BELL | Quality Resources |
| 12/02 | KIM | MAXWELL | Pocatello ENT |
| 12/02 | ANNA | CHAVEZ | PIC Chubbuck |
| 12/02 | KENDALL | HANSON | NICU |
| 12/02 | STASHA | MOUSER | MedSurg |
| 12/02 | STEPHANY | ROWBURY | Business Office |
| 12/03 | BRADLEY | PEARSON | Physical Therapy |
| 12/03 | LORI | CAMMACK | Pain Specialists of ID |
| 12/03 | RUTH | MARTIN | CC Rexburg Lab & Imaging |
| 12/03 | BRITTANY | PETERSON | Surgery |
| 12/03 | BRANDIE | JORGENSEN | MedSurg |
| 12/03 | KENADEE | CLINTON | Business Office |
| 12/04 | LISA | MISSELDINE | Quality Resources |
| 12/04 | SUZETTE | MCBRIDE | BMC/Johanson Surgery |
| 12/04 | ALLISON | WARD | PIC Pocatello |
| 12/04 | LAVERN | STEINBAUGH | Surgery |
| 12/04 | CHEYENNE | GONZALES | Surgery |
| 12/04 | JAMES | JOHNSTON | Business Office |
| 12/05 | SANDRA | VEGA | BMC Shelley |
| 12/05 | MARIE | FAGER | Machen Family Medicine |
| 12/05 | ELISE | JONES | Community Care-West Side |
| 12/05 | DANAYE | EATON | Grand Teton |
| 12/06 | GAYNELL | HARRIS | Speech Therapy |
| 12/06 | AMBER | WRAY | Quality Resources |
| 12/06 | CHELSEA | KUNTZ | Eastern ID Spine Center (Vlach |
| 12/06 | TAYA | ROBBINS | BMC/Johanson Surgery |
| 12/06 | BIANCA | PELAYO | BMC/Johanson Surgery |
| 12/06 | GILLIAN | HENDRICKS | PIC Chubbuck |
| 12/06 | SHANNON | ASHER | Community Care-West Side |
| 12/06 | SHAMAE | DELAHOUSSAYE | Business Office |
| 12/06 | SUSAN | FAYLE | Business Office |
| 12/07 | KRISTYNE | DAVIS | Blackfoot Medical Imaging |
| 12/08 | AMANDA | RICHAN | Hyperbarics |
| 12/08 | MATTHEW | STEVENS | Channing Redicare Clinic |
| 12/08 | BRITTANY | MCGREGOR | Channing Redicare Clinic |
| 12/08 | DIANA | SWALLOW | Pocatello ENT |
| 12/08 | KRISTEN | CLUFF | Pocatello ENT |
| 12/08 | BRYCE | JONES | MedSurg |
| 12/08 | JESSICA | BALDERRAMA | Housekeeping |
| 12/08 | MARI | VENEGAS | Business Office |
| 12/08 | SELENA | JACKSON | Physician Management Services |
| 12/09 | HOLLY | WOOD | Teton Cancer Institute |
| 12/09 | PAUL | PRESSEL | Radiology |
| 12/09 | JODY | BAKER | Prescription Center Infusions |
| 12/09 | NINA | EDDINGTON | Blackfoot Medical Laboratory |
| 12/09 | ABBEY | SESSIONS | Eastern ID Spine Center (Vlach |
| 12/09 | RAQUEL | CARRILLO | Community Care-Pocatello |
| 12/09 | NICOLE | POWELL | Labor & Delivery |
| 12/09 | SHELLI | JACOBS | Labor & Delivery |
| 12/09 | ALEXANDRA | PACK | Creekside Surgery Center |
| 12/10 | AMANDA | THOMPSON | Sleep Specialists |
| 12/10 | MARIBEL | TORRES | Lab |
| 12/10 | LANETTE | COOPER | Pain Specialists of ID-Pocatel |
| 12/10 | CHEYENNE | GILBERT | Peri-Op |
| 12/10 | ERICA | ALLDREDGE | Workmens Compensation |
| 12/11 | CASSIE | PACKER | Teton Cancer Institute |
| 12/11 | LYNN | SANFORD | Physical Therapy |
| 12/11 | JOLYN | WALL | Speech Therapy |
| 12/11 | MIKAYLA | CHRISTENSEN | Lab |
| 12/11 | BRITTANY | COYNE | Pain Specialists of ID |
| 12/11 | MEGAN | HICKS | Peri-Op |
| 12/11 | DEANNE | JORDE | Surgery |
| 12/11 | RYAN | GEORGE | MedSurg |
| 12/11 | MANDI LEE | SVANCARA | Health Information Management |
| 12/11 | MARK | SAXTON | Human Resources |
| 12/12 | AMY | DETIEGE | Teton Cancer Institute |
| 12/12 | MARIA | ARVAYO | Prescription Center Retail |
| 12/12 | MCHALE | CHRISWELL | Channing Redicare Clinic |
| 12/12 | SAUL | HERNANDEZ VALLE | Pain Specialists of ID |
| 12/12 | AMY | SYKES | Urology Associates of Idaho Fa |
| 12/12 | THANIA | FLORES | Peri-Op |
| 12/12 | KATE | HILLYARD | Health Information Management |
| 12/13 | REAGAN | THACKER | Preventative Services |
| 12/13 | ALICE | ALMENDAREZ | BMC/Johanson Surgery |
| 12/14 | MEGAN | HANSEN | Lab |
| 12/14 | KYLEE | SIMS | Endoscopy |
| 12/14 | KYLEE | DEMITROPOULOS | Creekside Surgery Center |
| 12/14 | CONCEPCION | LINARES | Housekeeping |
| 12/14 | SUSAN | JONES | Business Office |
| 12/14 | SPENCER | MILLER | Finance |
| 12/14 | ASHLYN | FELDHAUSEN | Population Health |
| 12/14 | BRAYDEN | FIVAS | Population Health |
| 12/15 | JUSTIN | MESSENGER | Pharmacy |
| 12/15 | SUSAN | MANDELLA | Premier Speech Therapy |
| 12/15 | CHRISTINA | PEPCORN | Community Care-Rigby |
| 12/15 | BENJAMIN | LEISHMAN | Community Care-Channing |
| 12/15 | BRITTANY ANNE | GILSTRAP | Labor & Delivery |
| 12/15 | KAMIKO | SEAY | Population Health |
| 12/16 | CRYSTAL | SIEPERT | Pain Specialists of ID |
| 12/16 | BRENTON | GREEN | Information Systems |
| 12/16 | JENNIFER | WILLIAMS | Population Health |
| 12/17 | JOY | CHAN | Blackfoot Medical Laboratory |
| 12/17 | KIMBERLY | MCMATH | BMC/Johanson Surgery |
| 12/17 | CASSI | SLADE | MedSurg |
| 12/17 | SAMANTHA | DANIEL | Business Office |
| 12/17 | DAVID | NEWELL | Health Information Management |
| 12/17 | JESSICA | SHAW | Physician Management Services |
| 12/18 | KIMBERLY | MICHEL | Teton Cancer Institute |
| 12/18 | ERIC JOSEPH | MALCOM | Radiation Oncology |
| 12/18 | VALERI | REECE | Sleep Lab |
| 12/18 | LINDSAY | SEARLE | Labor & Delivery |
| 12/18 | PRESLI | WHITNEY | Labor & Delivery |
| 12/18 | KAREN | FINCH | Administration |
| 12/19 | JAMES | MALAN | Radiology |
| 12/19 | SARAH | MESSENGER | Prescription Center Infusions |
| 12/19 | ALESHA | CLARK | Pain Specialists of ID |
| 12/19 | SHAYNA | KOHLER | Blackfoot Pain Clinic |
| 12/19 | CLINT | YOUNG | Physical Plant |
| 12/19 | SAVANNAH | CRAWFORD | Business Office |
| 12/19 | KELLY | HAGER | Coffee Shop |
| 12/20 | KATHY | HOLMES | Lab |
| 12/20 | NOE | GUEVARA | Channing Redicare Clinic |
| 12/20 | HOLLY | BOND | Urology Associates of Idaho Fa |
| 12/20 | BRITTANY | MERRITT | CC Rigby Lab & Imaging |
| 12/20 | AMY | HENDRIKS | Labor & Delivery |
| 12/20 | TORRIE | LEWIS | Administration |
| 12/21 | JOSHUA | ALLRED | Lab |
| 12/21 | ASHLIE | PARKER | Pain Specialists of ID |
| 12/21 | JANET | SHIPPEN | Creekside Surgery Center |
| 12/21 | MICHELLE | WAYNE | Physician Management Services |
| 12/22 | ANDREW | PARKS | BMC/Johanson Surgery |
| 12/22 | JEFF | EKLUND | Hinckley ENT |
| 12/22 | MARY | RUSSELL | Peri-Op |
| 12/22 | WHITNEY | ANDERSON | Labor & Delivery |
| 12/22 | MARIA | BARRIE | Surgery |
| 12/22 | LARRY | WHITNEY | Physical Plant |
| 12/22 | AMY | RIPPEL | Housekeeping |
| 12/23 | KRISTI LOU | RICHEY | Teton Cancer Institute |
| 12/23 | HILARY | ZITLAU | Channing Redicare Clinic |
| 12/23 | JESSICA | HILL | Health Information Management |
| 12/24 | RANDY | RADFORD | Radiology |
| 12/24 | KIMBERLY | SEWARD | Quality Resources |
| 12/24 | LILIANA | PEREZ | Community Care-West Side |
| 12/24 | BRENDY | WHITWORTH | Surgery |
| 12/24 | DEBRA | GOULD | Housekeeping |
| 12/24 | AUSTON | ORGILL | Administration |
| 12/24 | JUSTIN | DANIEL | ----- |
| 12/25 | NICOLE | PORTER | Pain Specialists of ID-Proc Ct |
| 12/25 | LAURA | REISNER | Labor & Delivery |
| 12/25 | KASANDRA | FURNESS | Creekside Surgery Center |
| 12/25 | HANS | HAROLDSEN | Population Health |
| 12/26 | JENNIFER | VARGA | Sleep Lab |
| 12/26 | ANDREA | REES | Wellness and Recovery |
| 12/26 | AMY | DAVIS | Business Office |
| 12/26 | ALISA | NORSTROM | Business Office |
| 12/27 | JACKSON | LOOMIS | Lab |
| 12/28 | CLAUDIA | DIXON | Teton Cancer Institute |
| 12/28 | TODD | JOHNSON | Quality Resources |
| 12/28 | BRANDYN | SIMMONS | Altenburg Joint Replacement Id |
| 12/28 | MARGARET ELIZAB | MORRIS | Human Resources |
| 12/28 | LAURA | JONES | Physician Management Services |
| 12/28 | TYLER | BEDDES | Administration |
| 12/29 | MARLEE | HARRIS | Pulmonary Services |
| 12/29 | MARIA | ACKLEY | Business Office |
| 12/30 | KENEDEE | JUDY | Physical Therapy |
| 12/30 | ALEXA | TREE | Lab |
| 12/30 | HEIDI | DIAMOND | Pain Specialists of ID |
| 12/30 | SCOTT | SCHAFFER | Community Care-Pocatello |
| 12/30 | ASHLEY | LOPEZ | Housekeeping |
| 12/30 | CHEYENNE | POWELL | Population Health |
| 12/31 | ANTHONY | GALLOWAY | Teton Cancer Institute |
| 12/31 | JUSTIN | FITCH | Radiology |
| 12/31 | KAREN | PASSEY-STEELE | Channing Redicare Clinic |
| 12/31 | KRISTI | GRIGG | Community Care-Rigby |