Welcome to The Beat
In this newsletter, we'll share company-wide news, including upcoming events, birthdays, spotlights, department news, and more. 
This newsletter is designed to be informative and collaborative. Do you have a fun story, positive patient feedback, or a funny work picture? Use the form on this page to submit!
Check back on The Beat's main page for more updates. 
They're only truly great who are truly good.

George Chapman
Referral Opportunities
We're Hiring!
We have a lot of job openings at the hospitals and across our affiliate clinics. If you know of anyone looking for new opportunity, point them to our job page to browse through our current opportunities. You may even be eligible for a referral bonus!
https://www.mountainviewhospital.org/employment-opportunities/
Thursday, November 11th: 5pm-12am
2021 Corporate Night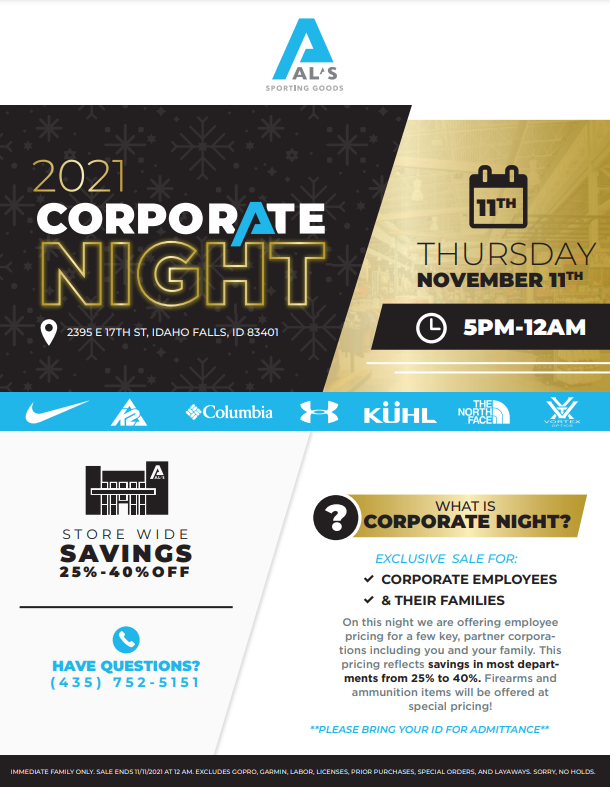 This is a special event that is closed to the public. On this night only Al's will be offering CEO/Manager's pricing for a few key partner corporations. This deal is very good and is only offered once a year to anyone outside of Al's Sporting Goods. The discounts are deep and go on For-ev-er.  You will save anywhere from 25% to 40% in most departments and some exclusions may apply.
The corporate private sale begins at 5 PM and ends at Midnight.  Please note that other corporate companies have been invited as well and it's a very busy evening at Al's.
To make it easier for you to know the pricing, a flyer will be handed out at the door with instructions.  This should allow individuals to scan any of our products to see our special pricing.
You need to present a screenshot of the flyer at the main front entrance of the store, where you will be greeted by an Al's Sporting Goods team member.  Families can be represented by the employee.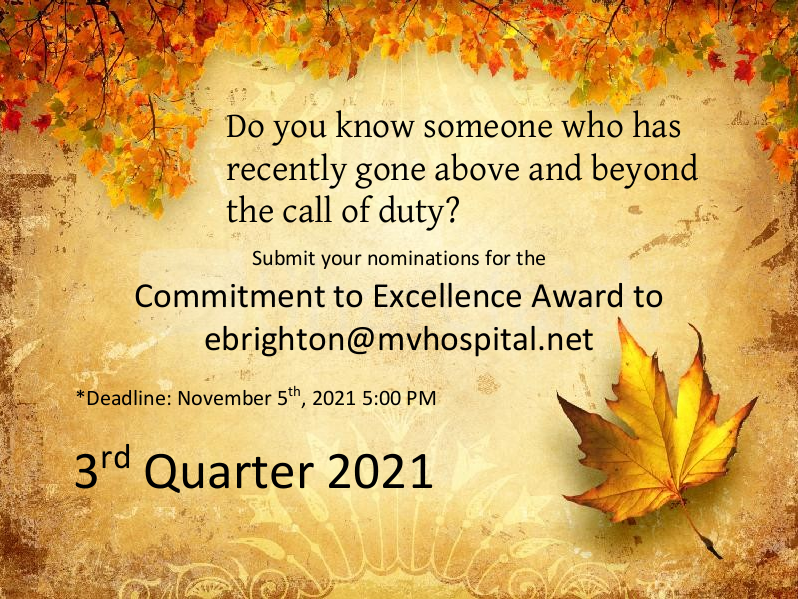 Estate Planning Seminar — Trusts vs. Wills
Guest Speaker, Kim Reeves from Hopkin Roden
For our next quarterly Zoom meetings for employees, we will have Kim Reeves from Hopkin Roden to talk about Estate Planning. Specifically, they will talk about trusts vs. wills. Please use the following links to attend:
First Call: January 12, 2:00 pm
Second Call: January 12, 6:00 pm
Located on the first floor outside of the elevator.
ANNOUNCEMENT - AED Installed in the Parking Garage
| | | | |
| --- | --- | --- | --- |
| 11/01 | TAWNYA | LEFLER | Pharmacy |
| 11/01 | KAMILLA | SPENCER | Channing Redicare Clinic |
| 11/01 | TERRI | CURTIS | Pain Specialists of ID |
| 11/01 | AMANDA | JUDY | Pain Specialists of ID |
| 11/01 | KENT | STALEY | Information Systems |
| 11/01 | BRENNA | JAMISON | Human Resources |
| 11/02 | KIMBERLY | BYBEE | IF Clinic |
| 11/02 | BRITTNEY | PITTMAN | Channing Redicare Clinic |
| 11/02 | ZACHARY | MCLAWS | Channing Redicare Clinic |
| 11/02 | TIAWNA | PARRY | Pain Specialists of ID |
| 11/02 | HEATHER | EDWARDS | Pain Specialists of ID |
| 11/02 | JUSTINE | HORSLEY | Community Care-Pocatello |
| 11/02 | AMANDA | MARTIN | NICU |
| 11/02 | SHERRY | BOGGS | Administration |
| 11/03 | AMY | BEASLEY | Channing Redicare Clinic |
| 11/03 | KAYLA | TAPPER | Eastern ID Spine Center (Vlach |
| 11/03 | MARYLOU | GALVAN | BMC Shelley |
| 11/03 | RANDELL | DRAKE | Physical Plant |
| 11/03 | GRANT | GOHR | Physical Plant |
| 11/04 | MARK | HOLBROOK | Quality Resources |
| 11/04 | LINDA | STALNAKER | Pain Specialists of ID-Pocatel |
| 11/04 | JENNIFER | GRAHAM | Community Care-Rigby |
| 11/04 | TARA | JOHNSON | Community Care-West Side |
| 11/04 | JANET | PAPP | Workmens Compensation |
| 11/04 | MAKAYLA | SEYMORE | Business Office |
| 11/05 | KORI | FRY | Lab |
| 11/05 | BRADY | FACKRELL | Pain Specialists of ID |
| 11/05 | ANDREA | BRAINARD | BMC/Johanson Surgery |
| 11/05 | MARIA | RUVALCABA | PIC Pocatello |
| 11/05 | ROBYN | LUTES | Business Office |
| 11/05 | COURTNEY | MARSHALL | Administration |
| 11/06 | JOLENE | BLACKER | Premier Speech Therapy |
| 11/06 | CHRISTINA | WATSON | Hinckley ENT |
| 11/06 | JORY | DRAKE | Surgery |
| 11/07 | KELLEE | ROBINETTE | Quality Resources |
| 11/07 | GREG | MOORE | Surgery |
| 11/08 | DAVID | BARNHILL | Peri-Op |
| 11/08 | ADRIANNA | FOSTER | Labor & Delivery |
| 11/08 | MARA | BARTHOLOMEW | Business Office |
| 11/09 | AMANDA | MOORE | Point of Care |
| 11/09 | DAVID | WINCHESTER | Channing Redicare Clinic |
| 11/09 | TERI | FRY | Peri-Op |
| 11/10 | JULIO | MATEO MAYOL | Teton Cancer Institute |
| 11/10 | GAVIN | GRIMMETT | Pulmonary Services |
| 11/10 | AMANDA | COLEMAN | Sleep Specialists |
| 11/10 | BONNIE | BLAD | Pharmacy |
| 11/10 | BRYON | GOMEZ | Prescription Center Infusions |
| 11/10 | TRINA | ZIEBARTH | Lab |
| 11/10 | JENNIFER | THURBER | Pain Specialists of ID-Proc Ct |
| 11/10 | SHAKIRA | NASH | Pain Specialists of ID-Proc Ct |
| 11/11 | STEPHANIE | BAILEY | Lab |
| 11/11 | CONNER | POULTER | Pain Specialists of ID |
| 11/12 | MICHAEL LEE | SCHRADER | Teton Cancer Institute |
| 11/12 | LINDA | DURAN PEREZ | Wellness and Recovery |
| 11/12 | COURTNEY | MARTINEZ | Quality Resources |
| 11/12 | STEVEN | CURTIS | Altenburg Joint Replacement Id |
| 11/12 | NICOLE | CHAVEZ | Business Office |
| 11/13 | DAVID | FRIEBE | Pharmacy |
| 11/13 | DON | GARNER | Physical Therapy |
| 11/13 | ALEX | FREEMAN | Lab |
| 11/13 | SUMMER | EDMO | Blackfoot Medical Laboratory |
| 11/13 | JANET | ROBINSON | BMC/Johanson Surgery |
| 11/13 | KATHERINE | BRUNDY | BMC/Johanson Surgery |
| 11/13 | TIFFANY | MCMURTREY | Housekeeping |
| 11/13 | PRUDENCE | RIVERA | Housekeeping |
| 11/13 | MARY | HANSON | Physician Management Services |
| 11/13 | ROBERT | ZIEL | Marketing |
| 11/14 | ANGELA | WOOD | Dickinson Neurological Surgery |
| 11/14 | KATHRYN | FENSKE | Labor & Delivery |
| 11/15 | BOBBI | WARREN | Pain Specialists of ID-Pocatel |
| 11/15 | CHRISTINA | NORMAN | Urology Associates of Idaho Fa |
| 11/15 | EVANGELINA | LOPEZ | MedSurg |
| 11/15 | CAROL | LIVERMONT | Physical Plant |
| 11/16 | HEATHER | ANDRUS | Pain Specialists of ID-Proc Ct |
| 11/16 | CARMEN | WHITMAN | Eastern Idaho Foot Clinic |
| 11/16 | MCKENZIE | PATTIE | PIC Chubbuck |
| 11/16 | MEGAN | MCCOMB | Peri-Op |
| 11/16 | ALLEIGH | THURBER | Labor & Delivery |
| 11/16 | HEIDI | JESSOP | Surgery |
| 11/16 | KERRY | LEWIS | Grand Teton |
| 11/17 | JACOB | COOLEY | Prescription Center Infusions |
| 11/17 | MILLIE | ADAMS | Blackfoot Pain Clinic |
| 11/17 | REGAN | FREGOSO | Labor & Delivery |
| 11/17 | BRYNNA | KRIEGER | MedSurg |
| 11/17 | ERIK | HILLYARD | Business Office |
| 11/17 | MARY | MATHEWS | Physician Management Services |
| 11/18 | SHERI | LONG | Urology Associates of Idaho Fa |
| 11/18 | JENNIFER | KUNZ | Community Care-Rexburg |
| 11/18 | WILLIAM | HALE | Surgery |
| 11/18 | LUCERO | MARTINEZ | Business Office |
| 11/18 | NICOLE | RAWSON | Business Office |
| 11/19 | KYLEE | THUESON | Radiology |
| 11/19 | RICHARD | BLACK | Pharmacy |
| 11/19 | WENDY | BATEMAN | Quality Resources |
| 11/19 | STEPHANIE | AANDERUD | Channing Redicare Clinic |
| 11/19 | BRIANNA | HATCH | Pain Specialists of ID |
| 11/19 | JOLENE | PINNOCK | Pain Specialists of ID-Proc Ct |
| 11/19 | BRIAN | JOHNSON | Physical Plant |
| 11/19 | SARAH | RICH | Business Office |
| 11/19 | JASON | AIKELE | Information Systems |
| 11/20 | PAULA | NOEL | Teton Cancer Institute |
| 11/20 | CAMMY | POTTER | Teton Cancer Institute |
| 11/20 | JESSE | WAGEMAN | Pharmacy |
| 11/20 | HEIDI | RICE | Lab |
| 11/20 | KRISTY LYN | ENGLIS | Point of Care |
| 11/20 | KARMA | YOUNGSTROM | Channing Redicare Clinic |
| 11/20 | STEPHANIE | PIERCE | BMC/Johanson Surgery |
| 11/20 | PENNY | BRENNAN | MedSurg |
| 11/20 | ALEXIS | CARBAJAL | Health Information Management |
| 11/21 | SANDRA | VANBROCKLIN | Machen Family Medicine |
| 11/21 | CANDIS | BISHOFF | Peri-Op |
| 11/21 | TERESA | MCKIRDY | Peri-Op |
| 11/21 | KELSEY | ELLIS | Grand Teton |
| 11/21 | TODD | PAGE | Physical Plant |
| 11/22 | DIONNE | PICKETT | Preventative Services |
| 11/22 | ERIC | COFFEL | Quality Resources |
| 11/22 | KILEY | WILLIAMS | BMC/Johanson Surgery |
| 11/22 | EMILY | BOREN | Workmens Compensation |
| 11/22 | KATHRYN | BAIRD | Business Office |
| 11/24 | DEBRA DEE | FUELLING | Radiation Oncology |
| 11/24 | VALERIE | MCKINLEY | Pharmacy |
| 11/24 | JEFF | CLEMENT | Quality Resources |
| 11/24 | SHELBY | CONNER | Pain Specialists of ID |
| 11/24 | JESSE | JONES-BLAIR | Information Systems |
| 11/25 | KARINA | BARBOZA-RIOS | MedSurg |
| 11/25 | AMY | LARSEN | Administration |
| 11/26 | STEPHEN | HOLLOWAY | Purchasing |
| 11/26 | TYSON | HUSKINSON | Pharmacy |
| 11/26 | HOLLY | KNIEVEL | PCS Procedure Suite |
| 11/26 | STEPHANIE | IANUZI | Creekside Surgery Center |
| 11/26 | BAILEY | HANSEN | Business Office |
| 11/27 | JAMIE | BROWN | Purchasing |
| 11/27 | CHARITY | JOHNSON | PIC Pocatello |
| 11/27 | ANDREW | SAGENDORF | PIC Pocatello |
| 11/27 | KAZIA | THOULION | Eagle Rock ASC |
| 11/28 | TERRI | NEUERBURG | Quality Resources |
| 11/28 | SUZY | NELSEN | Peri-Op |
| 11/29 | CARRIE | WALKER | IF Clinic |
| 11/29 | TAILOR | MOAD | Prescription Center Retail |
| 11/29 | BRYCE | WYLIE | Community Care-Rigby |
| 11/29 | TREVOR | DAW | Peri-Op |
| 11/29 | SCOTT | HANNERS | Physical Plant |
| 11/30 | JANAE | ALBERTSON | Pain Specialists of ID |
| 11/30 | ALYSHA | JACKMAN | BMC/Johanson Surgery |
| 11/30 | ERICA | KLEIN | Peri-Op |
| 11/30 | ASHLIE | HENRIE | Surgery |