We are currently experiencing network issues.  If you need to reach the hospital please call (208) 541-0043. Click here to learn more.
Welcome to The Beat
In this newsletter, we'll share company-wide news, including upcoming events, birthdays, spotlights, department news, and more. 
This newsletter is designed to be informative and collaborative. Do you have a fun story, positive patient feedback, or a funny work picture? Use the form on this page to submit!
Check back on The Beat's main page for more updates. 
"I learned this, at least, by my experiment; that if one advances confidently in the direction of his dreams, and endeavors to live the life which he has imagined, he will meet with a success unexpected in common hours."

Henry David Thoreau
Referral Opportunities
We're Hiring!
We have a lot of job openings at the hospitals and across our affiliate clinics. If you know of anyone looking for new opportunity, point them to our job page to browse through our current opportunities. You may even be eligible for a referral bonus!
https://www.mountainviewhospital.org/employment-opportunities/
AAAHC Accreditation
Eagle Rock Ambulatory Surgery Center
We want to congratulate Eagle Rock ASC for receiving the Accreditation Association for Ambulatory Health Care (AAAHC). This is a monumental honor recognizing those certified by the Center for Medicare and Medicaid Services as an ambulatory surgery center for Medicare. The certificate was originally founded in 1979 by six-member organizations, including the Medical Group Management Association, the ASC Association, and the American College Health Association. The standards for the certificate are consistently updated to keep up with the current trends and technologies in the healthcare federation. Congratulations, Eagle Rock ASC!
Follow Us!
Follow us on Facebook & LinkedIn to stay up to date on the latest hospital news and what our team has been up to!
Intranet—Employee Benefits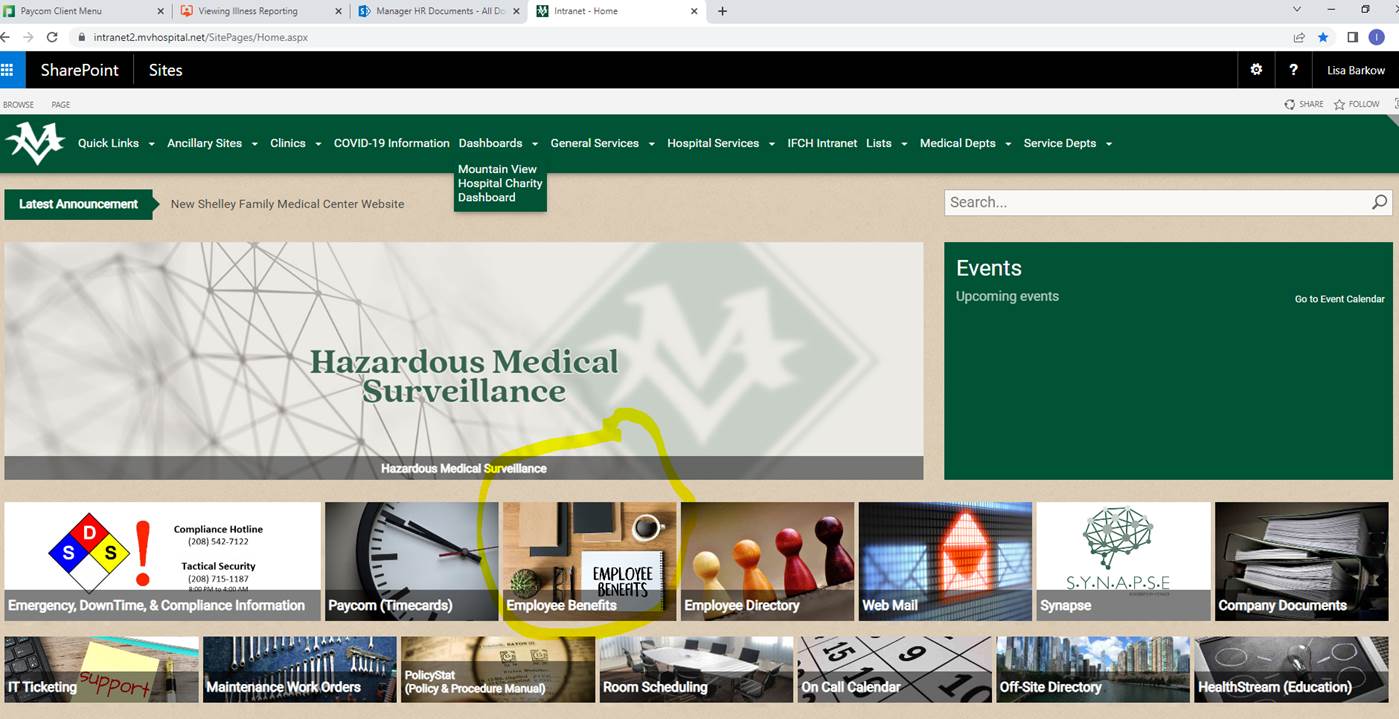 GREAT NEWS – IT added a shortcut on the landing page of the intranet for our benefits. This has been done for MVH and IFCH. (Thank you so much Jesse!!! 😊)
When you click on the button, it goes to your information. We will be adding more benefit items below your information. Making it a central location for other benefits.
| | | | |
| --- | --- | --- | --- |
| 12/01 | BRANDY | JOHNSON | Eastern ID Neurological |
| 12/01 | JULIE | JOHNSON | Respiratory Therapy |
| 12/01 | JUDY | ADAMS | Sand Creek Echo |
| 12/01 | RICHARD | MARROTT | Pharmacy |
| 12/01 | KEVIN | WARD | Physical Therapy |
| 12/01 | KELSEY | TAYLOR | Lab |
| 12/01 | TALEN | TREMEA | Channing Redicare Clinic |
| 12/01 | TERI | ELIASSON | Surgery |
| 12/01 | CAROL | WATSON | Housekeeping |
| 12/02 | LEIGHANN | BELL | Quality Resources |
| 12/02 | ANNA | CHAVEZ | PIC Chubbuck |
| 12/02 | KENDALL | HANSON | NICU |
| 12/02 | STASHA | MOUSER | MedSurg |
| 12/02 | STEPHANY | ROWBURY | Business Office |
| 12/02 | KELLI | HANDY | Physician Management Services |
| 12/03 | STEPHANIE | ORDERS | Radiation Oncology |
| 12/03 | BRADLEY | PEARSON | Quality Resources |
| 12/03 | FALYSHA | GHOLSON-COMBE | Grand Teton Gastroenterology |
| 12/03 | LORI | CAMMACK | Pain Specialists of ID |
| 12/03 | RUTH | MARTIN | CC Rexburg Lab & Imaging |
| 12/03 | BRITTANY | PETERSON | Surgery |
| 12/03 | BRANDIE | JORGENSEN | MedSurg |
| 12/03 | KENADEE | PITCHER | Business Office |
| 12/04 | ALYSSA | RANKIN | Teton Cancer Institute |
| 12/04 | JOCELYN | MARIN | Grand Teton Gastroenterology |
| 12/04 | JILL | TOBIN | Grand Teton Gastroenterology |
| 12/04 | SUZETTE | MCBRIDE | BMC/Johanson Surgery |
| 12/04 | MARK | HAMMAR | Rexburg Pediatrics |
| 12/04 | TIFFANY | WRIGHT | Community Care-Channing |
| 12/04 | LAVERN | STEINBAUGH | Surgery |
| 12/04 | CHEYENNE | GONZALES | Surgery |
| 12/04 | CONNER | FITZPATRICK | Business Office |
| 12/05 | LUANNE | POWERS | Wound Care |
| 12/05 | SIERRA | HANSON | Channing Redicare Clinic |
| 12/05 | SANDRA | VEGA | BMC Shelley |
| 12/05 | MARIE | FAGER | Machen Family Medicine |
| 12/05 | MEISHA | JOHNSON | Grand Teton |
| 12/05 | ELISE | JONES | Administration |
| 12/06 | GAYNELL | HARRIS | Speech Therapy |
| 12/06 | AMBER | WRAY | Quality Resources |
| 12/06 | TAYA | ROBBINS | BMC/Johanson Surgery |
| 12/06 | BIANCA | PELAYO | BMC/Johanson Surgery |
| 12/06 | SHANNON | ASHER | Community Care-West Side |
| 12/06 | SUSAN | FAYLE | Business Office |
| 12/07 | KRISTYNE | DAVIS | Blackfoot Medical Imaging |
| 12/07 | JAMIE | BARNETT | Grand Teton Gastroenterology |
| 12/07 | KENADEE | ROBINSON | Community Care-West Side |
| 12/07 | TRAD | DAY | Information Systems |
| 12/08 | AMANDA | RICHAN | Hyperbarics |
| 12/08 | MATTHEW | STEVENS | Channing Redicare Clinic |
| 12/08 | DIANA | SWALLOW | Pocatello ENT |
| 12/08 | BRITTANIE | CORNELSEN | PIC Pocatello |
| 12/08 | BRYCE | JONES | MedSurg |
| 12/08 | MARI | VENEGAS | Business Office |
| 12/08 | JESSICA | BALDERRAMA | Business Office |
| 12/08 | SELENA | JACKSON | Physician Management Services |
| 12/09 | HOLLY | WOOD | Teton Cancer Institute |
| 12/09 | PAUL | PRESSEL | Radiology |
| 12/09 | RAQUEL | CARRILLO | Community Care-Pocatello |
| 12/09 | NICOLE | POWELL | Labor & Delivery |
| 12/09 | SHELLI | JACOBS | Labor & Delivery |
| 12/09 | ALEXANDRA | PACK | Creekside Surgery Center |
| 12/10 | AMANDA | THOMPSON | Sleep Specialists |
| 12/10 | LANETTE | COOPER | Pain Specialists of ID-Pocatel |
| 12/10 | CHEYENNE | GILBERT | Peri-Op |
| 12/11 | CASSIE | PACKER | Teton Cancer Institute |
| 12/11 | LYNN | SANFORD | Physical Therapy |
| 12/11 | JOLYN | WALL | Speech Therapy |
| 12/11 | LETTIE | CAMPBELL | BMC Admin |
| 12/11 | MEGAN | HICKS | Peri-Op |
| 12/11 | DEANNE | JORDE | Surgery |
| 12/11 | RYAN | GEORGE | MedSurg |
| 12/11 | MANDI LEE | SVANCARA | Health Information Management |
| 12/11 | MARK | SAXTON | Human Resources |
| 12/12 | ROBIN | HILLMAN | Teton Cancer Institute |
| 12/12 | MARIA | ARVAYO | Prescription Center Retail |
| 12/12 | SAUL | HERNANDEZ VALLE | Pain Specialists of ID |
| 12/12 | AMY | SYKES | Urology Associates of Idaho Fa |
| 12/12 | KATIE | DOOLEY | Hinckley ENT |
| 12/12 | THANIA | FLORES | Peri-Op |
| 12/12 | JAKE | STEWART | Information Systems |
| 12/13 | AALIYAH | VENEGAS | Grand Teton Gastroenterology |
| 12/13 | ALICE | ALMENDAREZ | BMC/Johanson Surgery |
| 12/13 | REAGAN | THACKER | Population Health |
| 12/14 | MEGAN | HANSEN | Lab |
| 12/14 | KYLEE | SIMS | Endoscopy |
| 12/14 | KYLEE | DEMITROPOULOS | Labor & Delivery |
| 12/14 | JERRILYNN | CAMPBELL | Labor & Delivery |
| 12/14 | ALEXANDRA | EDDINGTON | Labor & Delivery |
| 12/14 | BROOKLYNNE | STAUFFER | Surgery |
| 12/14 | CONCEPCION | LINARES | Housekeeping |
| 12/14 | SUSAN | JONES | Business Office |
| 12/14 | BRAYDEN | FIVAS | Population Health |
| 12/15 | JUSTIN | MESSENGER | Pharmacy |
| 12/15 | SUSAN | MANDELLA | Premier Speech Therapy |
| 12/15 | BENJAMIN | LEISHMAN | Channing Redicare Clinic |
| 12/15 | CHAMAE | DOWNARD | Peri-Op |
| 12/15 | BRITTANY ANNE | GILSTRAP | Labor & Delivery |
| 12/15 | KAMIKO | SEAY | Business Office |
| 12/16 | KELI | HUSKINSON | Pharmacy |
| 12/16 | ELISE | MOSSBARGER | Idaho Falls Arthritis Clinic |
| 12/16 | CRYSTAL | SIEPERT | Pain Specialists of ID |
| 12/16 | JENNIFER | DERRYBERRY | Urology Associates of Idaho Fa |
| 12/16 | AMANDA | ROBSON | Community Care-Rexburg |
| 12/16 | CELESTE | MENDOZA | Labor & Delivery |
| 12/16 | LACEY | LYMAN | Grand Teton |
| 12/16 | BRENTON | GREEN | Information Systems |
| 12/17 | JOY | CHAN | Blackfoot Medical Laboratory |
| 12/17 | KIMBERLY | MCMATH | BMC/Johanson Surgery |
| 12/17 | HOLLY | KASS | PIC Pocatello |
| 12/17 | SAMANTHA | DANIEL | Business Office |
| 12/17 | ROSA | MALDONADO | Business Office |
| 12/17 | CAROL | BLATTER | Business Office |
| 12/17 | JESSICA | MANLEY | Physician Management Services |
| 12/18 | ERIC | MALCOM | Radiation Oncology |
| 12/18 | VALERI | REECE | Sleep Lab |
| 12/18 | BRITTANY | BARAJAS | Rexburg Pediatrics |
| 12/18 | LINDSAY | SEARLE | Labor & Delivery |
| 12/18 | PRESLI | WHITNEY | Labor & Delivery |
| 12/18 | SHARI | ESCOTT | Finance |
| 12/19 | JAMES | MALAN | Radiology |
| 12/19 | SARAH | MESSENGER | Prescription Center Infusions |
| 12/19 | TAWNY | WIGHT | Physical Therapy |
| 12/19 | NANCY | BRY | Lab |
| 12/19 | ALESHA | CLARK | Pain Specialists of ID |
| 12/19 | SAVANNAH | CRAWFORD | Community Care-Rexburg |
| 12/19 | CLINT | YOUNG | Physical Plant |
| 12/20 | KIANA | VANDER STOEP | Cardio Pulmonary Rehab |
| 12/20 | MIKAYLA | ANTONSON | Pharmacy |
| 12/20 | AMY | HENDRIKS | Blackfoot Pain Clinic |
| 12/20 | HOLLY | BOND | Urology Associates of Idaho Fa |
| 12/20 | KATHY | HUNTER | Community Care-Rigby |
| 12/20 | BRITTANY | MERRITT | CC Rigby Lab & Imaging |
| 12/20 | TORRIE | LEWIS | Administration |
| 12/21 | ASHLIE | PARKER | Pain Specialists of ID |
| 12/21 | JANET | SHIPPEN | Creekside Surgery Center |
| 12/21 | ALLISON | HARDY | Business Office |
| 12/21 | MICHELLE | WAYNE | Physician Management Services |
| 12/22 | REBECCA | SCHMITT | Grand Teton Gastroenterology |
| 12/22 | BRYCEN | UFFENS | Pain Specialists of ID |
| 12/22 | WHITNEY | ANDERSON | NICU |
| 12/22 | MARIA | BARRIE | Surgery |
| 12/22 | LARRY | WHITNEY | Physical Plant |
| 12/22 | AMY | RIPPEL | Housekeeping |
| 12/23 | KRISTI LOU | RICHEY | Teton Cancer Institute |
| 12/23 | JESSICA | HILL | Quality Resources |
| 12/24 | RANDY | RADFORD | Radiology |
| 12/24 | KIMBERLY | SEWARD | Quality Resources |
| 12/24 | LILIANA | PEREZ | Community Care-West Side |
| 12/24 | BRENDY | WHITWORTH | Surgery |
| 12/24 | DEBRA | GOULD | Housekeeping |
| 12/24 | AUSTON | ORGILL | Administration |
| 12/25 | NICOLE | PORTER | Pain Specialists of ID-Proc Ct |
| 12/25 | LAURA | REISNER | Labor & Delivery |
| 12/25 | HANS | HAROLDSEN | Population Health |
| 12/26 | JENNIFER | VARGA | Sleep Lab |
| 12/26 | AMY | DAVIS | Business Office |
| 12/26 | ALISA | NORSTROM | Business Office |
| 12/27 | JACKSON | LOOMIS | Lab |
| 12/28 | TODD | JOHNSON | Quality Resources |
| 12/28 | SHAYLA | JACKSON | BMC/Johanson Surgery |
| 12/28 | BRANDYN | SIMMONS | Altenburg Joint Replacement Id |
| 12/28 | MAGGIE | MORRIS | Human Resources |
| 12/28 | LAURA | JONES | Physician Management Services |
| 12/28 | TYLER | BEDDES | Administration |
| 12/29 | MARLEE | AVILA | Rocky Mountain Pulmonology |
| 12/29 | SAMUEL | GREGSON | Population Health |
| 12/30 | JADEN | JUERGENS | Channing Redicare Clinic |
| 12/30 | HEIDI | DIAMOND | Pain Specialists of ID |
| 12/30 | SCOTT | SCHAFFER | Community Care-Pocatello |
| 12/30 | AIMEE | GOODSON | Endoscopy |
| 12/30 | CHEYENNE | HORVATH | Business Office |
| 12/31 | JUSTIN | FITCH | Radiology |
| 12/31 | KAREN | PASSEY-STEELE | Channing Redicare Clinic |
| 12/31 | ANTHONY | GALLOWAY | Administration |