We are currently experiencing network issues.  If you need to reach the hospital please call (208) 541-0043. Click here to learn more.
Welcome to The Beat
In this newsletter, we'll share company-wide news, including upcoming events, birthdays, spotlights, department news, and more. 
This newsletter is designed to be informative and collaborative. Do you have a fun story, positive patient feedback, or a funny work picture? Use the form on this page to submit!
Check back on The Beat's main page for more updates. 
"Tell me and I forget. Teach me and I remember. Involve me and I learn."

Benjamin Franklin
Riverfest—Melaleuca Freedom Celebration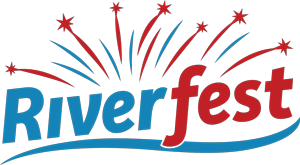 We are one week away from our biggest event of the year—Riverfest! We still have multiple volunteer shifts open and want to invite you to volunteer for MVH or IFCH. Although the sign up sheet is in four hour increments, anytime you can volunteer is greatly appreciated. So, if you want to volunteer for two hours, just fill out the information needed on the sign up sheet and add the time frame you will be there next to your name. For questions, contact Chayla Rasmussen at (208) 569-9210 or email crasmussen1@mvhospital.net.
For those of you that aren't able to volunteer, but will be at Riverfest, please stop by and say hi!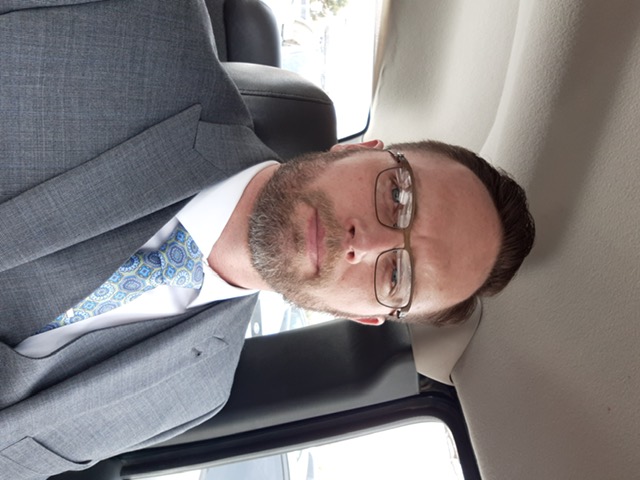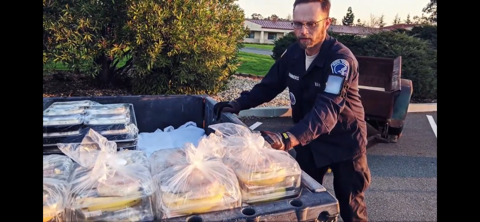 We would like to introduce you to our new Assistant Director of Nursing at IFCH, Michael Conners. Michael comes to us from our own Emergency Department, where he has served as a Staff Nurse, Trainer, and Charge Nurse. In addition to the ED, he has experience in Intermediate Care, Surgical Circulator, ICU, and Disaster Medicine. Michael has also served as a US Marine, Fire Fighter, NREMT, Law Enforcement Officer, and as a Nursing Officer and Section Chief within the National Disaster Medical System.
Michael has studied at the College of Eastern Idaho, Boise State University, and is currently pursuing a master's degree at Grand Canyon University. He has also taught emergency and disaster medicine operations at local, state, and national levels, as well as to international audiences. He has been a certified trainer with the Department of Homeland Security, Department of Defense, Washington and Idaho Emergency Medical Services, and various other agencies.
Michael calls Ammon, ID, home, and lives there with his amazing wife and three brilliant daughters. In his off time, he enjoys the outdoors, music, and spending time with his family. He spends a great deal of time exploring the area on his motorcycle and enjoys any type of cooking that involves fire. Michael's motto is Auribus teneo lupum, there are always new challenges to be met and overcome.
Please join us in congratulating him on his new position.
Referral Opportunities
We're Hiring!
We have a lot of job openings at the hospitals and across our affiliate clinics. If you know of anyone looking for new opportunity, point them to our job page to browse through our current opportunities. You may even be eligible for a referral bonus!
https://www.mountainviewhospital.org/employment-opportunities/
News from the Cornerstone Cafe'




In order to better meet the needs of our hospital-employee customers, we have expanded our self-serve food options.
Please come visit our newly updated salad bar–now utilizing both sides of the salad bar & offering more than double the options.
We have a large selections of vegetables, proteins, fruits, pasta & potato salads, toppings and more. We are also still offering
a selection of premade salads in our vision-cooler for those who would rather not make their own.

Large Salads are $7.00 (Only $5.60 with the employee discount)
Small Salads are $4.50 (Only $2.80 with the employee discount)
Please remember to help everyone to stay safe by using hand sanitizer before making salads. Also please make sure
to snap shut your salad container before moving to the cash register area – this not only helps protect your food,
but it also helps us keep our café clean.
We are offering three types of freshly made-on-sight soups. We have Chicken Noodle and Tomato Bisque available
daily, along with a rotated soup of the day. All soups come with a complementary dinner roll & saltine crackers.

Soup is $3.50 (Only $2.80 with the employee discount)
Come visit us at the bottom of the stairs on the Idaho Falls Community Hospital basement level ☺
Our hours are 7:00am to 7:00pm, 7 days a week, including holidays.
Hey team!
Lagoon season is here and they have changed things up a bit! We will no longer be selling them out of our office. No tickets to hand out, no money to take in! They are now offering tickets online for the discounted price $69.95 + tax. Tickets can be purchased here www.lagoonpark.com/buy-tickets, select "Enter a Promo Code" then enter 22EMPMVH22. The code is the same for both hospitals.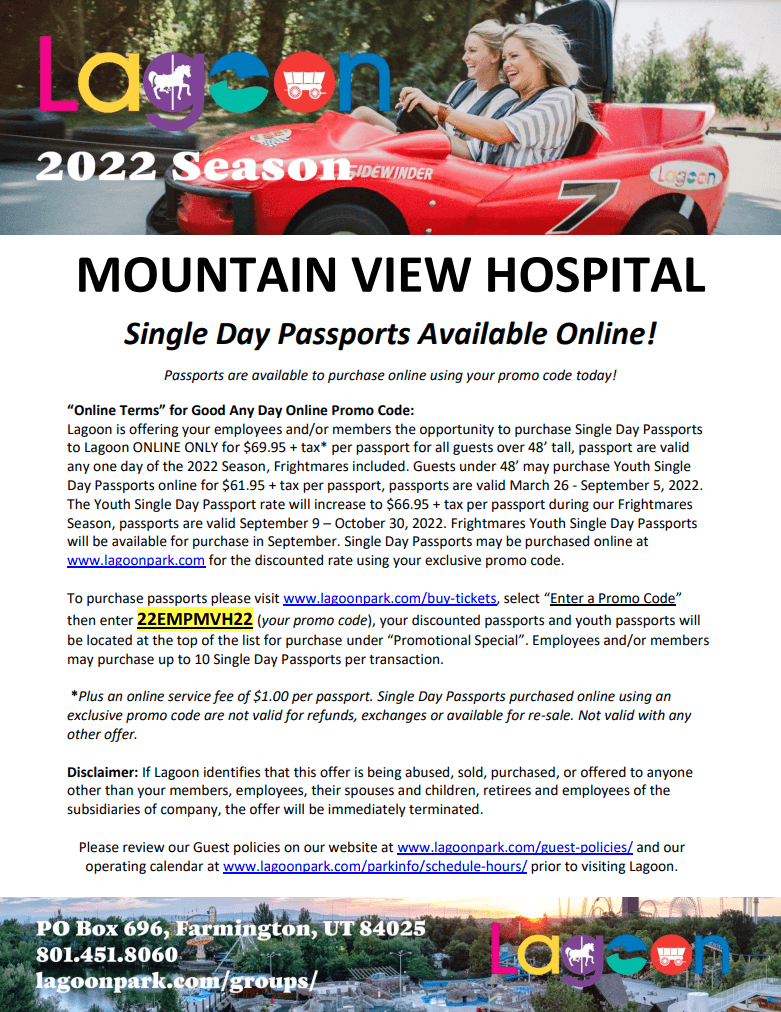 This code is for the use of MVH and IFCH employees only. 

Please do not to share this code with non-employees or on coupon websites.  

Lagoon has informed us that this code will be revoked, and our employees will no longer be able to benefit from this discount if its shared again. This is used by so many employees – please help us KEEP it!
Commitment to Excellence Nominations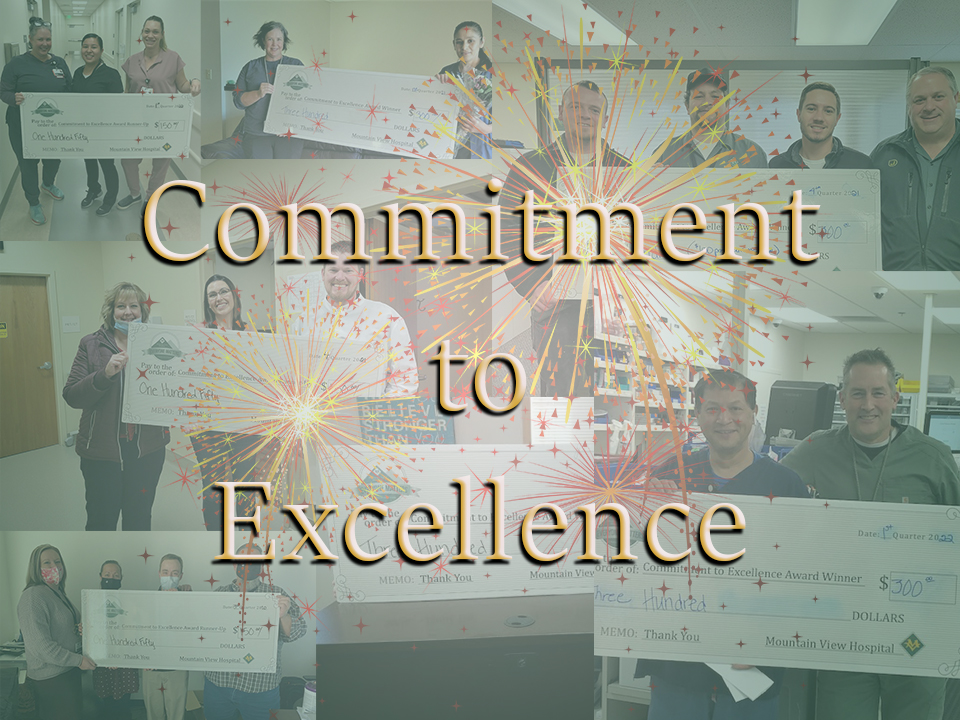 What does commitment mean?  The standard definition reads "the state of being dedicated to a cause, activity, etc."  The quarterly Commitment to Excellence award is for those employees who exemplify this definition.  Look around-do you work with someone who fits this definition?  Chances are you do.  Maybe it's the nurse that worked past the end of her shift to make sure the new mom was comfortable.  Maybe it is the admissions clerk who spent extra time with the patient to help them understand how their insurance works, or maybe it's the cashier in the cafeteria who always greets you with a smile and makes sure you get the cookie you like.
Please take a minute and submit a nomination for these outstanding employees.  You can sent directly to klefler@mvhospital.net.
| | | | |
| --- | --- | --- | --- |
| 07/01 | SARAH | HANNI | Pharmacy |
| 07/01 | LISA | SIEPERT | Business Office |
| 07/01 | JACOB | SHACKELFORD | Business Office |
| 07/02 | RUTH | MECHAM | Wound Care |
| 07/02 | CARLIE | WILLIAMS | Urology Associates of Idaho Fa |
| 07/02 | SHAWNEE | MORGAN | BMC Admin |
| 07/02 | TERESA | HAMILTON | Brad Erikson |
| 07/02 | HAILEY | AVENDANO | Rexburg Pediatrics |
| 07/02 | ALEX | TALBOT | Surgery |
| 07/02 | DEBRA | HUSTAD | MedSurg |
| 07/02 | ALISHA | CAPENER | Business Office |
| 07/02 | SEAN | BLACK | Information Systems |
| 07/03 | STACEY | HOLM | Physical Therapy |
| 07/03 | JUSTIN | LEGG | Community Care-Pocatello |
| 07/03 | SARAH | RAMSEY | PIC Pocatello |
| 07/03 | DANIELLE | BALDWIN | Labor & Delivery |
| 07/03 | ALICIA LEE | TRUSTER | MedSurg |
| 07/03 | REBECCA | CURETON | Housekeeping |
| 07/04 | DARIC | MCDERMOTT | Blackfoot Medical Laboratory |
| 07/04 | BRIELLE | BARNHILL | Community Care-Rexburg |
| 07/04 | CHRISTINE | GNEITING | Business Office |
| 07/04 | SUZAN | JONES | Business Office |
| 07/05 | KYLER | CUNNINGHAM | Radiology |
| 07/05 | MELODY | LAFITA | Business Office |
| 07/06 | RACHEL | ASMUS | Blackfoot Medical Laboratory |
| 07/06 | KRISTI | COOPER | Pain Specialists of ID-Pocatel |
| 07/06 | JUANA | TORRES | Surgery |
| 07/06 | MATTHEW | PENNELL | Administration |
| 07/07 | KELLY | DIAL | Pharmacy |
| 07/07 | ALEXIS | SANCHEZ | Community Care-West Side |
| 07/07 | KRISTA | DEWEY | Labor & Delivery |
| 07/07 | ANGEL | BELNAP | Surgery |
| 07/07 | CINDY | OUTLAW | Housekeeping |
| 07/07 | GENARO | LABRA | Administration |
| 07/08 | JENNIFER | COX | Teton Cancer Institute |
| 07/08 | TANNER | JARVIS | Lab |
| 07/08 | AJ | BAXTER | Business Office |
| 07/09 | CECILIA | TOKI | Sleep Specialists |
| 07/09 | AMBER | STANGER | Creekside Surgery Center |
| 07/10 | LEIGH | BARNHILL | IF Clinic |
| 07/10 | ASHLEIGH | ELLIS | Radiology |
| 07/10 | SAIGE | BECKER | Pharmacy |
| 07/10 | GARY | FABBI | Surgery |
| 07/10 | JENESIS | VARGAS | MedSurg |
| 07/10 | AVERY | MCGEE | Workmens Compensation |
| 07/11 | JEREMY | DAVIS | Prescription Center Infusions |
| 07/11 | BLAKE | ELLIS | Lab |
| 07/11 | JASA | BELL | Community Care-Pocatello |
| 07/11 | JACKLYN | MERRILL | Peri-Op |
| 07/11 | DANIELLE | POLISKI | Business Office |
| 07/11 | CHRISTINE | ADAMSON | Business Office |
| 07/11 | DANA | POLLARD | Business Office |
| 07/11 | EVELYN | ROSSI | Health Information Management |
| 07/12 | NATHAN | ESPLIN | Radiation Oncology |
| 07/12 | MICHELE | HOPE | Pharmacy |
| 07/12 | RHONDA | PACKER | Quality Resources |
| 07/12 | JOHN | GARZA | Pain Specialists of ID |
| 07/12 | LARAINE | JACKMAN | BMC/Johanson Surgery |
| 07/12 | BRYNLI | HYMAS | Surgery |
| 07/12 | JORY | HUNTSMAN | Surgery |
| 07/13 | JANA | STOHL | Physical Therapy |
| 07/13 | KRISTI | CHRISTENSEN | Blackfoot Medical Laboratory |
| 07/13 | SHANAY | ALLEN | Community Care-Pocatello |
| 07/13 | LESLIE | MCGOVERN | Community Care-Pocatello |
| 07/13 | NORMA | VALDEZ | Community Care-Rexburg |
| 07/13 | JULIE | SMITH | Surgery |
| 07/13 | STEVE | DARRINGTON | Administration |
| 07/15 | KYNWYNN | MADSEN | Teton Cancer Institute |
| 07/15 | MICHELLE | SKIFTON | Quality Resources |
| 07/15 | CYNTHIA | FULLMER | Channing Redicare Clinic |
| 07/15 | ERIKA | ALVAREZ | BMC/Johanson Surgery |
| 07/15 | MISTY | VELASCO | Housekeeping |
| 07/16 | SYDNEE | OLSON | Prescription Center Infusions |
| 07/16 | SUSAN | EVANS | Pain Specialists of ID |
| 07/16 | CARMELA | ZUNIGA | Housekeeping |
| 07/17 | CARL | NUTTALL | Purchasing |
| 07/17 | ROBERT | HENDERSON | Respiratory Therapy |
| 07/17 | JOSE | AVILA | Pharmacy |
| 07/17 | REBECCA | MULLINS | BMC/Johanson Surgery |
| 07/17 | AURORA | STODDART | PIC Chubbuck |
| 07/17 | STEPHANIE | ORR | Community Care-West Side |
| 07/17 | VICTORIA | GRUWELL | Peri-Op |
| 07/17 | YVONNE | MAOSI | Business Office |
| 07/17 | CHERIE | WEBSTER | Marketing |
| 07/18 | KAYNEL | CHASE | Lab |
| 07/18 | BRAIDEN | BARZEE | Surgery |
| 07/18 | CRYSTAL | MARLOW | Population Health |
| 07/19 | ROBIN | GUZMAN | Speech Therapy |
| 07/19 | NATHAN | KIDDER | Pain Specialists of ID |
| 07/19 | KOURTNEY | HAYDEN | MedSurg |
| 07/19 | JEANETTE | LAMUSGA | Business Office |
| 07/20 | TARYN | GARCIA | Lab |
| 07/20 | NATOSHA | BURGESS | BMC/Johanson Surgery |
| 07/20 | SILVERIO | TREJO MORENO | Housekeeping |
| 07/20 | ALAINA | BRINGHURST | Administration |
| 07/21 | JUAN | SERNA | Radiology |
| 07/21 | ARIELLE | STRAIT | PIC Pocatello |
| 07/21 | MARLY | BAZIL | Endoscopy |
| 07/21 | MARCELINO | ARTEAGA | Housekeeping |
| 07/21 | BERANIA | MARTINEZ REYES | Administration |
| 07/22 | TAMIRA | WADDELL | Teton Cancer Institute |
| 07/22 | LESLIE | WILSON | Quality Resources |
| 07/23 | TREY | PENDER | Cardio Pulmonary Rehab |
| 07/23 | ASHLEY D | CLAUNCH | CC Rexburg Lab & Imaging |
| 07/23 | JOLENE | LYLE | Peri-Op |
| 07/23 | KATIE | BURNS | Creekside Surgery Center |
| 07/23 | DAVID | WESTACOTT | Finance |
| 07/23 | JAIME | TANNER | Administration |
| 07/24 | TRACY | BEEBE | Radiation Oncology |
| 07/24 | MISTY | SANDERS | Housekeeping |
| 07/24 | MARIA | ESPINOSA | Housekeeping |
| 07/25 | DONNA | ARAKI | Pharmacy |
| 07/25 | BENJAMIN | AMES | Lab |
| 07/25 | STEPHANIE | CHRISTENSEN | Blackfoot Pain Clinic |
| 07/25 | CARSON | BIRKINBINE | Business Office |
| 07/26 | EMBER | HARDY | Teton Cancer Institute |
| 07/27 | JEROD | SHELLENBERGER | Radiation Oncology |
| 07/27 | KAYCEE | YOUNG | Pain Specialists of ID |
| 07/27 | ABBY | THOMPSON | Pain Specialists of ID-Proc Ct |
| 07/27 | ISABELL | JENSEN | PIC Pocatello |
| 07/27 | JENNIFER | OWENS | Endoscopy |
| 07/27 | COURTNEY | WILLIAMS | NICU |
| 07/27 | ANGELA | KELLEY | Creekside Surgery Center |
| 07/27 | JACOB | SCHOENE | MedSurg |
| 07/27 | STEFANIE | ROGERS | Finance |
| 07/28 | MICHELLE | MILLER | Teton Cancer Institute |
| 07/29 | SHAUN | GILLULY | Respiratory Therapy |
| 07/29 | DIXIE | JAMISON | Radiology |
| 07/29 | MATTHEW | MOTTISHAW | Pharmacy |
| 07/29 | NATALIE | JENKINS | Pain Specialists of ID-Proc Ct |
| 07/29 | BRITTANEE | DANIELS | Community Care-Pocatello |
| 07/29 | SARAH GRACE | HANSEN | Community Care-West Side |
| 07/29 | HAYLEE | MOULTON | Peri-Op |
| 07/29 | PILAR | CERVANTES | Business Office |
| 07/29 | JASMINE | ELDER | Population Health |
| 07/30 | SHARI | RAYMOND | Labor & Delivery |
| 07/30 | SARAH | JOHNSON | Housekeeping |
| 07/30 | YADISS | HERNANDEZ | Housekeeping |
| 07/30 | JENNY | RANDOLPH | Human Resources |
| 07/31 | CALLENE | ZINK | Teton Cancer Institute |
| 07/31 | JESSE | MACKINTOSH | Teton Cancer Institute |
| 07/31 | LUANN | HANSEN | Radiology |
| 07/31 | STEPHANIE | CARSON | Pain Specialists of ID-Proc Ct |