We are currently experiencing network issues.  If you need to reach the hospital please call (208) 541-0043. Click here to learn more.
Welcome to The Beat
In this newsletter, we'll share company-wide news, including upcoming events, birthdays, spotlights, department news, and more. 
This newsletter is designed to be informative and collaborative. Do you have a fun story, positive patient feedback, or a funny work picture? Use the form on this page to submit!
Check back on The Beat's main page for more updates. 
"Darkness cannot drive out darkness: only light can do that. Hate cannot drive out hate: only love can do that."

Martin Luther King Jr.
Referral Opportunities
We're Hiring!
We have a lot of job openings at the hospitals and across our affiliate clinics. If you know of anyone looking for new opportunity, point them to our job page to browse through our current opportunities. You may even be eligible for a referral bonus!
https://www.mountainviewhospital.org/employment-opportunities/
Hey team!
Lagoon season is here and they have changed things up a bit! We will no longer be selling them out of our office. No tickets to hand out, no money to take in! They are now offering tickets online for the discounted price $69.95 + tax. Tickets can be purchased here www.lagoonpark.com/buy-tickets, select "Enter a Promo Code" then enter MVH2022. The code is the same for both hospitals.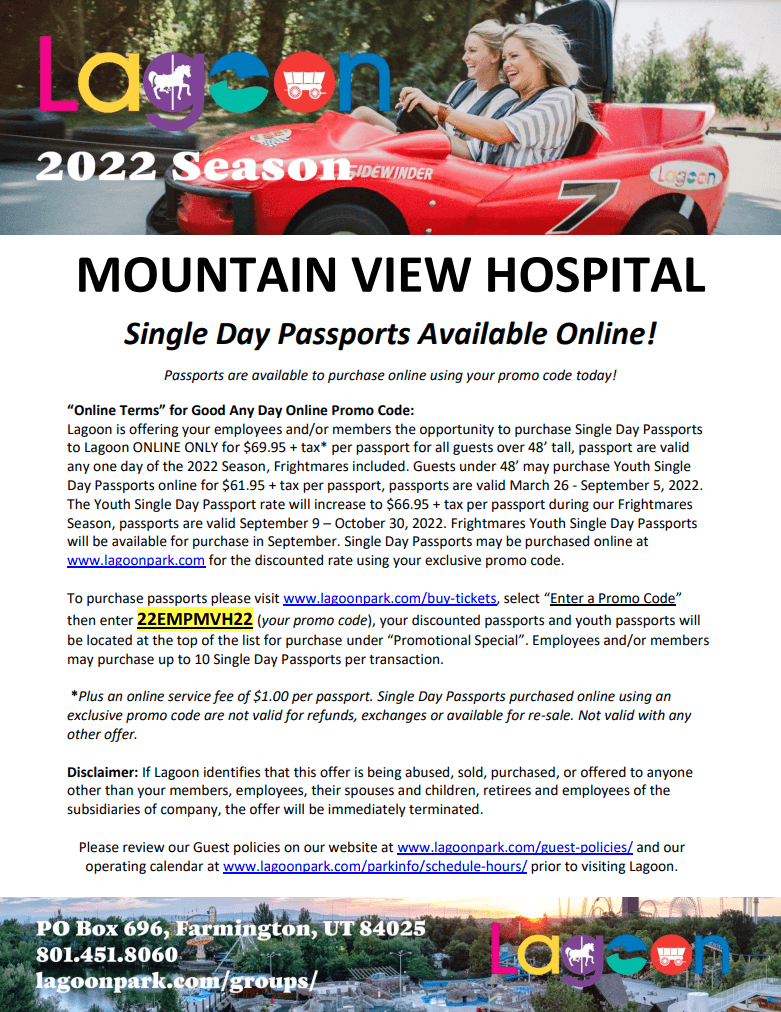 This code is for the use of MVH and IFCH employees only. 

Please do not to share this code with non-employees or on coupon websites.  

Lagoon has informed us that this code will be revoked, and our employees will no longer be able to benefit from this discount if its shared again. This is used by so many employees – please help us KEEP it!
Commitment to Excellence Nominations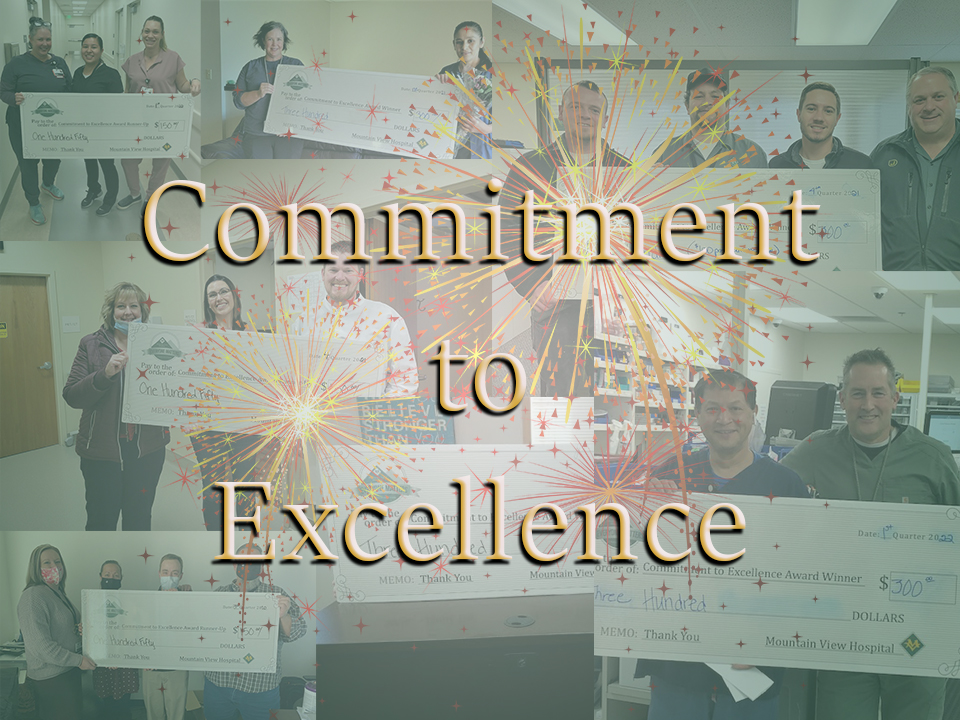 What does commitment mean?  The standard definition reads "the state of being dedicated to a cause, activity, etc."  The quarterly Commitment to Excellence award is for those employees who exemplify this definition.  Look around-do you work with someone who fits this definition?  Chances are you do.  Maybe it's the nurse that worked past the end of her shift to make sure the new mom was comfortable.  Maybe it is the admissions clerk who spent extra time with the patient to help them understand how their insurance works, or maybe it's the cashier in the cafeteria who always greets you with a smile and makes sure you get the cookie you like.
Please take a minute and submit a nomination for these outstanding employees.  You can sent directly to klefler@mvhospital.net.
| | | | |
| --- | --- | --- | --- |
| 06/01 | BREANNE | DOMINGUEZ | Community Care-West Side |
| 06/01 | MAKYNLEE | ADAMS | Housekeeping |
| 06/01 | JEANETTE | NUKAYA | Human Resources |
| 06/02 | ALY | BROWN | Prescription Center Infusions |
| 06/02 | BRYCE | CAMPBELL | Channing Redicare Clinic |
| 06/02 | KAYDRA | SILVA | Pain Specialists of ID |
| 06/02 | WYATT | WANSTROM | Pain Specialists of ID |
| 06/02 | MARISSA | MAIERS | Surgery |
| 06/02 | ALMA | MENDOZA | Housekeeping |
| 06/02 | CAMI | BAKER | Housekeeping |
| 06/03 | STEPHANIE | ORTENSI | Teton Cancer Institute |
| 06/03 | BRITNEE | CAMPBELL | BMC/Johanson Surgery |
| 06/03 | JORDYN | GODDARD | Community Care-Pocatello |
| 06/03 | KATHE | KINDRED | Business Office |
| 06/03 | JESSICA | PORTER | Population Health |
| 06/04 | MONICA | MADRID | Altenburg Joint Replacement Po |
| 06/04 | BETTY | MILLER | BMC Admin |
| 06/04 | TYLER | OLSEN | Surgery |
| 06/04 | LISA D | FUNK | Housekeeping |
| 06/04 | AMY | MORSE | Finance |
| 06/05 | MELANIE | PIEPER | Blackfoot Pain Clinic |
| 06/05 | HOLLY | BEAUCHAT | Urology Associates of Idaho Fa |
| 06/05 | JACQUELINE | SOLIS | Housekeeping |
| 06/05 | ALLISON | SARGENT | Business Office |
| 06/06 | BRENDA | FLOYD | Speech Therapy |
| 06/06 | TARENA | THOMAS | Lab |
| 06/06 | JANET | WIRKUS | Quality Resources |
| 06/06 | SARAH | MILLER | Peri-Op |
| 06/06 | EMMA | CASTERSON | Labor & Delivery |
| 06/06 | RACHEL | POWELL | Labor & Delivery |
| 06/06 | JAMIE | DAYBELL | NICU |
| 06/06 | TALON | PRESLEY | Eagle Rock ASC |
| 06/06 | SCOTT | WEST | MedSurg |
| 06/06 | SKYLAR | PARK | Housekeeping |
| 06/07 | SHIREEN | VANORDEN | BMC Shelley |
| 06/07 | TERESA | JOHNSON | MedSurg |
| 06/08 | GILLIAN | WOODWARD | Health Information Management |
| 06/08 | BRODY | NIELSEN | Information Systems |
| 06/08 | JAMIE | CALL | Administration |
| 06/09 | KELSI | ROUNDS | Teton Cancer Institute |
| 06/09 | BRIAN | OSTERMAN | Pharmacy |
| 06/09 | CARRIE | NADAULD | Quality Resources |
| 06/09 | BENJAMIN | SAYRE | Pain Specialists of ID |
| 06/09 | MELANIE | BRONSON | Community Care-Channing |
| 06/09 | AIRELLE | WILLIAMS | NICU |
| 06/09 | AMANDA | BOLAINEZ | Surgery |
| 06/09 | JAMES | STEEL | MedSurg |
| 06/10 | MALLELA | PEREZ | Business Office |
| 06/11 | DARBY | WILLIAMS | Teton Cancer Institute |
| 06/11 | MELISSA | JOHNSON | Surgery |
| 06/11 | EMMA | HAMBLIN | MedSurg |
| 06/11 | CINDY | BELL | Housekeeping |
| 06/11 | TAYLOR | ANDRUS | Finance |
| 06/12 | JACQUALINE | DARRINGTON | Teton Cancer Institute |
| 06/12 | JULIE | MCMURTREY | Purchasing |
| 06/12 | MIRELLA | RAMIREZ | Lab |
| 06/12 | LESLIE | OLIVAS | Eastern ID Spine Center (Vlach |
| 06/12 | TAYLOR | OTTESON | Pocatello ENT |
| 06/12 | LORIE L | PETERSON | Housekeeping |
| 06/13 | KELSY | BRECKENRIDGE | NICU |
| 06/13 | LESLIE | LUKE | Physician Management Services |
| 06/14 | JENNIFER | PARTRIDGE | Pain Specialists of ID |
| 06/14 | SADIE | GEE | PIC Pocatello |
| 06/14 | BRITNEY ANNE | HOLLAND | Surgery |
| 06/14 | JENNIFER | FLUKE | Population Health |
| 06/15 | DEBRA | TAYLOR | Blackfoot Medical Laboratory |
| 06/15 | JESSICA | CARTER | Pain Specialists of ID |
| 06/15 | MIKKI | TURMAN | Pain Specialists of ID |
| 06/15 | KANDICE | TAYLOR | Peri-Op |
| 06/15 | MICKEY | DUPONT | Labor & Delivery |
| 06/15 | ALLISON M. | SALMONSON | Surgery |
| 06/16 | SHEENA | KOERNER | Business Office |
| 06/17 | PATRICIA | VENCES | Lab |
| 06/17 | ANNETTE | LUND | Pain Specialists of ID |
| 06/17 | JANA | DALBY | Peri-Op |
| 06/17 | GISSELLE | HERNANDEZ MORALES | Business Office |
| 06/18 | TANESHA | BAUTISTA | Sleep Specialists |
| 06/18 | SARAH | RIBARDI | Radiology |
| 06/18 | LISA | TALAMANTEZ | Channing Redicare Clinic |
| 06/18 | OAKLEY | ALLEN | MedSurg |
| 06/18 | EDWARD | DAVIS | Housekeeping |
| 06/19 | BRUCE | PETERSON | Pulmonary Function Test |
| 06/19 | WILLIAM | BRUNT | Lab |
| 06/19 | KRESLIE | HOUSTON | BMC Shelley |
| 06/20 | JESSICA | CLARK | BMC/Johanson Surgery |
| 06/20 | KURT | STOCKS | Surgery |
| 06/20 | LETICIA | PERKINS | Housekeeping |
| 06/21 | NANCY | OLER | Teton Cancer Institute |
| 06/21 | HAYLIE | BERGGREN | Purchasing |
| 06/21 | ERICH | PEW | BMC/Johanson Surgery |
| 06/21 | CRISTINA | NWOSU | BMC Admin |
| 06/21 | MOLLY | JENSEN | Community Care-Channing |
| 06/21 | KELSEY | MASON | Community Care-West Side |
| 06/21 | SHONDA | QUEEN | Peri-Op |
| 06/22 | CHANDRA | RICHTER | Lab |
| 06/22 | JORGEN | FUNK | Pain Specialists of ID |
| 06/22 | JANELLE | WERTZ | PIC Chubbuck |
| 06/23 | MAKENNA | WILLIAMS | Teton Cancer Institute |
| 06/23 | MICHAEL | BROOKS | Quality Resources |
| 06/23 | ISAAC | MOWERS | MedSurg |
| 06/24 | JAKE | MAUGHAN | Respiratory Therapy |
| 06/24 | SKYLIE | GOMEZ | Pharmacy |
| 06/24 | PAULA | SIMMERS | Mountain View Infusion Service |
| 06/24 | ALEXIS | BROWN | Pain Specialists of ID |
| 06/25 | CATHERINE | WATSON | Channing Redicare Clinic |
| 06/25 | PAIGE | HOLTZEN | Pain Specialists of ID-Pocatel |
| 06/25 | CINDY | HAMMON | Peri-Op |
| 06/25 | MELANIE | BEARD | Labor & Delivery |
| 06/25 | BRANDI | WATT | NICU |
| 06/25 | LAYLA | KALSTEIN | Physician Management Services |
| 06/26 | ANNA | GROOM | Sleep Specialists |
| 06/26 | LORI MICHELLE | BANNER | Blackfoot Medical Imaging |
| 06/26 | HANNAH | TALAMANTEZ | Lab |
| 06/26 | ALYSSA | HUNTER | Creekside Surgery Center |
| 06/26 | AMANDA | COOK | Housekeeping |
| 06/26 | CHRISTIAN | WHITNEY | Administration |
| 06/27 | DANIELLE | BANGERTER | Channing Redicare Clinic |
| 06/27 | SHELBY | HENRIE | Surgery |
| 06/28 | ALAINE | ARNOLD | Pharmacy |
| 06/28 | AMMON | MALDONADO | Lab |
| 06/28 | CHAD | SIBBETT | Pain Specialists of ID |
| 06/28 | KRIS | HAMMON | Physical Plant |
| 06/29 | SANDRA | FRANCKE | Radiation Oncology |
| 06/29 | TIA | MORRELL | Channing Redicare Clinic |
| 06/29 | AMY | ANDRUS | Peri-Op |
| 06/29 | EMILY | BRIGHTON | Human Resources |
| 06/29 | SHAYLEE | CUTLER | Population Health |
| 06/30 | TAMMI | TRAVIS | Wound Care |
| 06/30 | ROBERTO | LABRA | Purchasing |
| 06/30 | KRYSTON | CARLING | Pharmacy |
| 06/30 | MARY JULIENE | JOHNSON | Speech Therapy |
| 06/30 | JONATHAN | HEINEY | Point of Care |
| 06/30 | ASHLIE | HALL | Community Care-Rigby |
| 06/30 | AMY | NUKAYA-HEADY | NICU |
| 06/30 | BRODY | BINGHAM | Surgery |