Welcome to The Beat
In this newsletter, we'll share company-wide news, including upcoming events, birthdays, spotlights, department news, and more. 
This newsletter is designed to be informative and collaborative. Do you have a fun story, positive patient feedback, or a funny work picture? Use the form on this page to submit!
Check back on The Beat's main page for more updates. 
"The secret of success is… to be fully awake to everything about you."

Jackson Pollock
Referral Opportunities
We're Hiring!
We have a lot of job openings at the hospitals and across our affiliate clinics. If you know of anyone looking for new opportunity, point them to our job page to browse through our current opportunities. You may even be eligible for a referral bonus!
https://www.mountainviewhospital.org/employment-opportunities/
It's official! Our team has proudly been caring for the community for 20 years and we could never have done it without your support.
We started Mountain View because we believed healthcare in the Snake River Valley should be more personal and affordable. We wanted our patients to feel heard and most importantly, feel better, so they could get back to the things they loved. Two decades later and our commitment to taking care of this community is just as strong.
To everyone who has been part of our journey, from our team members who make what we do possible, to construction workers who have helped build and expand our hospital multiple times, to the people who have trusted us with their care, thank you! We are so grateful for you.
Twenty years is a big milestone and one we plan to celebrate over the next 12 months.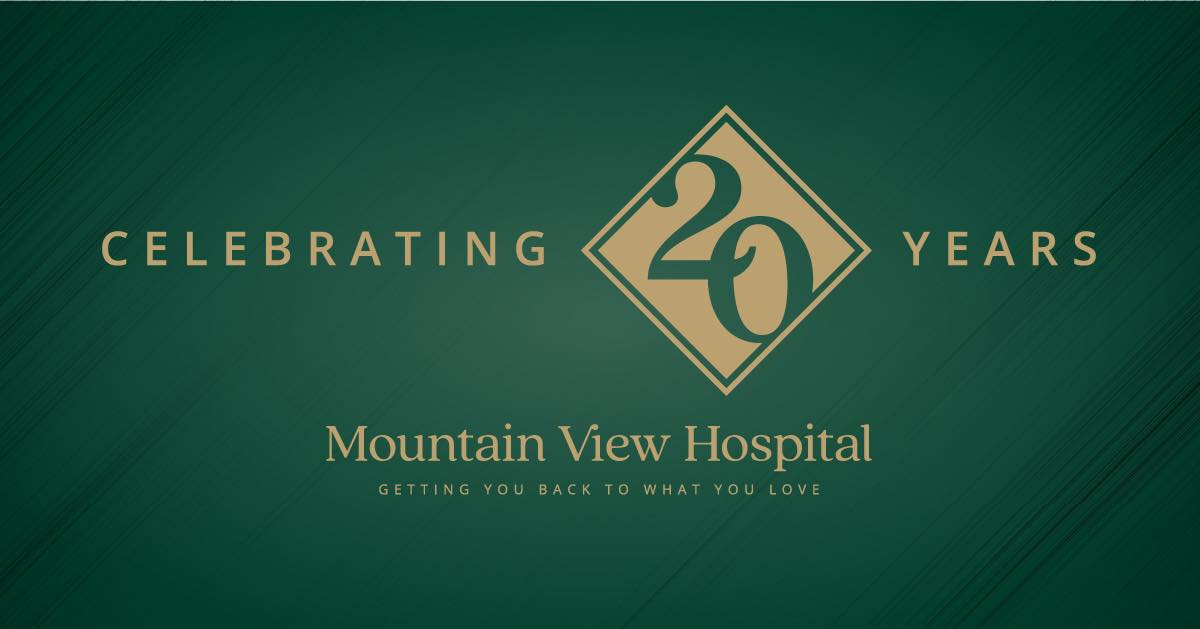 Infant Safety Course
We are so excited to offer a new Infant Safety class at no cost to the community!
In this course, you will have the opportunity to learn infant CPR and participate in a Q&A with one of our skilled pediatricians. This class will take place on the third Thursday of every month from 6-7pm in our Cardiac Rehab Unit.
Don't miss our class this Thursday. Schedule a class below for yourself or a loved one.
Commitment to Excellence
What does commitment mean?
The standard definition reads "the state of being dedicated to a cause, activity, etc." The quarterly Commitment to Excellence award is for those employees who exemplify this definition. Look around-do you work with someone who fits this definition? Chances are you do. Maybe it's the nurse that worked past the end of her shift to make sure the new mom was comfortable. Maybe it is the admissions clerk who spent extra time with the patient to help them understand how their insurance works, or maybe it's the cashier in the cafeteria who always greets you with a smile and makes sure you get the cookie you like.
Please take a minute and submit a nomination for these outstanding employees. You can send directly to klefler@mvhospital.net.
Welcome New-Hires!
Check out some of our recent hires. We're thrilled to have them join the Mountain View family. Welcome to the team!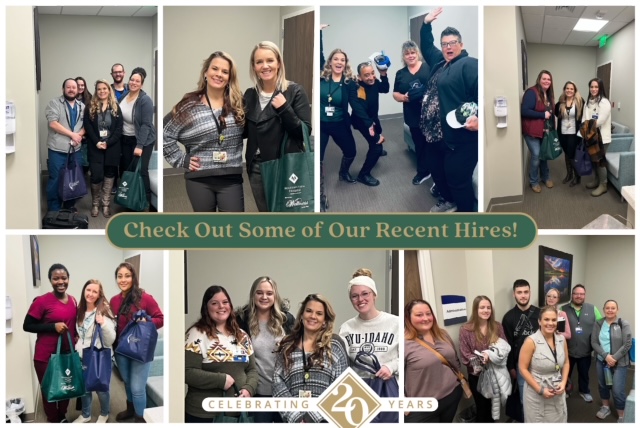 Follow Us!
Follow us on Facebook & LinkedIn to stay up to date on the latest hospital news and what our team has been up to!
| | | | |
| --- | --- | --- | --- |
| 01/01 | TRACY | BURTON | Sleep Specialists |
| 01/01 | KARINA | RIVERA | Housekeeping |
| 01/01 | BRENDA | FARNES | Business Office |
| 01/02 | JANET | BEHM | Pain Specialists of ID-Proc Ct |
| 01/02 | RITA | MUCCI | Housekeeping |
| 01/02 | MEGHAN | HARRIS | Business Office |
| 01/03 | ANGELA S | PETERSON | Community Care-Channing |
| 01/03 | CLARINDA | TEAGUE | Labor & Delivery |
| 01/03 | KYLIE | CHRISTENSEN | Business Office |
| 01/04 | CATHERINE | ENGLAND | Teton Cancer Institute |
| 01/04 | NATALIE | HERGESHEIMER | Rocky Mountain Spine and Sport |
| 01/04 | LACIE | HIRSCHI | Blackfoot Pain Clinic |
| 01/04 | JULI | WINCHESTER | Peri-Op |
| 01/04 | IVETTE | CARMONA | Labor & Delivery |
| 01/04 | MADISON | JENSEN | Labor & Delivery |
| 01/05 | MICHELLE | APEL | Hinckley ENT |
| 01/06 | NONA | MADRONA | Wound Care |
| 01/06 | LORI | TAWZER | Administration |
| 01/06 | TROY | WALKER | Administration |
| 01/07 | DANIELLE | PICARD | Teton Cancer Institute |
| 01/07 | PABLO | VEGA | Blackfoot Pain Clinic |
| 01/07 | KATEE | HUBERT | Pocatello ENT |
| 01/07 | HEIDI | AMMONS | Rexburg Pediatrics |
| 01/07 | BERENICE | CUELLAR | Housekeeping |
| 01/07 | TERESA | BARELA | Business Office |
| 01/07 | KRISTIN | STREEPER | Marketing |
| 01/08 | DENISHA | CARSTENSEN | PIC Pocatello |
| 01/08 | MANDY | JENKINS | Labor & Delivery |
| 01/08 | TATE | POULSEN | Physical Plant |
| 01/09 | SUSAN S. | LEONARD | Pain Specialists of ID-Proc Ct |
| 01/09 | MADDIE | BOYD | Urology Associates of Idaho Fa |
| 01/09 | ALEX | WINGER | Rexburg Pediatrics |
| 01/09 | JESSICA | OTTE | Peri-Op |
| 01/09 | AMANDA | WILFORD | Labor & Delivery |
| 01/10 | JOANNE | BOLTON | Radiology |
| 01/10 | SAMANTHA | MORGAN | Pain Specialists of ID |
| 01/10 | KAREN | BEAGLEY | Community Care-Rexburg |
| 01/10 | SARAH | STACEY | Peri-Op |
| 01/10 | SERENITY | RICHARDS | Labor & Delivery |
| 01/11 | ANGELA | WOODHOUSE | Purchasing |
| 01/11 | ESTHER | LIN | Pharmacy |
| 01/11 | JASON | WELLS | Quality Resources |
| 01/11 | KATHERINE | BERGER | Pain Specialists of ID |
| 01/11 | JAMIE | STULTZ | MedSurg |
| 01/11 | JOSHUA | BAGULEY | Business Office |
| 01/12 | CARA | KENNINGTON | Idaho Falls Arthritis Clinic |
| 01/12 | PEGGY | ROWBERRY | Urology Associates of Idaho Fa |
| 01/12 | ANN | BOWMAN | Brad Erikson |
| 01/12 | MARCI | CHRISTENSEN | Health Information Management |
| 01/13 | KATHRYN | CALL | Blackfoot Medical Imaging |
| 01/13 | JESSALYNN | LUIS | Blackfoot Medical Laboratory |
| 01/13 | CLEA | CONNERS | Quality Resources |
| 01/13 | SARAH | HALE | Surgery |
| 01/13 | TINA | MCCORMACK | Eagle Rock ASC |
| 01/13 | COREN | NOEL | Finance |
| 01/14 | HEIDI | ROMRIELL | Respiratory Therapy |
| 01/14 | ANDREW HYRUM | BOYD | Sleep Lab |
| 01/14 | RICHARD | OTTERSTROM | BMC/Johanson Surgery |
| 01/14 | KELSI | MOULTRIE | BMC/Johanson Surgery |
| 01/14 | KAYLEE | CALDWELL | BMC/Johanson Surgery |
| 01/14 | ANDREW | AIKENS | Community Care-Pocatello |
| 01/14 | ROCIO | GUERRERO | Peri-Op |
| 01/14 | AUDREY | STODDART | Grand Teton |
| 01/14 | CYNTHIA | DIAZ BELGER | Workmens Compensation |
| 01/14 | DAVID | HALL | Housekeeping |
| 01/15 | LACEE | PUTNAM | Teton Cancer Institute |
| 01/15 | DE | JONES | Purchasing |
| 01/15 | SHANIA | JACKSON | Pain Clinic |
| 01/15 | LAURA | CODERRE | Surgery |
| 01/15 | ARILANE | MARCOLINO | Housekeeping |
| 01/16 | DREW B | WHITTIER | Radiation Oncology |
| 01/16 | MEGAN | QUALLS | Sleep Specialists |
| 01/16 | COLLEEN | BROWN | Peri-Op |
| 01/16 | JANET | STATHAM | Peri-Op |
| 01/16 | CHEYANNE | TRUMAN | Creekside Surgery Center |
| 01/16 | BART | ADCOCK | Housekeeping |
| 01/16 | MIRANDA | YARNELL | Housekeeping |
| 01/16 | MICHAELA | MORGAN | Marketing |
| 01/16 | JESSICA | MCKINNEY | Emergency Department (ED) |
| 01/17 | MARIA | LINARES | Rocky Mountain Spine and Sport |
| 01/17 | WYNTER | MICHIELS | PIC Pocatello |
| 01/17 | CARLI | STARKS | Surgery |
| 01/17 | KASSIDY | RAFFERTY | Grand Teton |
| 01/18 | HILLARY | KIRWAN | Pain Specialists of ID |
| 01/18 | KAREN | HOAG | Workmens Compensation |
| 01/19 | CHRISTOPHER | RIGBY | Physical Therapy |
| 01/19 | ALLISON | ROSE | Pain Specialists of ID |
| 01/19 | LYDIA | HUNTER | Pain Specialists of ID |
| 01/19 | AMANDA | FULLMER | Blackfoot Pain Clinic |
| 01/19 | SHARLEEN | ALBRIGHT | Peri-Op |
| 01/20 | MEGAN | RUSSELL | Wound Care |
| 01/20 | ALEXIS | WILLIAMS | Sleep Specialists |
| 01/20 | BROOKE | NELSON | Pharmacy |
| 01/20 | HANNAH | AKEN | Lab |
| 01/20 | ANN MARIE | PETERSON | Community Care-Rexburg |
| 01/20 | ALYSSA | KETCHUM | Surgery |
| 01/20 | TINA | ACKERMAN | Workmens Compensation |
| 01/20 | KENYATTA | HAWLEY | Workmens Compensation |
| 01/20 | JAMES | HARRIS | Physical Plant |
| 01/21 | NANNETTE | LONG | Teton Cancer Institute |
| 01/21 | CAROL | JONES | BMC/Johanson Surgery |
| 01/22 | TAY | MISSELDINE | Purchasing |
| 01/22 | NICHOLAS | WILLIAMS | Pain Specialists of ID |
| 01/22 | LACEY | RAMIREZ | BMC Admin |
| 01/22 | BRENDA | CLEVELAND | Business Office |
| 01/22 | HEIDI | PECK | Business Office |
| 01/22 | JOCELYN | LONGACRE | Physician Management Services |
| 01/23 | SARAH | ANDERSEN | Teton Cancer Institute |
| 01/23 | LANDON | COOK | Teton Cancer Institute |
| 01/23 | EDDY | GARCIA | Pharmacy |
| 01/23 | KATHRYN | MITCHELL | Rocky Mountain Spine and Sport |
| 01/23 | TERESE | BECK | Eastern Idaho Foot Clinic |
| 01/23 | MEGAN | AKERS | Labor & Delivery |
| 01/24 | GINA | STUMP | Higher Learning Center |
| 01/24 | KAYLOR | NAWROCKI | Pain Specialists of ID-Pocatel |
| 01/24 | CODY | NEALIS | Business Office |
| 01/25 | KENDALL | TAYLOR | Quality Resources |
| 01/25 | ADRIANA | OROZCO | Business Office |
| 01/26 | LISA | PRATHER | Teton Cancer Institute |
| 01/26 | JODI | ZOLYNSKI | Wound Care |
| 01/26 | JAY | MILLS | Physical Therapy |
| 01/26 | PRESTON | HARVEY | Channing Redicare Clinic |
| 01/26 | DENISE | SCHWIEDER | Grand Teton |
| 01/26 | CHELSEA | LITTLEWOOD | Business Office |
| 01/26 | MARISSA | HONLEY | Business Office |
| 01/26 | SIERRA | MECHAM | Business Office |
| 01/26 | JAZZMENE | HAFER | Business Office |
| 01/27 | ERYN | MARTINDALE | Pulmonary Services |
| 01/27 | LISA | SIGMAN | Sleep Specialists |
| 01/27 | SUZANNE | HENDRICKS | Blackfoot Medical Imaging |
| 01/27 | JAYCE | CLARK | Rocky Mountain Spine and Sport |
| 01/27 | AIMME | SANCHEZ | BMC Admin |
| 01/27 | JENIFFER | MORGAN | Rexburg Pediatrics |
| 01/27 | WILLIAM | COX | Surgery |
| 01/27 | JOSHUA | TOLMAN | Population Health |
| 01/28 | MIA | SINE | Wound Care |
| 01/28 | JAVAD | BAYAT-MOKHTARI | Radiology |
| 01/28 | RACHAEL | SUTTON | Radiology |
| 01/28 | JONAH | AROCHO | Housekeeping |
| 01/29 | ALEXANDRA | LONGFELLOW | Teton Cancer Institute |
| 01/29 | KLARISSA | SULLIVAN | Community Care-Rexburg |
| 01/29 | JODY | DALLEY | Peri-Op |
| 01/29 | SHAYLA | JACOBS | NICU |
| 01/29 | MALLORY | GARCIA | Workmens Compensation |
| 01/29 | JOSH | STANGER | Physical Plant |
| 01/30 | MISTY | BARNEY | Lab |
| 01/30 | LINDSAY | JONES | Rocky Mountain Spine and Sport |
| 01/30 | ANGELINA | WELLARD | Community Care-Pocatello |
| 01/30 | LEISJA | RAWSON | Grand Teton |
| 01/31 | SHELBY | POGGE | BMC Admin |
| 01/31 | SELENA | DROLET PALMER | Community Care-Pocatello |
| 01/31 | TATIANA | LOZANO | Rexburg Pediatrics |
| 01/31 | TAYLOR | MUNOZ | Peri-Op |
| 01/31 | MARY | RUSHER | Finance |