Welcome to The Beat
In this newsletter, we'll share company-wide news, including upcoming events, birthdays, spotlights, department news, and more. 
This newsletter is designed to be informative and collaborative. Do you have a fun story, positive patient feedback, or a funny work picture? Use the form on this page to submit!
Check back on The Beat's main page for more updates. 
"Some people want it to happen, some wish it would happen, others make it happen."

Michael Jordan
Referral Opportunities
We're Hiring!
We have a lot of job openings at the hospitals and across our affiliate clinics. If you know of anyone looking for new opportunity, point them to our job page to browse through our current opportunities. You may even be eligible for a referral bonus!
https://www.mountainviewhospital.org/employment-opportunities/
Wondr Health Webinar 2023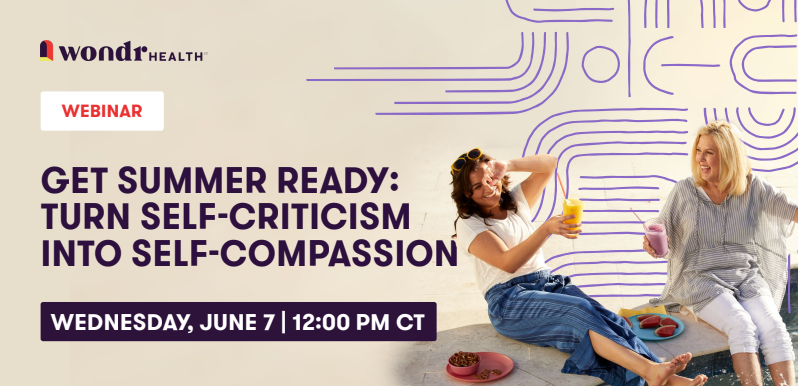 Research shows that the more we practice accepting ourselves as we are, the easier it becomes to make – and maintain – healthy changes. But the lighter layers that come with the summer season (we're looking at you, tank tops, shorts, and swimsuits) can be stress-inducing, especially in a society that promotes unrealistic standards for "perfect" bodies. Clinical psychologist and Wondr Health instructor Dr. Dana Labat will share strategies to help you move from body negativity to body neutrality – and eventually body positivity. See how you can level up your self-talk to strengthen your body image, as well as get practical, in-the-moment tools you can take to the beach, at the pool, in a dressing room, or anywhere in between.
You'll learn:
Learn how to switch up your self-talk to better support a healthy body image and get comfortable in your own skin.
See how you can use self-compassion to balance out the habit of self-criticism and constant comparisons to others.
Try on in-the-moment techniques for taking "dressing room stress" down a notch as you begin to appreciate all your body does for you every day.
Redefine your own summer to focus on the activities and people you enjoy most this time of year.
Nurses Week 2023
This May, our friends at East Idaho Credit Union stopped by to give our NICU nurses a special gift to celebrate Nurses Week! These amazing individuals were highlighted for their tireless commitment and dedication to help take care of Baby Cole, who was born at just 22 weeks old and had to stay in our NICU for a few months.
We were excited to celebrate these inspiring nurses with them!🎉❤️
#NationalNursesWeek
Idaho Health Institute Graduates
Congratulations to the FIRST graduating scholarship recipients from the Idaho Health Institute!
We had so much fun celebrating you today and look forward to working with such dedicated, compassionate nurses!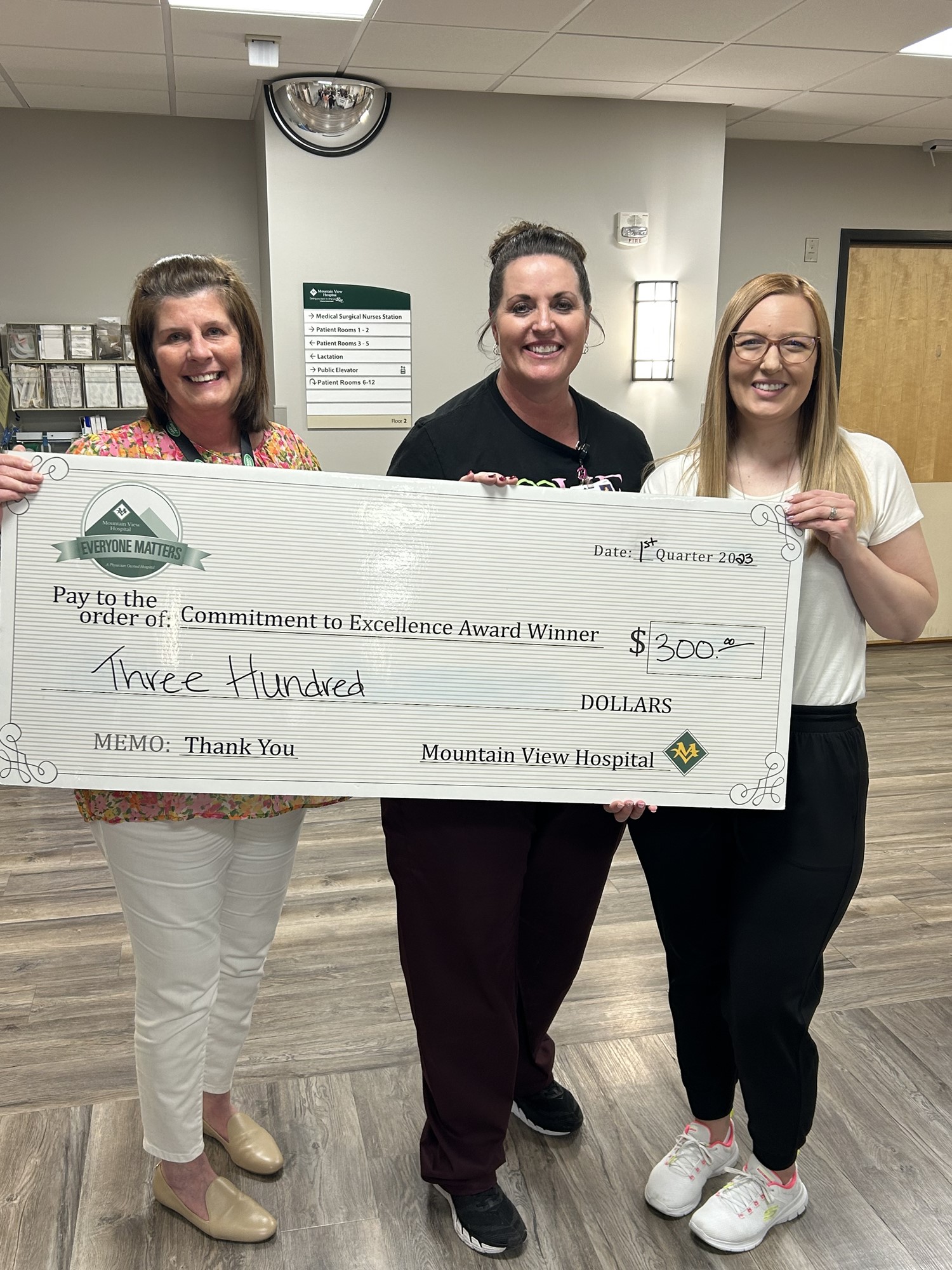 Shani Jewkes—WINNER!
I would like to nominate Shani Jewkes, RN for the commitment to excellence award. Shani has been a nurse in L&D since 2020. I am nominating Shani because she one of the most selfless, compassionate people I know. Not only does she go above and beyond for her friends and co-workers, but she does even more so for our patients. Shani has taken on an unofficial role of fetal demise/infant death support nurse on the labor and delivery unit and has put so much extra time into helping those families with such a difficult time in their lives. Shani stays after her night shifts and comes in when she is not scheduled to help these mourning families in so many ways. She helps make hand and foot molds, she has put baskets together, and overall just offers her presence. In addition to going above and beyond for our patients in this way, she is just as caring with everyone she knows. She is always willing to help out wherever she can, no matter how busy she is. We are all so lucky to have Shani as a friend and co-worker. Mountain View Hospital is lucky to have such an amazing person so committed to the well-being of each and every patient she takes care of.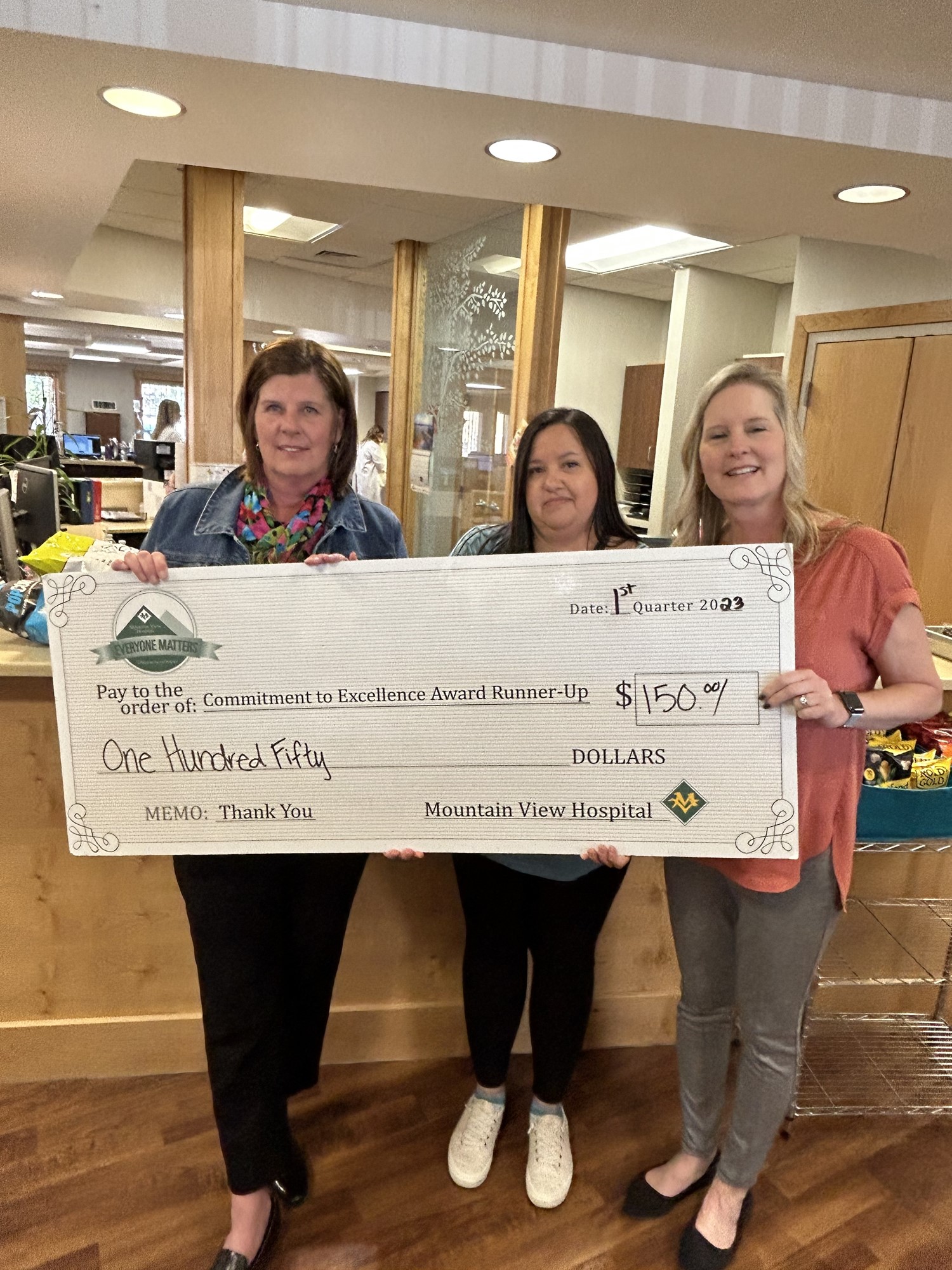 Melissa Vasquez—RUNNER UP!
I would like to nominate Melissa Vasquez, who works in the financial department at Teton Cancer Institute in Idaho Falls. I was diagnosed with Breast Cancer in 2020 while living in Arizona, and moved here to Idaho Falls in September 2021. I am in remission and still receive maintenance treatment every 28 days to keep me in remission. When I moved from Arizona to Idaho, I had to get COBRA insurance to carry myself and my family from one insurance to the other with my employers. I was quite nervous about the transition, mainly because I know how much my treatments cost if there is any lapse in insurance. Everything seemed to go well until it didn't.
Months down the road, Melissa let me know that my COBRA insurance was asking for payment back on things they had previously paid for. Long story, made short my insurance coverage through COBRA became a big nightmare, and I indeed ended up getting lost in the mix of an insurance transition. During the last several months, Melissa has been my biggest support. She has looked into my account for me several times. She has kept me updated on progress. She has encouraged me along the way, when my battle with COBRA seemed unbearable. I have been able to turn to Melissa for support with my patient account, again and again. Every time I turned to her for information or questions, she was there to help me with a great attitude and smile on her face. My insurance nightmare has now been corrected and I am finally seeing a light at the end of a long brutal tunnel. I never felt alone on that path, I knew I had Melissa to help support me all along the way. I am so grateful for her professionalism, knowledge of insurance, and devotion to me, her patient. I want to nominate Melissa, because she is definitely Committed to Excellence.
Follow Us!
Follow us on Facebook & LinkedIn to stay up to date on the latest hospital news and what our team has been up to!
| | | | |
| --- | --- | --- | --- |
| 06/01 | BREANNE | DOMINGUEZ | Community Care-West Side |
| 06/01 | NICOLE | JENSEN | Grand Teton |
| 06/01 | ITZIA | GARCIA | Creekside Surgery Center |
| 06/01 | JEANETTE | NUKAYA | Human Resources |
| 06/02 | ALY | BROWN | Prescription Center Infusions |
| 06/02 | WYATT | WANSTROM | Pain Specialists of ID |
| 06/02 | DEVIN | MARROTT | Rocky Mountain Spine and Sport |
| 06/02 | MARISSA | MAIERS | Surgery |
| 06/02 | ALMA | MENDOZA | Housekeeping |
| 06/02 | CAMI | BAKER | Housekeeping |
| 06/03 | STEPHANIE | ORTENSI | Teton Cancer Institute |
| 06/03 | BRITNEE | CAMPBELL | BMC/Johanson Surgery |
| 06/03 | LEE-AMBER | JESSEN | Brad Erikson |
| 06/03 | JORDYN | GODDARD | Community Care-Pocatello |
| 06/03 | KATHE | KINDRED | Business Office |
| 06/03 | CARLOS | CHAVEZ | Business Office |
| 06/04 | BETTY | MILLER | BMC Admin |
| 06/04 | TYLER | OLSEN | Surgery |
| 06/04 | LISA | FUNK | Housekeeping |
| 06/04 | AMY | MORSE | Finance |
| 06/05 | MELANIE | PIEPER | Blackfoot Pain Clinic |
| 06/05 | HOLLY | BEAUCHAT | Urology Associates of Idaho Fa |
| 06/05 | JACQUELINE | SOLIS | Housekeeping |
| 06/05 | ALLISON | SARGENT | Business Office |
| 06/06 | BRENDA | FLOYD | Speech Therapy |
| 06/06 | TARENA | THOMAS | Lab |
| 06/06 | JANET | WIRKUS | Quality Resources |
| 06/06 | JAMIE | DAYBELL | NICU |
| 06/06 | RACHEL | POWELL | NICU |
| 06/06 | SKYLAR | PARK | Housekeeping |
| 06/07 | SHIREEN | VANORDEN | BMC/Johanson Surgery |
| 06/07 | TERESA | JOHNSON | MedSurg |
| 06/08 | TERESA | HILL | Business Office |
| 06/08 | JAMIE | CALL | Administration |
| 06/09 | BRIAN | OSTERMAN | Pharmacy |
| 06/09 | CELESTE | NADAULD | Quality Resources |
| 06/09 | BENJAMIN | SAYRE | Pain Specialists of ID |
| 06/09 | MELANIE | BRONSON | Community Care-Channing |
| 06/09 | AIRELLE | WILLIAMS | NICU |
| 06/09 | AMANDA | BOLAINEZ | Surgery |
| 06/09 | JAMES | STEEL | MedSurg |
| 06/10 | ANGELA | WHITE | Grand Teton Gastroenterology |
| 06/10 | HALLIE | DIAZ | Labor & Delivery |
| 06/10 | MALLELA | PEREZ | Business Office |
| 06/10 | TYSON | BYBEE | Business Office |
| 06/11 | DARBY | WILLIAMS | Teton Cancer Institute |
| 06/11 | RACHEL | WOOD | Idaho Falls Arthritis Clinic |
| 06/11 | PAULA | CASEY | BMC/Johanson Surgery |
| 06/11 | EMMA | HAMBLIN | Surgery |
| 06/11 | JAMEISHA | MCKINNEY | MedSurg |
| 06/11 | CINDY | BELL | Housekeeping |
| 06/11 | TAYLOR | ANDRUS | Business Office |
| 06/11 | JOSLYNN | BARNES | Health Information Management |
| 06/12 | JACQUALINE | DARRINGTON | Teton Cancer Institute |
| 06/12 | JULIE | MCMURTREY | Purchasing |
| 06/12 | MIRELLA | RAMIREZ | Lab |
| 06/12 | TAYLOR | OTTESON | Pocatello ENT |
| 06/12 | LORIE | PETERSON | Housekeeping |
| 06/13 | PAIGE | HULSE | Labor & Delivery |
| 06/13 | LESLIE | LUKE | Physician Management Services |
| 06/14 | JENNIFER | PARTRIDGE | Pain Specialists of ID |
| 06/14 | VINCENT | ASTLE | Rocky Mountain Spine and Sport |
| 06/14 | BRITNEY ANNE | HOLLAND | Surgery |
| 06/14 | REBECCA | CORBETT | Business Office |
| 06/15 | DEBRA | TAYLOR | Blackfoot Medical Laboratory |
| 06/15 | JESSICA | CARTER | Pain Specialists of ID |
| 06/15 | MIKKI | TURMAN | Pain Specialists of ID |
| 06/15 | JEFF | BROCKETT | Pocatello ENT |
| 06/15 | KANDICE | TAYLOR | Peri-Op |
| 06/15 | MICKEY | DUPONT | Labor & Delivery |
| 06/15 | ALLISON | SALMONSON | Surgery |
| 06/16 | SONIA | ESTRADA | Housekeeping |
| 06/16 | SHEENA | KOERNER | Physician Management Services |
| 06/17 | ROBIN | RIGGINS | Speech Therapy |
| 06/17 | PATRICIA | VENCES | Lab |
| 06/17 | LISA | WERNER | Channing Redicare Clinic |
| 06/17 | ANNETTE | LUND | Pain Specialists of ID |
| 06/17 | JANA | DALBY | Peri-Op |
| 06/18 | SARAH | RIBARDI | Radiology |
| 06/18 | BRIANNE | PROUSE | Radiology |
| 06/18 | PAULINE | BURDEN | Quality Resources |
| 06/18 | TANESHA | BAUTISTA | Grand Teton Gastroenterology |
| 06/18 | EDWARD | DAVIS | Housekeeping |
| 06/19 | RACHEL | COOK | Wound Care |
| 06/19 | BRUCE | PETERSON | Pulmonary Function Test |
| 06/19 | WILLIAM | BRUNT | Lab |
| 06/19 | KRESLIE | HOUSTON | BMC Shelley |
| 06/20 | COLE | LANDON | Channing Redicare Clinic |
| 06/20 | JESSICA | CLARK | BMC/Johanson Surgery |
| 06/20 | KURT | STOCKS | Surgery |
| 06/20 | LETICIA | PERKINS | Housekeeping |
| 06/21 | NANCY | OLER | Teton Cancer Institute |
| 06/21 | HAYLIE | RUSHER | Purchasing |
| 06/21 | DEVRI | BURNELL | Community Care-Rigby |
| 06/21 | MOLLY | JENSEN | Community Care-Channing |
| 06/21 | DENISE | ALEXANDER | Community Care-Channing |
| 06/21 | KELSEY | MASON | Community Care-West Side |
| 06/21 | SHONDA | QUEEN | Peri-Op |
| 06/21 | BRITTNI | MESSENGER | Labor & Delivery |
| 06/21 | KATIE | SHIPPEN | Population Health |
| 06/22 | CHANDRA | RICHTER | Lab |
| 06/22 | JANELLE | WERTZ | PIC Chubbuck |
| 06/22 | ASHLYN | COOK | NICU |
| 06/23 | APRIL | GRAY | Pharmacy |
| 06/23 | MICHAEL | BROOKS | Quality Resources |
| 06/23 | ISAAC | MOWERS | MedSurg |
| 06/24 | JAKE | MAUGHAN | Respiratory Therapy |
| 06/24 | ALEXIS | BROWN | Pain Specialists of ID |
| 06/24 | PAULA | SIMMERS | MedSurg |
| 06/25 | LORILYN | RASMUSSEN | CC Rexburg Lab & Imaging |
| 06/25 | CINDY | HAMMON | Peri-Op |
| 06/25 | MELANIE | BEARD | Labor & Delivery |
| 06/25 | BRANDI | WATT | NICU |
| 06/26 | ANNA | GROOM | Sleep Specialists |
| 06/26 | LORI MICHELLE | BANNER | Blackfoot Medical Imaging |
| 06/26 | LIZZIE | LANGSTON | Mountain View Infusion Service |
| 06/26 | HANNAH | TALAMANTEZ | Quality Resources |
| 06/26 | KASSIE | RUBERRY | Grand Teton Gastroenterology |
| 06/26 | ALYSSA | HUNTER | Creekside Surgery Center |
| 06/26 | AMANDA | COOK | Housekeeping |
| 06/26 | CHRISTIAN | WHITNEY | Administration |
| 06/27 | DANIELLE | BANGERTER | Channing Redicare Clinic |
| 06/27 | EMILY | GOODMAN | Channing Redicare Clinic |
| 06/27 | SADIEMAE | THOMAS | Grand Teton Gastroenterology |
| 06/27 | KAYLA | MCCABE | Community Care-Rigby |
| 06/27 | SHELBY | HENRIE | Surgery |
| 06/28 | ANTON | NELSON | Radiology |
| 06/28 | AMMON | MALDONADO | Lab |
| 06/28 | HOLLY | MURRAY | Grand Teton Gastroenterology |
| 06/28 | EMILEE | LARSON | Community Care-Rexburg |
| 06/28 | KRIS | HAMMON | Physical Plant |
| 06/28 | SARAH | WALTERS | Population Health |
| 06/29 | SANDRA | FRANCKE | Radiation Oncology |
| 06/29 | JENNIFER | WEILER | Quality Resources |
| 06/29 | TIA | MORRELL | Channing Redicare Clinic |
| 06/29 | EMILY | DALTON | Pain Specialists of ID |
| 06/29 | MCKENZIE | PURCELL | Community Care-Rigby |
| 06/29 | AMY | ANDRUS | Peri-Op |
| 06/30 | ROBERTO | LABRA | Purchasing |
| 06/30 | KRYSTON | CARLING | Pharmacy |
| 06/30 | MARY JULIENE | JOHNSON | Speech Therapy |
| 06/30 | CHELSEA | COOLEY | Quality Resources |
| 06/30 | BAYLIE | LEATHAM | Community Care-Rexburg |
| 06/30 | ASHLIE | HALL | Community Care-Rigby |
| 06/30 | AMY | NUKAYA-HEADY | NICU |
| 06/30 | ELENA | LENGYEL | Housekeeping |